Children's Lockets | Find a locket for a child
Children love to wear and display their special photos in lockets — it's always fun to open up a hinged locket and take a peek at the tiny photo that's tucked inside for safekeeping. Find a new favorite locket in this collection… and remember, adults can wear these little lockets, too. They look stunning layered with chains and other pendant necklaces.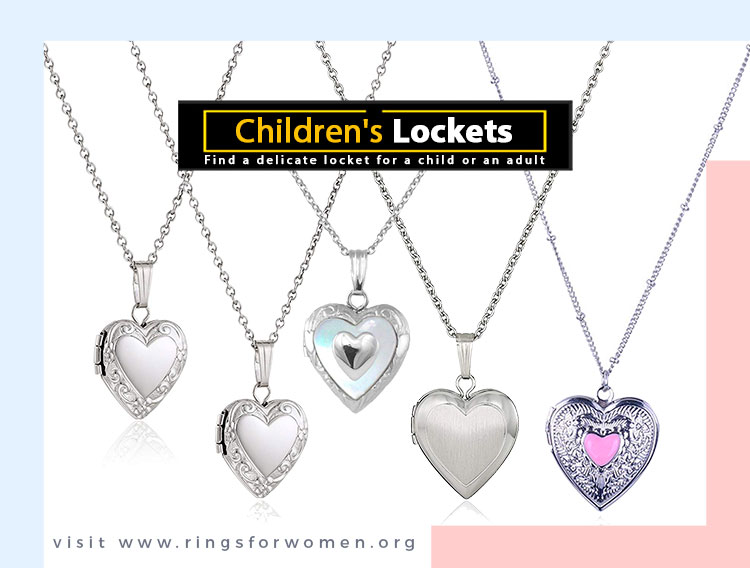 Heart and oval shapes make up the bulk of nearly any locket collection, but styles can be dramatically different. Be sure to note the dimensions of each locket, since pictures often make jewelry appear larger than its actual size. Note the chain length, too, since an adult will usually need a longer chain than the chains included with most children's jewelry.
The lockets below are sorted by the type of components used in their design.
Gold Children's Lockets
Both 14 karat and 18 karat gold necklaces are included in this collection of children's lockets — 18 karat versions are usually gold over sterling silver, also known as vermeil. Some lockets are embellished with religious symbols, some have a smooth surface, and a few lockets in this assortment are accented with very small diamonds. Many of the heart lockets in the collection are engraved with floral or scrollwork designs similar to the gold example shown to the left, which measures 1/2-inch across and is 3/4″ tall.
Silver Children's Lockets
Designs in this collection are similar to the lockets in the gold category but fashioned from more affordable sterling silver. A few lockets combine silver with gold, and you can expect those styles to be somewhat more costly. A portion of the little silver lockets in this group dangle from bracelets, not the typical chain used for pendant necklaces — be sure to check bracelet lengths if the charm locket will be worn an adult.
Children's Birthstone Lockets
Nearly all lockets in this group can be engraved with a name and/or date, and they typically feature a small birthstone set next to the engraving. Expect birthstones to be created from either glass, crystal or another faux material, not an actual gemstone. Some of these birthstone lockets dangle from chain bracelets, a nice alternative to a necklace.
Compare Prices of birthstone lockets in a larger collection, but check sizes since a few adult lockets are included in the mix.
Angel Lockets
Most of the lockets in this group are small, suitable for a child, but do check sizes as you browse the designs. All lockets depict angels — some are fashioned with an entire image of an angel and others display angel wings. A few of the lockets can be personalized with an engraving or birthstone. Even some of the cameo angels are small enough to be suitable for a child.
Story Book Girl's Locket
This tiny storybook locket is perfect for little girls who like to read… or have stories read to them at bedtime. Fashioned from polished sterling silver, the locket is 5/8″ tall and comes with a 14″ box chain. A 2″ extender lets you adjust the necklace's length for a perfect fit. The chain is held securely in place with a lobster claw clasp. A small diamond sparkles at the center of one flower. Packaged in a gift bag and matching box.