A Few Facts About Bezel Settings
Bezel settings hold gemstones in place with a metal rim that gently circles the sides of the stone, and extends a little bit above it. The collar or rim can stretch around the gem's entire circumference, as shown in the diamond ring above, or around only a part of it, like the bezel set engagement rings on pages 4 and 5.
Bezel settings hold gems securely, and the protective profile the setting creates makes the technique a good setting option for people with active lifestyles.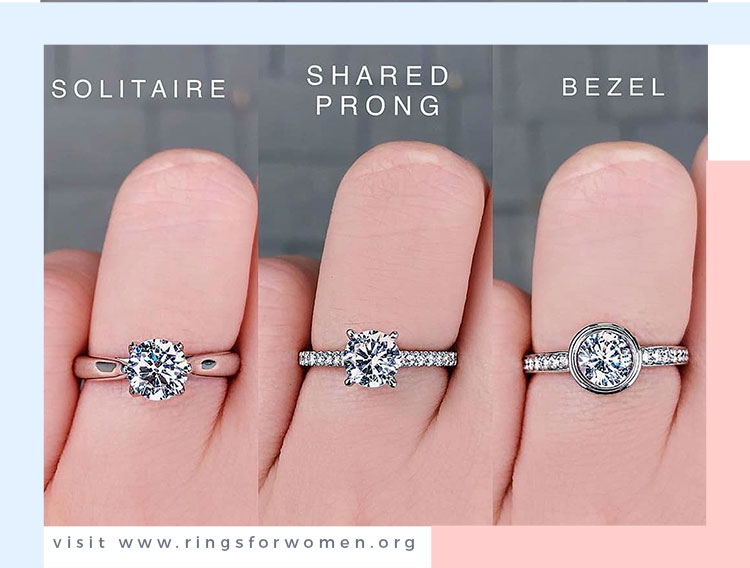 It also protects the edges of a gem and can sometimes even hide existing chips.
The engagement ring on this page features a round, brilliant cut center diamond in a bezel setting. A yellow gold rope hugs each side of the focal diamond and additional round diamonds are embedded in the ring's shank.
Ring by Amazon.com.
Princess Cut Diamond in a Bezel Setting
The princess cut diamond in this solitaire engagement ring has been rotated to give it a star-like appearance. The bezel setting is crafted from platinum and accented by 18K gold.
Bezel Setting Combined with Pave Set Diamonds
The diamond ring shown above features three bezel set diamonds, and each stone is surrounded by round, pave set diamonds that give the design a floral-like appearance. The combo illustrates just one possible design created by combining setting techniques.
A Partial Bezel Setting Reveals More of the Diamond
The engagement ring shown on this page is designed with a partial bezel setting. This is often called a semi-bezel or even half-bezel. The rim of the bezel encloses just a part of the diamond that keeping it tight but also allowing more of the stone to be seen.
Round cut diamonds in channel settings flow down the ring's shank, and the rolls on the shank contain bezel set round diamonds.
Solitaire Diamond in Partial Bezel Setting
This solitaire diamond engagement ring is another example of a gemstone sitting in a partial bezel setting. The diamond in this ring is set low in 14K white gold.
Bezel Set Men's Wedding Band
This men's wedding band has a celestial theme, with gold moons and stars accenting three bezel set diamonds that represent the sun. The central portion of the ring was sandblasted to add texture.
Ruby and Diamonds in a Bezel Setting
This 1.32-carat bezel set ruby is surrounded by 0.88 carats of diamonds.
A yellow gold bezel setting shows off red gemstones perfectly, adding just a touch of depth to their color.
About Channel Set Diamonds and Colored Gemstones – Will a Channel Setting Make Your Ring More Beautiful?
Channel set diamonds are often used in engagement rings and other jewelry. Learn more about channel settings with these facts and photos.
What Do Channel Settings Look Like?
Gemstone settings are nearly always named after the way the stones are held in place, and the term channel setting is no exception. Channel set gemstones are put into a metal channel and flow side by side in a continuous row.
To create a channel setting, a column is formed creating a U-shape that the gemstone's point rests into. On either side of the stone, there are notches within the channel where the girdle, or edges, are secured into place.
You'll see the technique often when you shop for an engagement ring, but there are plenty of other types of jewelry that incorporate this setting.
For more channel setting information and photos, click through our slideshow.
Shop this ring: 14k White Gold Bridal Set
Engagement Ring with Channel Set Diamonds on the Band
The most common place for channel set diamonds and gemstones to appear on a ring is down the shoulders. Because these stones are embedded into a channel, they need to be set in straight rows. Therefore, you'll rarely see channel settings as part of a halo design or as part of intricate stone setting along the sides or gallery of a ring.
Shop this ring: Ladies Round Cut Diamond Engagement Ring
Channel Set Wedding Bands
If your engagement ring has channel set stones, you'll likely want to have your wedding band match. Be sure to measure how far the stones go down your engagement ring. It may seem like you found a perfect match online, but channels vary in thickness, height, and length.
If you're set on having a perfect match, either try wedding bands on in person, have one custom made, or match the dimensions as best you can online.
Shop this ring: White Gold Channel Set Wedding Band
Channel Settings in Other Jewelry
Even though engagement rings use channel settings most frequently, you'll also find them in hoop earrings, bangle bracelets, and simple necklaces.
There are some pros and cons of channel settings. The major pro is that your accent diamonds are well protected from dings and scratches.
Cons to channel settings include being limited in their design. There is only so much you can do with a channel setting.
You are mostly limited to princess cut and round shapes and must use them in straight, modern lines. Another con is if you lose a stone, they are much more difficult and expensive to replace than other accent diamonds like ones set in a pave.
Shop these earrings: 14k Gold Channel-Set Diamond Hoop Earrings
Channel Setting Combined with Prongs and Other Setting Methods
It is possible to create a more versatile look with channel settings by thinking outside the box (or channel). Channel settings also can be combined with some other setting methods to design a kind of more intricate ring.
This engagement ring utilizes a variety of different setting techniques to create an eye-catching and unique design. The channel set diamonds are incorporated in the middle of the twisting diamonds on either side.
When you look closely, you will see that there is a small notch where the diamond rests just below the other smaller accent diamonds.
Shop this ring: ​Round Cut Designer Twisting Eternity Channel Set Four Prong Diamond Engagement Ring