Planning to pop the big question can be one of the biggest decisions a man faces. Mustering up the courage to propose is challenging enough, but finding the perfect engagement ring for your fiancée-to-be is just as important; after all, she'll be wearing it for the rest of her life! If you're struggling with where to start, this handy engagement ring guide will point you in the right direction.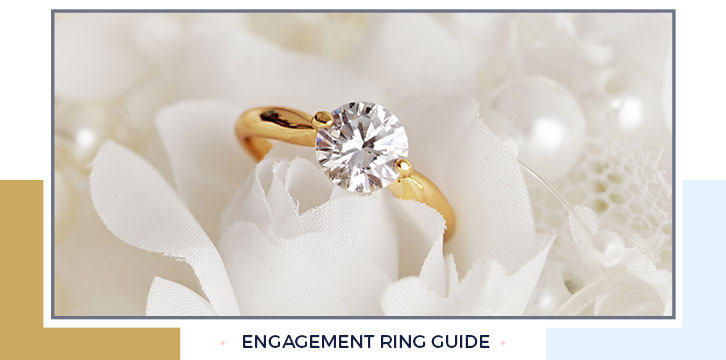 First of all, you need to somehow determine what kind of style she'd like. Is she outgoing and eccentric or quiet and traditional? Does she adore vintage jewelry or would she rather a chic and contemporary engagement ring? Some men find ways of asking these questions without making it obvious – you could ask what she thinks of a friend's look, or comment on some jewelry in a shop window and see if she agrees or disagrees with you. The more sneaky might even be able to get away with a peek inside her jewelry box. If you can do this, use the opportunity to find out what her ring size is too, if you don't already know. You could trace the inside of one of her rings onto a piece of paper, try it on yourself and make a mental note of how far down your finger it goes, or even take one of her rings to the jewelers with you. Getting her to agree to marry you is one thing; getting her to agree to marry you, and then presenting her with a stunningly beautiful and perfectly sized engagement ring, is the ideal.
Traditionally, an engagement ring is supposed to cost the groom-to-be a month's salary, or even two months' worth. Don't worry if you can't afford this, just buy the best that you can; some jewelers offer payment plans if you'd rather pay in installments.
Choosing a Setting:
This will largely depend on her taste – do you want to go for a traditional solitaire engagement ring or a contemporary design? Bear in mind that although she will be wearing this ring individually up until the big day, once you're married, the engagement ring will have to sit with a wedding ring, and then later on maybe an eternity ring as well. Do you want a matching bridal set, or do you want to buy the rings independently? Some sets are designed so that the wedding band will bend around the setting of the engagement ring, so you can choose any shape you like.
Solitaire engagement rings are stunningly elegant and offer a wide choice of diamond shapes from the traditional round to the romantic heart. If you do choose to buy a solitaire, the prong or claw setting would allow the most light to enter the stone, so it would sparkle to its full potential. If you wanted more than just a simple solitaire, you could choose a stunning central diamond set within an arrangement of smaller accent stones, or a nostalgic three-stone setting believed to be representative of the past, present, and future.
Choosing a Diamond:
When it comes to choosing an engagement ring, getting the best quality diamond that you can for your money is crucial. Remember, she'll be showing it to absolutely everyone, so a sparkling diamond is a must!
Consider the four 'C's when you walk into any jeweler's or look online, and it'll be easy to choose the perfect engagement diamond for you. 'Carat' is the unit in which diamonds are measured, and indicates a diamond's weight; a 2-carat diamond is bigger than a 1-carat diamond, for example. This is an area in which savings can often be made with little effect; the naked eye could not discern the difference between a 1.9 carat and a 2-carat diamond, whereas your bank balance certainly could. Another consideration, and probably the most important, is the cut of the diamond. It is the cut of the stone which is responsible for its fire and brilliance; this means that the better the cut quality, the more the diamond will sparkle. The cut of a diamond is graded from 'excellent' to 'poor', so make sure you get the best quality cut possible for your budget. Depending on which shape diamond you choose, and the quality of its cut, you must also consider the diamond's color and clarity. Most white diamonds are actually very slightly tinted; pure white diamonds with no tint whatsoever are incredibly rare, and therefore incredibly expensive. The color of diamonds is also graded, however, so you will be able to see from the diamond's certificate where it falls on the color line. The grading falls alphabetically from 'D' (pure white) to 'Z' (visibly tinted); however the most commonly used stones fall within the 'G' – 'J' range. Along with this tinted color, diamonds also feature imperfections known as inclusions (internal imperfections) and blemishes (flaws to the stone's surface). The size and number of these imperfections are graded, so you can determine the diamond's overall clarity, from 'flawless' to 'included'. If you choose a diamond cut with many light-reflecting facets, such as a round-cut, the clarity is less important than if you were to choose a stone with larger facets, such as an emerald-cut, which would make imperfections more easily visible. Similarly, a princess-cut diamond would be more like to reveal a tinted color, because of its untrimmed corners, than a round-cut diamond.
Choosing a Metal Type:
Most people tend to have a preference when it comes to precious metals; what color does she already wear? Choose an engagement ring that will match her existing jewelry collection if you're not already aware of her partiality, or if she really is ambivalent, choose the best color to offset your diamond. Whiter diamonds look better in white jewelry, whereas a warmer tone would be best presented in yellow. If you can afford to stretch your budget to platinum, it would be a great investment as it is the purest of the precious metals, so represents the best value for money. It is also hypoallergenic, so can be worn by those who suffer allergies to other metals.
Engagement Ring Guide
The History of the Engagement Ring:
In many cultures, the engagement ring has become the ultimate symbol of love and commitment in a relationship.
Although there is no real hard evidence about the engagement ring history there certainly are no shortages of tales that date far back in time.
Such as:
It is believed that the caveman tied up his woman of choice so that she wouldn't run away! He also may have tied her to him so he could keep track of her. When he trusted her enough to untie her binds, she wore a ring of rope around her ankle that was linked to one of her fingers. How romantic!
Moving along to the ancient Greeks and Romans … they used a ring called a betrothal ring. The word betrothal can be translated many different ways; however the most common would be as "a pledge of truth".
Jumping ahead a few decades we have what is now known as the Claddagh ring. The heart in the center of the design represents love, the hands that surround it represent friendship, and the crown at the top (if present) is symbolic of fidelity.
In 1477, His Imperial Highness Ferdinand Maximilian Joseph, Archduke of Austria, gave his bride to be, Mary of Burgundy, a diamond engagement ring. Supposedly this is the earliest account of the giving of an actual diamond engagement ring that was "officially" recorded.
Why is an engagement ring worn on the left-hand ring finger?
It is believed that the habit of wearing the engagement ring on the fourth finger of the left hand is based upon an ancient Egyptians and Romans who believed that the ring finger follows the "vena amoris" or vein of love which is directly connected to the heart thereby linking the couple's destiny.
Even though Science discredits this theory – many romantics at heart still follow this practice today.
The 5 "C"'S of Diamond Buying:
There is almost an entire science involved in understanding diamonds – and we by no means intend to skip over the importance of knowing your facts.
We highly recommend that you do your homework about diamonds before making your final selection. However, for the sake of those of us who are not gemologists – the definitions below are simplistic enough for you to gain a minimal understanding.
Color: The "color" refers to a diamond's degree of "yellowness." The perfect diamond will be completely colorless, and therefore it will be the most expensive. Very few diamonds are perfect – or flawless!
Clarity: "Clarity" is a measurement of the number and extent of a diamond's flaws. Basically, the fewer the flaws, the more valuable the diamond.
Carat Weight: "Carat Weight" is simply the weight of the diamond. Don't confuse the weight of a stone and its size, as they are two different things!
Cost: The bottom line is – buy what you can afford! Whoever thought up the notion that the ring should cost as much as three months worth of the groom's annual earnings was not being realistic!
Cut: Last but not least – we have the "cut" of the stone. Which refers to both how the stone is cut and what its shape is.
Diamond Shapes:
There are an incredible variety of diamond engagement rings available for selection; deciding which style is right for your partner is often the most challenging of tasks.
Several factors must be considered when searching for suitable diamond engagement rings.
Below are descriptions of some of the most popular diamond shapes to choose from:
Round Brilliant: This is by far the most popular shape of diamond solitaire and represents almost 75% of the diamonds purchased today. If you want a diamond with lots of "sparkle" this is the one to choose.
Oval: This elongated design is very popular among women with smaller hands or shorter fingers. Its symmetrical cut gives an illusion of length & is flattering to the hand.
Marquise: Pronounced "marKEES". Similar to the oval but with pointed ends. The name was inspired by the smile of the Marquise de Pompadour.
Pear: A combination of the oval and the marquise, it is also known as the "teardrop" shape.
Heart: This cut can be considered the ultimate symbol of romance and is gaining in popularity. Find a diamond with an even shape on both sides of the heart and a well-defined outline.
Emerald Cut: A rectangular shape with cut corners. Flaws are much more visible with the type of cut so make sure you are careful to take notice of clarity and color.
Princess Cut: The princess cut is a relatively new cut and has become a very, very popular choice! Most women would love to have this stone for the center stone of their engagement ring. It has a square cut with numerous sparkling facets.
Trillian or Trilliant (Straight or Curved): The designs vary greatly depending on the natural characteristics of the stone and the preferences of the gemologist who cuts it. Basically, the stone is triangular in shape.
Radiant (Standard or Box): Most radiant stone cuts have a maximum of 70 facets to maximize the light refraction. This square or rectangular cut combines the emerald shape diamond with the brilliance of the round.
Baguettes, Bullet, Trapezoid, Half Moon, Pave: These diamond shapes and cuts are usually associated as "accent" stones which are used to enhance the beauty of the solitaire diamonds they surround.
In Summary:
Keep in mind whatever type of diamond engagement rings you are searching for; your partner will likely be in love with it no matter what style you ultimately choose.
When all else fails, if your partner knows of your intentions take her with you to shop for diamond engagement rings, that way you are certain to select a piece that solicits compliments and admiration!
One last little bit of information: Believe it or not?!
New York diamond appraiser Saul Spero, spent 25 years interviewing over 50,000 people to determine if there were any correlations between personalities and preferences of diamond shapes.
In his book Diamonds, Love, and Compatibility, he states that if a woman has a strong preference for any of these shapes, she can be characterized as follows:
[fusion_table]
| Shape | Spero's Personality Traits |
| --- | --- |
| Round | Family-centered, dependable, and not aggressive. |
| Oval | Individualistic, creative, well-organized, willing to take chances. |
| Heart | Sentimental, feminine, sensitive and trusting. |
| Rectangle/Square | Disciplined, conservative, efficient and honest. |
| Pear | Conforming, considerate and adaptable. |
| Marquise | Extroverted, aggressive, innovative and career-centered. |
[/fusion_table]
Engagement Ring – Buyers Guide:
Ringsforwomen.org is pleased to offer you this buyer's guide for all your engagement rings, wedding bands, wedding ring sets, and bridal jewelry shopping needs. The information, discounts, and savings you deserve are a click away when you shop at our online merchants.
These online wedding and bridal jewelry resources offer state of the art security to protect you, your transactions and your privacy. With new products being introduced every day, it was no easy task putting all this information in one place but believe it when we say – we've got it all!
Engagement Ring Resources:
Italian Engagement Rings Online! Unique solitaires, fine Italian gold men's and women's wedding jewelry — a huge selection! Gioie.it guarantees a vast assortment of products ranging from classic to modern styles in all price ranges! They offer Eight Guarantees to make every purchase safe, easy and convenient.
Fine Jewelers Engagement Rings: From $250 on up — this merchant offers quality jewelry at wholesale prices. They back it up with a lifetime warranty and unconditional 30 days money back guarantee on all purchases.
Wedding & Bridal Sets: Beautiful wedding and bridal sets. You can sort what you wish to view by "new arrivals", "price range", or "most popular". They even have a convenient Layaway option!
Allé Fine Jewelry – Bridal Collection: Allé Fine Jewelry is proud to present our Bridal Collection. We encourage our discriminating customers to compare our quality and affordability anywhere.
Bridal Engagement Rings: Szul sources and manufactures diamond and gemstone wedding jewelry from specialized markets around the world, making it possible to offer their customers fine jewelry at the best prices. They offer everything from men's wedding bands to two-tone Art Deco diamond engagement rings!
Bridal Sets: From "will you" to "I do" – there is nothing finer than the matching bridal sets offered by this merchant. Gorgeous designs and fabulous prices!
Bridal Anniversary Bands: A fabulous anniversary band collection including classic bands, eternity bands, gemstone bands, and many more! Every metal and stone combination you can imagine is right here.
Bridal Gemstone Engagement Rings: Be unique and choose an engagement ring that showcases a beautiful ruby, sapphire or emerald – they even have affordable exotic tanzanite engagement rings! Beautiful selections – great prices!
18k, Platinum & Titanium
18k White & Yellow Gold Collection: If you've been searching for just the perfect 18k gold diamond engagement ring, look no further. We offer a variety of beautiful 18k diamond semi-mounts and 18k diamond bridal sets in elegant 18k white & yellow gold settings.
18k & Platinum Solitaire Diamond Wedding Sets: These stunning 18k gold and platinum wedding sets will add a touch of class & elegance to your special day. In this section you will find our unique Tulipset® Solitaire designs, princess cut diamond solitaire engagement rings, round diamond, and marquise diamond solitaire engagement rings.
Platinum Wedding Sets: Many people consider platinum to be the top of the line when it comes to metal. This merchant offers gorgeous platinum bands with or without 18K gold!
Titanium Wedding Sets: White metal lovers will be thrilled with the affordable choice of luxurious titanium men's and women's wedding bands offered here!
Titanium Wedding Bands & Rings: With its trend-setting designs and unique styles, this company aims to be one of the leading eCommerce portals for contemporary titanium jewelry! From titanium and gold to titanium and gemstones — whatever you want – they've got it all – in all price ranges!
Three Stone Rings: Show your commitment to the past, present and future with a brilliant 3-stone diamond ring. Choose from princess cut three-stone rings, round three-stone rings, and pear-shaped diamond three-stone rings.
Design Your Own Engagement Ring!
Design your own Engagement Ring: It's easy to create an engagement ring with our merchant's Create Your Ring tool. To begin creating your own engagement ring, start by selecting your diamond or a setting. Then just follow the simple steps and have a unique one of a kind engagement ring!
Create Your Own Diamond Engagement Ring: It's easy to create an engagement ring with Mondera's Create Your Ring tool. To begin creating your ring, start by selecting your diamond or a setting. Then just follow the simple steps!
Promise Rings!
Promise Rings & Bands: Choose from the wide selection of Comfort Fit promise rings and bands at prices to fit every budget! This merchant carries a gorgeous selection of sophisticated styles in white and yellow gold.
Promise Rings: To express your promise of love, devotion, and commitment to her – let us help you encapsulate it all into one with a Mondera Promise Ring.
Promise Ring Buyers Guide: For the ultimate promise ring shopping experience – we highly recommend you check out this promise ring buyer's guide. Every type of promise ring you can imagine – from Religious promise rings to men's promise rings to pre-engagement promise rings – it's all right here!
Ring Wraps & Guards!
Ring Wraps and Guards: Add a little dazzle to your solitaire engagement ring with one of these sparkling diamond ring wraps or diamond ring guards. Our ring wraps and ring guards are available in white or yellow gold.
CZ Jewelry at its finest!
Fine Cubic Zirconia Engagement Rings and Jewelry Cubic Zirconia Engagement Rings. America 's #1 CZ Jewelry Manufacturer. Featuring the finest selection of cubic zirconia jewelry in 14k solid gold, so authentic in appearance and so exceptional in quality and craftsmanship. Their diamond simulant has all the fire and depth of brilliance of the finest stones ever unearthed.
Engraving:
Personalized Wedding Accessories, Bridesmaid and Groomsmen Gifts: This merchant offers numerous personalized gift and jewelry items for your next special occasion.
Bridal and Bridal Party:
Bridal and Bridal Party Jewelry Sets Under $20: If you love great jewelry bargains, then you'll love these! Classic fashion jewelry for fine jewelry admirers with costume jewelry budgets. Save on thousands of premium quality bridal jewelry items.
Good Luck!
Finally, when you make your purchase, make sure you also receive a valid diamond certificate so you are aware of the exact quality and value of the engagement ring you own. Not only is this a good way to guarantee you make the right choice financially, but you can also use the certificate to make sure the engagement ring is properly insured should it get lost, damaged or stolen. With all this to consider, don't forget to enjoy that magical moment… if you're not too nervous!