Ruby – Facts and Advice to Help You Buy a Ruby
Ruby is the red member of the corundum family of gemstones. The traditional July birthstone, fine rubies can be more costly than diamonds. The references here explain the qualities and characteristics you should be aware of before you buy a ruby.
Sourcing Inexpensive Birthstone Jewelry
One of the most popular types of fine jewelry a woman owns beyond her engagement ring and wedding band is a piece of birthstone jewelry. This can come in the form of her own birthstone or in the form of a mother's birthstone ring or piece of jewelry. Mother's birthstone jewelry combine all of her children or grandchildren's birthstones into one piece of jewelry. Fine jewelry is expensive, but there are ways to maximize your birthstone jewelry without having to fork over thousands of dollars. Here are some ideas to help you in your search for that perfect and affordable fine jewelry token to add to your collection.
1. Choose a Synthetic Stone
Depending on what month you were born in, your natural birthstone could range in price from a few hundred dollars to a few thousand dollars. Those born in April will spend significantly more on a diamond than someone born in January who can buy a natural garnet ring for a couple of hundred dollars. To even out the birthstone market, there are synthetic stones available in replace of nearly every month's birthstone. These are often manmade stones with either identical chemical compositions as the original or are manmade stones that are simulated to look like a particular birthstone. If you decide to go with a synthetic stone, I would still suggest getting the piece set in gold as opposed to silver to help with the longevity of the piece.
2. Choose a Low Karat Gold
Your most affordable fine jewelry option for birthstone jewelry would be sterling silver, but I recommend if possible to stick with gold because it won't tarnish quite like silver does. You can save on cost by choosing gold that is lower karat quality meaning there is less actual gold and more allow than higher karat golds. Since there is less gold, this also means that the lower karat qualities are actually harder and more durable. This helps if you are buying a piece of birthstone jewelry for a child.
Save with golds that are either 9k or 10k. Make sure that the jewelry is solid gold and is not gold filled or gold plated.
3. Buy Second Hand
A great way to save on a piece of birthstone jewelry is to buy on the second-hand market. There are a lot of places you can accomplish this either through an auction or antique shop. You can buy birthstone jewelry as new as a few months old and as old as a couple of hundred years old depending on your taste. Estate jewelry generally has no antique value so that you can find them at a significant discount from the MSRP of a comparable new piece of jewelry. If there are a few scratched or imperfections in the piece, take it to your local jewelry to be polished, and your birthstone jewelry will be as good as new.
See more: Best Places to Shop for Vintage Jewelry
4. Put on Layaway
This option won't necessarily save you money, but it will help make a more expensive purchase possible for those of us that are on a tight budget. A lot of places will offer layaway options that won't charge you any interest or fee but will hold your item for a designated period of time until you are able to pay for the item in full. You can take advantage of these layaway programs on items that are as little as $200 and as expensive as a few thousand dollars. Be sure that whatever you put on layaway is something that you can truly afford and make the payments on without causing financial hardship.
All About Citrine | Facts About Citrine to Help You Buy Citrine Jewelry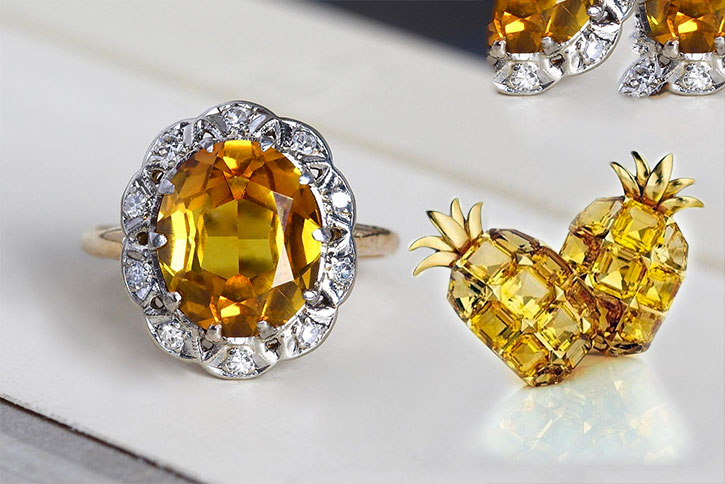 Get the facts about citrine, a yellow variation of quartz, before you buy citrine jewelry.
Citrine, one of the November birthstones, is a yellow variety of quartz that ranges in color from pale yellow to a deeper gold. It shares birthstone duties with topaz, another yellow gemstone.
Like other members of the quartz family, citrine is rated at 7 on the Mohs Scale of Mineral Hardness (topaz is rated at 8). The ranking is less than sapphire and ruby, at 9, and diamond, the hardest gem at 10, but quartz varieties are quite durable.
Most of the citrine sold today is actually low-quality amethyst, another variation of quartz that can be turned yellow by treating it with heat. Does that matter? Yes, if you are looking specifically for natural citrine gems or jewelry, but probably not if a color is the most important factor.
Purchase genuine citrine from sources you trust, and be aware that treated amethyst should be less expensive than natural citrine. Natural gemstones are typically pale yellow in color, rather than the more vibrant shades seen in most jewelry sold as citrine.
Shop for Birthstone Jewelry
Shop for Citrine Jewelry
Remember that most jewelry labeled as citrine is heat-treated amethyst. Read descriptions carefully and ask merchants any questions you might have before placing an order.
Compare Prices Of: Citrine Bracelets — a combination of beaded styles and jewelry made from faceted gemstones.
Citrine Necklaces — find numerous styles and price ranges of citrine necklaces and pendants.
Citrine Rings — citrine rings set with faceted gemstones, and some with cabochons; you'll find citrine used in birthstone rings and in stackable styles.
Citrine Earrings — studs, pendants, hoops, and drops… you'll find all sorts of citrine earrings in this collection.
Tumbled Citrine — some tumbled stones are set into pendants and charms, but others are sold in lots of five to ten or more.
Citrine Used for Alternative Healing Therapies
Citrine is thought to boost self-esteem, and its yellow color associates the stone with the solar plexus chakra, also regarded as yellow in color.
Some wear a small piece of citrine against the body because they feel it helps regulate hot flashes during menopause.
Citrine is thought to boost self-esteem and help a person feel confident during a weight loss regimen.
The gem is used for detoxification and for enhancing the body's circulatory system.
Disclaimer: Information about gemstone healing is not intended as medical advice or a substitute for professional medical care. My gemstone healing articles are a quick introduction to traditional beliefs that specific crystals and gemstones can be used in ways that go beyond simple body decor.
Summary
Article Name
How to Save Money on Birthstone Jewelry
Description
Learn the best ways to save money when you are shopping for a piece of fine birthstone jewelry. Here are some ideas to help you in your search for that perfect and affordable fine jewelry token to add to your collection.
Author
Publisher Name
Publisher Logo