Use this reference library to find facts and advice that will help you make the best purchase when you shop for gemstones. Gemstone details are a must-know if you love ruby, turquoise, sapphire, opal, amethyst and all of the other colorful gemstones used in jewelry.
Amber
Even experienced buyers have been duped into buying "amber" specimens that weren't genuine amber. Use these tips to learn some amber basics before you go shopping. More »
Aquamarine (March Birthstone)
They might look completely different, but aquamarine is in the same family of minerals that emerald belongs to. The highest quality of aquamarine is very clear, with fewer inclusions than emerald, but aquamarine with somewhat less clarity can be just as beautiful. Aquamarine Jewelry More »
Emerald (May Birthstone)
Prized since ancient times, a fine emerald can be more expensive than a high-quality diamond of the same carat weight. Take a look at some of the facts and folklore that surround this popular gemstone. Shop for Emerald Jewelry
More »
Garnet
Garnet is the January birthstone. You might think that all garnets are the deepest red, but there are other colors to consider, including gems that are a pretty shade of green. More »
Jade Variations
True jade can actually be one of two minerals, either jadeite or nephrite. Each one mineral is slightly different, they both occur a variety in colors and prices. Use these facts to sort out the differences and to help you avoid jade impostors. More »
Opal (October Birthstone)
Gemstone opal has fiery sparks that dance through it as the stone is moved. Use this reference to learn about the many variations of opal and find out how to detect simulated and composite stones which are sometimes used in opal jewelry. More »
Peridot (August Birthstone)
Peridot is a green gemstone that's sometimes called the evening emerald. In fact, some historians think that many of the emeralds worn by Cleopatra were actually peridot. The birthstone for August, peridot is thought to bring its wearer success and good luck. More »
Ruby (July Birthstone)
If a member of the corundum family of gemstones is red, it's a ruby. The traditional July birthstone, fine rubies can be more costly than diamonds. Use this reference to learn more about the qualities and characteristics you should be aware of before you buy a ruby. Top Picks Ruby Jewelry More »
Sapphire (September Birthstone)
Cornflower blue is the most popular color for sapphires, but this member of the corundum family of minerals exists in nearly every color you can imagine. Second, only in hardness to diamonds, sapphires are durable gemstones that have been popular since ancient times. More »
Turquoise (December Birthstone)
What's your favorite turquoise–a clear, robin-egg blue version, deep green stones, or the turquoise called spider web, containing delicate markings of a matrix, the rock that turquoise forms in? Use this guide to find answers to your questions about turquoise. More »
Alexandrite
Alexandrite appears green in daylight and red in incandescent light. Discovered in Russia in the 1830s, Alexandrite was named in honor of Alexander II, because it mimics the Czarist imperial colors. More »
Topaz (November Birthstone)
Topaz is the traditional birthstone for November. We often think of a honey-colored stone when we think of topaz, but it occurs in many colors, including reds, blues, greens, and violets. More »
Moissanite
Moissanite is composed of silicon carbide, a hard substance rated 9.25 on the Mohs scale. Small samples have been discovered in meteorites, but the moissanite that's sold for use in jewelry is lab-grown (and many gemologists say it isn't quite the same as the natural gemstone). Use these links to learn about the history and characteristics of moissanite. More »
World's most expensive colored diamonds
Diamonds are considered to be the default symbol for wealth, interpersonal commitment, rarity, scarcity, purity, brilliance and, most of all, perfect material thing to mark special moments such as wedding proposal. In fact, emotional sentiments, which are tightly tied to diamonds, are responsible for high demand. Otherwise, diamonds are just shimmering stones that go through various hands before reaching the consumer. A journey of a diamond begins from a place where a miner searches for raw pieces of stones. The raw material is passed through traders to skilled diamond cutters and polishers before reaching jewelry showrooms. Every hand adds additional cost to procure profit, hence an overall price. Historically, diamonds were used to transport wealth from one place to another as it's easier to hide them.
There is no dearth of gem auctions that come up with really expensive pieces. For example, 12.03-carat Blue Moon diamond is scheduled to go on the block at Sotheby's in Geneva. The expected pre-sale estimate is about $56 million. With it, the diamond will become the most expensive gem ever auctioned. However, presently, following gems hold the record for the most expensive diamonds:
Blue
The 9.75-carat Zoe Diamond is among the record holders for being the expensive diamond. Blue was sold at Sotheby's in November 2014 for over $32 million.
Orange
This 14.82-carat pear-shaped gem, also known as 'the Orange,' was sold for more than $35 million at Christie's. The final auction price was $15 million above what was estimated.
Yellow
Graff Vivid Yellow, a tempting 100.9 carats diamond fetched $16.3 million at Sotheby's.
Pink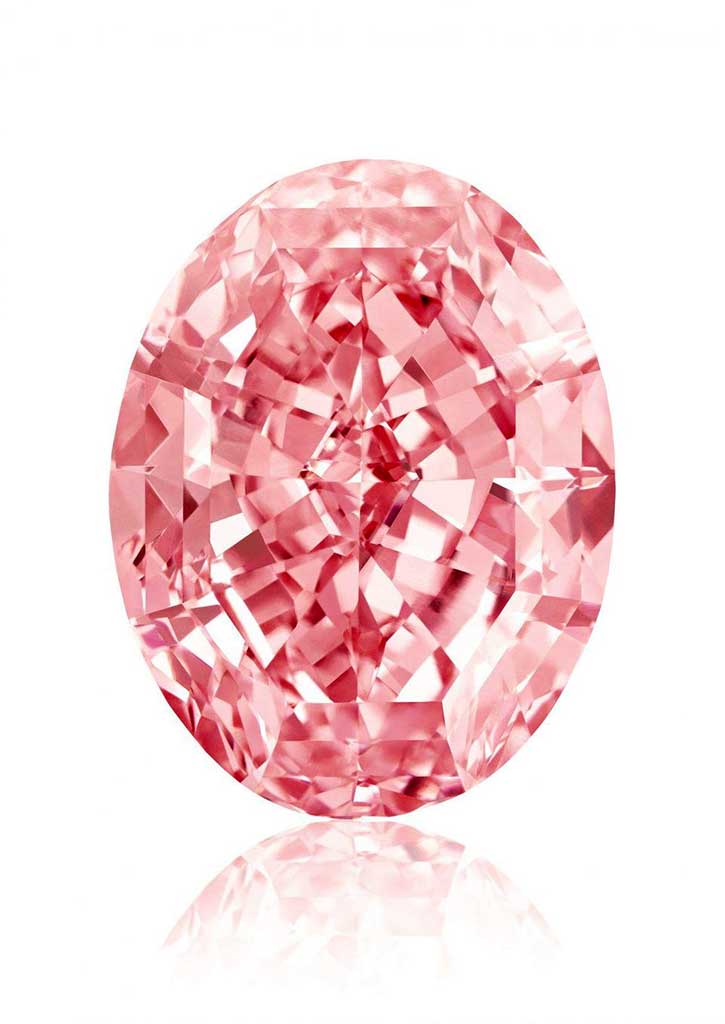 Having sold for more than $83 million, the 59.60-carat Pink Star should be the current world record holder. But the bidder, diamond cutter Isaac Wolf, defaulted, making Sotheby's to buy in back. So, for now, the 2.0 carat Graff Pink retains the title at an auctioned prize of $46 million in 2010.
White
Among colorless diamonds, this 118.28-carat oval-cut gem was sold at Sotheby's for $30.6 million in 2013. Unfortunately, white diamonds could not get a fancy as it doesn't have any color.
Jewelry Expert: Rings, bracelets, necklaces, earrings, watches for women. Share Us with your friends on your social media channels! The Best Of Jewelry for Women!.