Jewelry stores in America have seen a steady incline in sales over the past few years. According to The US Jewelry State of the Market Report, fine jewelry and watch sales in the US reached $78.08 billion in 2014. That is an increase of 1.5% over the previous year. The top-ranked jewelry stores below make up a good chunk of that revenue and continue to dominate the jewelry industry. This list includes the best jewelry stores in the USA as well as the top specialty jewelry brands.
1. Tiffany & Co
Tiffany was founded in New York City in 1837 by Louis Comfort Tiffany and has grown into one of the most prestigious brands in the United States. With over 87 retail locations, Tiffany & Co. has continued to invest in their brick and mortar presence. Their branding, including iconic robin egg blue boxes, as well as their meticulously crafted jewelry has pushed them to the top of this list.
2. Zales Jewelers
Zales opened its first location in 1924 in Wichita Falls, TX. Unlike Tiffany & Co. that caters to mostly high-end buyers, Zales mission from the get-go was to make expensive jewelry accessible to the masses. No matter your budget, you could bring home a diamond whether through their layaway programs or pricing specials. Zales continues to be one of the top diamond retailers in North America.
3. Cartier
Cartier was founded in Paris France 1847 by Louis-François Cartier. Cartier is established worldwide with over 200 locations in 125 locations. They carry high-end jewelry and are known for very notable jewelry sales to royalty and famous people. Though they are in a similar category as Tiffany & Co., their jewelry is overall a bit more expensive, so it is less likely the majority of jewelry buyers would be able to own a piece.
4. Kay Jewelers
Kay Jewelers is owned by Sterling Jewelers Inc. which is a subsidiary of Signet Jewelers Ltd. Sterling Jewelers also owns nearly 20 other jewelry retail stores, but Kay's is arguably the most well-known and the oldest. Kay Jewelers was founded in 1916 by Sol and Edmund Kaufmann. There are now approximately 900 retail locations, and that number continues to grow. Kay Jewelers offers great financing options that make larger purchases like engagement rings more feasible.
5. Jared – The Galleria of Jewelry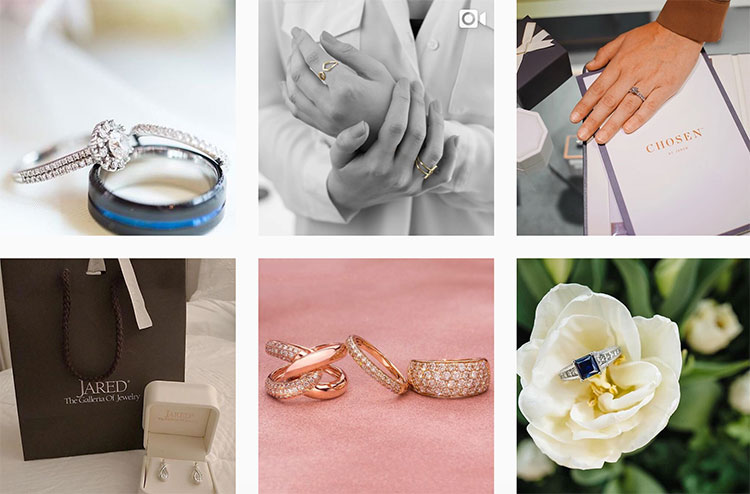 Jared – The Galleria of Jewelry is also owned by Sterling Jewelers, Inc., and is relatively new to the retail jewelry market. Jared opened its first store in 1993. The biggest thing that sets Jared apart from other retail jewelers like Kay and Zales is that they are not located inside malls. They pride themselves on being a destination rather than a shop you would randomly stumble upon. This makes shopping at Jared a great mix between an affordable retail chain and a high-end luxury jewelry boutique.
6. Bulgari
Bulgari or Bvlgari was founded in Rome in 1884 by Sotirio Bulgari. Bulgari designs have a reputation for being progressive, clean, and exceptionally executed. You may even remember seeing some Bulgari jewelry on the red carpet. Naomi Watts is a spokeswoman for the company and made the list of Best Red Carpet Jewelry Looks of 2014 in an exceptional Bulgari diamond snake pendant.
7. Reeds Jewelers
Reeds Jewelers was founded in 1946 by Bill and Roberta Zimmer. Though they are by no means the largest retailer on this list, they now operate in 13 different states. Reeds is one of the few on this list that is still a family-run business, and their great customer service is a testament to this.
8. Harry Winston
Harry Winston founded his jewelry empire in 1932 in New York City. During his life, Harry Winston was known as "Jeweler to the Stars" and his legacy continues on through the House of Harry Winston. Hollywood legends and up and coming starlets dream of the day they are able to wear Harry Winston diamonds on the red carpet.
9. Ross-Simons
Ross-Simons was founded in 1952 in Providence, Rhode Island by Sidney Thomas Ross. Though this retail chain has locations across the country, most of their business comes from an extensive catalog and web campaign. They offer a 100% satisfaction guarantee on all their jewelry and, as they say, offer fabulous jewelry at great prices.
10. Helzberg Diamonds
Helzberg Diamonds was founded in 1915 by Morris Helzberg. Over the last 100 years, their company has expanded to have more than 230 retail locations in the United States.