From the oldest jewelry houses to up and coming independent jewelry designers, luxury jewelry comes in all shapes and sizes. Some luxury jewelry brands are rich with history and intrigue and others are only beginning. Some have shops all over the world and others work out of a small basement workshop. Join me in exploring 25 of the most notable high jewelry brands in the world.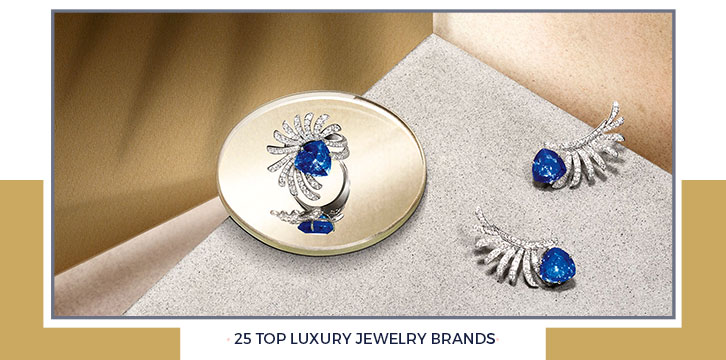 We'll start the list in alphabetical order, tracing back to the early 20th century in Milan.
1. Buccellati
Buccellati was founded by Mario Busalacchi in 1919 in Milan, Italy and is known as one of the world's most prominent jewelry brands. Unlike many family jewelry brands, Buccellati designs are still largely designed by the family. Jewelry designs are inspired by the family's Italian heritage, tracing back to design aesthetics from the Roman empire and the Renaissance. The company produces jewelry that is considered commercial, but the majority of their jewelry is highly exclusive. You can find this brand's commercial items on a small scale at high-end department stores like the Neiman Marcus. Both one-of-a-kind and limited edition jewelry pieces are handcrafted by jewelry artisans and stone setters from original images handed down by the family.
2. Bvlgari
Famed jewelry company, Bvlgari, was founded by Sotirios Boulgaris in 1884. The influential jewelry artist began his jewelry career in Corfu and Naples. In 1905, he opened his flagship store in Via dei Condotti.
Throughout the 1930s, Boulgaris' two sons worked to revamp the struggling brand and added the iconic V to its name. It wasn't until the early 1970's after the founder's death that his son and niece opened up stores in New York, Geneva and Paris.
In 2011, the company was bought by French luxury group LVMH. The deal cost an estimated $6.01 billion. Bulgari has been considered one of the most important it's not the most important Italian luxury jewelry designer. The company's inspiration comes from Greek and Roman art that has a modern Parisian twist.
As Seen On: As a brand ambassador, Naomi Watts wears Bvlgari on nearly every red carpet. Check out her looks here, here and here.
Tina Fey, the presenter for the 2016 Academy Awards, wore a richly toned sapphire necklace on the red carpet.
3. Cartier
Cartier was founded in 1847 by Louis-François Cartier and remained in family hands for more than 100 years. Its history is laced with exclusive jewelry sales to Hollywood starlets and royalty, making the tagline "jeweler of kings and king of jewelers" that much more relevant. Cartier became the jewelry house kings called upon when they needed tiaras and other royal jewels. Cartier is best known for its animals, particularly the panther.
4. Chanel
What began as a hat shop in 1909 by the famed Gabrielle "Coco" Chanel has now become one of the largest fashion houses in the world. It wasn't until 1932 that Chanel founded Chanel High Jewellery. The collection entitled 'Bijoux de Diamants' was presented in her Paris Mansion and marked the beginning of the company's luxury jewelry brand.
Many pieces from the current high jewelry collections have a certain vintage flair to them, honoring the 1930's design aesthetic.
This necklace is an elegant mix of labradorite and diamond, owing its inspiration to an antique Art Deco sautoir.
5. Chaumet
So far we've covered two Italian jewelry houses and one French. Chaumet is the next historical jewelry brand that has the longest history yet. The story of Chaumet begins more than two centuries ago. The company was founded in Paris by Marie-Etienne Nitot in 1780. She was the court jeweler for Emperor Napoleon I and, like Cartier, had experience crafting tiaras and other royal jewelry.
The company became famous during the Belle Epoque period when Joseph Chaumet became one of the most notable designers of the period.
Taking inspiration from the Belle Epoque movement, but then exceeding them on all levels is what makes the work of Chaumet so sought after.
Like Bvlgari, the company was also purchased by LVMH after losing lots of money then rebounding in the late 1990's. In keeping with the trends of other top luxury jewelry brands, Chaumet announced that it would develop a line of more accessible timepieces in 2014. If you were to order a piece of jewelry from this house, it would be meticulously handcrafted by 1 of 6 jewelers, all of which are directed by a master craftsman. Throughout the companies history, there have only been 12 to hold the master craftsman title.
Their modern-day collections are highly limited, inspired and whimsical.
6. Chopard
This luxury jewelry brand's roots are in the watchmaking business. Louis-Ulysse Chopard grew up in Sonvilier as a watchmaker and opened LUC manufacturing in 1860. After his death, Chopard's son took over the company that had now mastered the watch. He expanded operations in 1921 by moving to Geneva. Chopard remained in family hands until 1963 when heir Paul-André Chopard, having no children of his own, sold the company.
It wasn't until the 1980's that the luxury watch company expanded into diamond jewelry. The company celebrated its 150th anniversary in 2010.
As Seen On: Carmen Ejogo wore a vintage-inspired diamond festoon necklace to the 2015 Academy Awards.
Marion Cotillard is spotted wearing a pair of laurel wreath diamond earrings at the 2015 Academy Awards.
7. Fabergé
Fabergé is known widely in the antique jewelry world as one of the extraordinary jewelry brands of the Art Nouveau period. Russian Jeweler, Peter Carl Fabergé founded the most influential Russian jewelry brand in 1842. He, like Cartier and Chaumet, has royal roots. The highly revered jewelry artisan became the official goldsmith of the Russian Imperial Court and had a hand in creating a series of world-famed Easter eggs.
Fabregé pieces, particularly those designed by Peter Carl himself, are highly sought after at auction. Unfortunately, the high jewelry came to an unsuspecting halt at the beginning of the Russian Revolution in 1917. The rebirth of the Fabergé company is still in its infancy, having been revitalized in 2007, some 90 years later. Like many luxury jewelry brands, the modern day jewelry companies takes inspiration in the rich and layered past. Each piece is created with the idea that it, too, will someday become an heirloom to be treasured and passed down to the next generation.
8. Fred Leighton
So far we've only talked about historical jewelry brands, but what about the modern day curators? These jewelers not only create new high jewelry but also give new life to exceptional antique jewelry. Fred Leighton is one of those exceptional curators and jewelers to the stars. He began his career in the mid-1970's when he opened his first jewelry boutique in NYC. He curated a collection of jewelry from around the world along with other objects l'art.
Over the years, his antique and vintage jewelry collection grew to become one of the most important and revered collections in New York.
As Seen On: Christina Ricci wore a collection of heirloom jewelry on the 2016 SAG red carpet.
9. Graff Diamonds
Graff Diamonds prides itself on its rich heritage, but it is one of the younger luxury jewelry brands to make this list. The company was founded by London jeweler, Laurence Graff. The company created the tagline "The Most Fabulous Jewels in the World" to speak to their vast collection of famous gems. The brand takes claim to some of the world's most famous diamonds like The Graff Pink, The Graff Sweethearts, and The Graff Vivid Yellow.
Not all of these gems are meant to stay in the Graff archives forever. The latter diamond broke records at auction when it sold for $16.3 million.
10. Gucci
Gucci began as a high-end manufacturer of leather goods, clothing, and fashion accessories. The company was founded in 1921 by Guccio Gucci in Florence.
It wasn't until the mid-1960's that Gucci introduced a line of jewelry and watches to their growing list of products. Gucci offers both a high jewelry and fashion jewelry line. The high jewelry is fitted with diamonds in 18k gold and the fashion jewelry is often forged in sterling silver.
Both varieties will cost you more than a non-designer counterpart, but the company prides itself both on its quality and ethics. The company has been actively involved in many environmental conservation and women's rights efforts.
11. Harry Winston
Harry Winston has become America's most beloved jeweler. Born in 1896, the American icon is notably known for donating the Hope Diamond to the Smithsonian Institue, He picked up the jewelry trade from his Father, who started a small jewelry business after moving to the States from Ukraine. Winston made his mark on the jewelry world in 1926 when he acquired the collection of Arabella Huntington for $1.2 million.
The collection included famed jewelry pieces from iconic top luxury jewelry brands like Cartier. Instead of selling the items as-is, Winston recrafted the then outdated pieces and gave them new life. This led to the jewelry mogul to opening his own store in New York in 1932.
Winston left the thriving jewelry company to his two sons who then fought for complete rights to the company for nearly a decade. Eventually, Ronald Winston and Fenway Partners bought his brother out of the company for $54.1 million in 2000. The company remains at the forefront of luxury jewelry and is seen on various red carpets across the world.
As Seen On: One of the best jewelry looks from the 2016 Academy Awards came when Charlize Theron wore a long diamond sautoir that weighed 48.8 carats.
12. Hermès
Thierry Hermès was a German-born craftsman that moved to France in the late 1820's. In 1837, he founded Hermès, which was then only a harness shop for European noblemen. His son, Charles-Émile, moved the shop in 1880 after his father retired. The company was handed down for two more generations until it was left to Robert Dumas-Hermès who was only related to the family through marriage. He expanded the horse-fitting company into handbags, jewelry, and accessories in the early 1950's.
Though this brand is still most known for handbags, the company's luxury jewelry line is simple and refined. Pieces are crafted with a combination of gold, silver, diamonds, and leather.
13. Irene Neuwirth
Irene Neuwirth is the first mention of a designer from this century. She started her career in 2003 with business partner, Tracy Stoll. It has become one of the leading luxury jewelry brands in the US and has been adored by celebrities and fashion editors alike. Her work is truly a reflection of her generation as opposed to an extension of some historical legacy. Her use of bright, large and unusual gemstones has been a breath of fresh air to red carpets that had been predominantly filled with white diamonds and platinum.
Both sophisticated and fashion-forward, the Irene Neuwirth brand isn't going anywhere soon.
As Seen On: America Ferrera is seen wearing an elongated pair of shimmery opal earrings from Irene Neuwirth to the 2015 Academy Awards.
14. JAR
Sometimes the most elite pieces of jewelry are those that are so mysterious, little is known about them or their maker. The JAR isn't a household name in the jewelry industry, but rather an iconic and sometimes infamous name among the jewelry elite.
Joel Arthur Rosenthal is a New York-born jeweler that works out of his modest shop in Paris. Don't expect to be able to walk through the doors, however. The shop is open by appointment only.
He crafts pavéed works of art often in the shape of animals or flowers. His work is masterfully shaped to create a realism that has become iconic of his name. Often, his pieces will sell for significantly more than they were originally sold for on the secondary auction market.
15. Johnathon Arndt
Johnathon Arndt is another luxury jewelry designer of this generation. He and his husband, Newman Ardnt, founded their jewelry company in 1999. He has become best known for his extravagant jewelry designs worn by Carrie Underwood on the red carpet.
As Seen On: Carrie Underwood wore the custom-designed Heartbeat necklace to the 2016 Grammy Awards. This was a gift from her husband and named after her recent single.
16. Kimberly McDonald
Kimberly McDonald is another luxury jewelry designer that got her start in 2007 in NYC. She began her career as a fine jewelry curator for many important clients. She took her inspiration from years of handling other important jewelry. The influence has undoubtedly shown in her work, making sure each piece also carries a unique story. Her work is filled with rich colored gemstones and has a natural feel to it.
She prides herself on making jewelry that is sustainable.
As Seen On: Taraji P. Henson wore a stunning pair of emerald earrings from Kimberly McDonald to the 2016 Golden Globe Awards.
17. Lorraine Schwartz
Lorraine Schwartz took over her family jewelry business in 1989 when she then renamed the company to Lorraine Schwartz Diamonds & Fine Jewelry. She then created a business agreement with Bergdorf Goodman. Her goods were to only be sold there by appointment or by commissioning work privately. This created an element of exclusivity to her jewelry that the company hadn't had previously. She is most notably known for her famous clients.
More recently, Kanye West purchased a 15-carat diamond ring for his now-wife, Kim Kardashian West. Lorraine Schwartz is very popular on red carpets and name celebrities will often boast about when they're giving fashion credits to interviewers.
As Seen On: Lorraine Schwartz is a celebrity favorite. Among her biggest fans is the cast of Modern Family. Both Sofia Vergara and Sarah Hyland have worn her jewels on the red carpet.
18. Neil Lane
Neil Lane and Fred Leighton are two of the masterful curators of our time. Sometimes being a luxury jewelry brand isn't so much about creating as it is about collecting and exhibiting jewelry. Neil Lane was born in Brooklyn and eventually made his way to Paris where is the love of antiques and eye for important pieces was refined. His collection has grown to the point where it has been featured in various museums and on a plethora of celebrities.
You can always look forward to jewelry from Neil Lane making its way to the red carpet because it is almost always antique, unique and timelessly beautiful.
19. Nirav Modi
Jewelry designer Nirav Modi grew up in Antwerp, Belgium which is the diamond capital of the world. His father and grandfather were both diamond experts or diamantaires so he grew up learning all about diamond quality. Eventually, that influence and his love of art brought him into jewelry designing.
As Seen On: Kate Winslet wore several diamond pieces to the 2016 Oscars including a pair of chandelier diamond earrings.
20. Niwaka: Japan's luxury jewelry brand
Niwaka is one of Japan's leading luxury jewelry brands and takes on the colorful history of its hometown of Kyoto. Superb craftsmanship is matched with rich materials and classic designs. The company has recently been spotted on the red carpet and is growing its following in the United States and around the world.
As Seen On: Rachel McAdams wears a simple pair of elongated diamond strand earrings at the 2016 Oscars.
Emily Blunt wore a dainty pair of diamond chandelier earrings to the 2016 Academy Awards.
21. Omi Privé
Omi Privé's roots trace back to the early 1900's. During that time, Omi Nagpal and his wife, Preeti traveled to the United States with a handful of gems to escape wars and political unrest. They founded an exceptional gemstone house in Los Angelos that is now headed by their son, Niveet Nagpal. Niveet has taken on the role of the head designed, and in doing so, has created some marvelous, award-winning luxury gemstone jewelry.
The company has a considerable appreciation for the beauty each individual gemstone carries. In recent years, Niveet has turned a prominent loose gemstone house into a luxury jewelry brand that creates settings worthy of the loose gemstones they carry.
22. Piaget Luxury Jewelry Brand
This French jewelry house was founded in 1874 by an unsuspecting farmer, Georges Piaget. He spent his winters making pocket watches. His son, Timothée Piaget took over the business in 1911 and turned the watch business into his full-time gig. The company was merely a watch manufacturer at this time. None of the early pieces carry the Piaget name as they were all sold off to other watch companies that then branded them.
In 1943, Timothée's sons, Gérald and Valentin finally registered the Piaget name. The company is now owned by Richemont luxury holding company and employs over 1,000 people worldwide. The brand, like Chopard, now also manufactures luxury fine jewelry.
23. Rene Laliqué
Rene Laliqué is one of the most notable Art Nouveau jewelry masters. He was a jewelry artisan and a glassmaker that studied art and graphic design in the 1870's. He worked in England after his schooling as a freelance artist and created high jewelry pieces for luxury jewelry brands like Boucheron and Cartier. He opened his own business in 1885 where he continued to design jewelry and glassware. He is arguably one of the most famous Art Nouveau jewelry designers, and his use of enamel and naturalistic design make him one of the most notable jewelry brands in the world.
His pieces are highly sought after by collectors, museums, and jewelry connoisseurs.
24. Tiffany & Co
Tiffany & Co has a long history as one of America's most beloved jewelry brands. The company was founded in 1837 by Charles Lewis Tiffany and John B. Young. The company originally sold stationary but moved on to jewelry in 1853 when Tiffany took complete control of the brand. Like many other historical jewelry brands on this list, the company took a hit in the 1990's and lost an edge in the luxury jewelry world due to the recession.
Tiffany then focuses on a line of more accessible jewelry that helped the brand become a household name.
The necklace shown here was an important Tiffany & Co jewelry piece from the early 1900's. The Belle Epoque beauty showcases fleur-de-lys and rosettes that is reminiscent of the Georgian Era.
25. Van Cleef & Arpels
The last luxury jewelry brand on our list is none other than Van Cleef & Arpels. This company is most known for its retro jewelry in the 1940's, but the company was founded decades earlier in 1896 by Alfred Van Cleef and Salomon Arpels. The brand opened its first shop in 1906 in Paris. The company was acquired by Compagnie Financière Richemont S.A. in 1999.
As Seen On: Who could ever forget when Margot Robbie wore an iconic vintage zipper necklace from Van Cleef & Arpels to the 2015 Academy Awards?
Bikerringshop: Our Favorite Biker Jewelry Brand
Bold, massive, and eye-catching sterling silver biker jewelry is the hottest trend in both men's and women's fashion. You will love the abundance of themes, motives, and designs. Whether you are in search for an intimidating skull ring or motorcycle-related symbolism such as a wrench ring or a bike chain bracelet, you are sure to find it on Bikerringshop.com. Plus, if you are chasing a full biker-inspired looked, you'll definitely appreciate 925 sterling silver earrings, bracelets, necklaces, wallet chains, and other items in their collections. Unparalleled quality and budget-friendly prices will make you want to shop with Bikerringshop.com all the time.