Best Jewelry from the 2016 Academy Awards
What's the most anticipated award show of the year without some awe-inspiring jewelry? Chandelier earrings, white diamonds, mismatched earrings, and an octopus made a statement on the 88th Annual Academy Award red carpet.
Scroll through our slideshow to explore all the jewelry trends of the night as well as our winners for each jewelry trend category.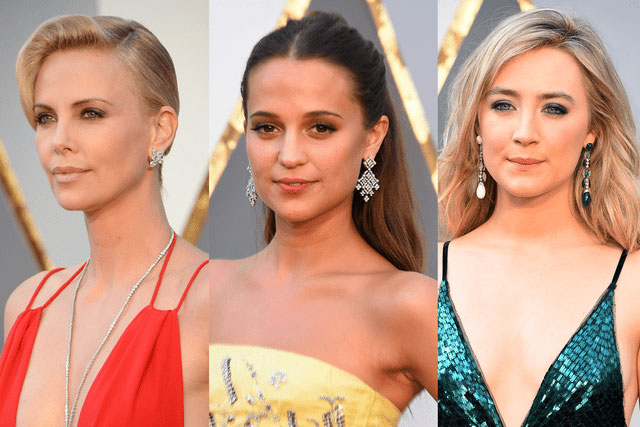 1. Statement Necklace Runner Up: Naomi Watts
Naomi Watts wearing a bold festoon style necklace. Watts is no stranger to the red carpet. Her Bulgari statement necklace was a favorite of the night and looked perfect against her glistening Armani dress.
2. Statement Necklace Runner Up: Tina Fey
Presenter Tina Fey wearing an impressive sapphire and diamond statement necklace from Bulgari.
3. Statement Necklace Winnner: Charlize Theron
Charlize Theron wowed all jewelry lovers when she arrived wearing the Secret Cluster Diamond necklace from Harry Winston. The diamond sautoir has 48.8 carats. Along with earrings that weigh 15.49 carats and a handful of rings, Theron had a total of 3.7 million dollars worth of jewelry.
4. Chandelier Earring Runner Up: Emily Blunt
Emily Blunt showed off her growing baby bump on the Oscar red carpet, but we couldn't take our eyes off her pair of geometric diamond chandelier earrings from Niwaka
5. Chandelier Earring Runner Up: Alicia Vikander
Alicia Vikander won an Oscar for Best Supporting Actress in The Danish Girl. She's wearing a yellow Louis Vuitton dress and geometric chandelier diamond earrings.
6. Chandelier Earring Winner: Sofia Vergara
Sofia Vergara wearing Lorraine Schwartz sapphire and diamond chandelier earrings that match her deep blue Marchesa gown.
7. Statement Earring Runner Up: Charlotte Rampling
These ruby statement earrings look beautiful on Oscar nominee, Charlotte Rampling.
8. Statement Earring Runner Up: Cate Blanchett
Cate Blanchett had some people wondering about her feathery Armani dress, but her platinum jewelry from Tiffany & Co is exquisite.
These earrings are from the Tiffany & Co Blue Book collection and feature marquise and round diamonds.
9. Statement Earring Runner Up: Rachel McAdams
Rachel McAdams stayed on trend in an emerald green gown, keeping her neckline high and her earrings simple. The single elongated diamond strand earrings are from Niwaka.
10. Statement Earring Runner Up: Kate Winslet
Kate Winslet's dress may have put her on Oscars worst dressed lists, but her diamond statement earrings are redeeming. The actress is wearing several designer pieces from Nirav Modi. Her earrings alone are over 19 carats worth of white diamonds.
11. Statement Earring Runner Up: Jennifer Jason Leigh
Prominent statement earrings and rings made this look on Jennifer Jason Leigh seem a little less cutesy and a little more Hollywood.
12. Statement Earring Winner: Saoirse Ronan
Saoirse Ronan pays homage to Ireland in a form-fitting emerald green Calvin Klein dress. She had the twitter world raving at her mismatched earrings. Some think wearing asymmetrical earrings is a mistake, others, like myself, find them to be amazing and a risk worth taking. These emerald and jadeite earrings are a bold and well-executed earring trend from Chopard.
13. Choker Necklace Runner Up: Sophie Turner Jewelry Detail
Sophie Turner wears a sustainable ice blue Galvan dress that complements her eyes perfectly. The Game of Thrones actress is wearing classic diamond and platnum jewelry courtesy of Tiffany & Co.
14. Choker Necklace Winner: Olivia Wilde Jewelry Detail
Olivia Wilde wins our statement choker category wearing an Edwardian choker necklace c. 1910 from Neil Lane. It is one of a kind and she wears it beautifully.
15. Statement Bracelet Runner Up: Daisy Ridley
An up close look at a beautiful Chanel diamond bracelet on Daisy Ridley.
16. Statement Bracelet Runner Up: Olivia Munn
Olivia Munn wearing a vibrant Stella McCartney dress accented by a showstopping Forevermark Diamond bracelet. The 12 carat serpent wrap bracelet makes up for the fact that Olivia Munn was only wearing simple diamond stud earrings.
17. Statement Bracelet Winner: Whoopi Goldberg
Whoopi Goldberg wearing the most memorable jewelry piece from Sevan Bicakci Jewelry. It is a diamond and pearl encrusted octopus!
Which Oscar jewelry look was your favorite? Let us know on Twitter with the hashtag #OscarJewelry.