5 Accessories That Every Busy Woman Must Have
If you are a busy female professional, the chances are that you do not have too much time at your disposal to go shopping for high-end fashion clothing or accessories, and you are looking for something that is practical yet extremely chic at the same time. The thumb rule of female professional accessorizing is to choose versatile pieces in neutral colors that can be used with more than just one outfit – accessories that can help you coordinate colors quickly and effortlessly, and that will give you that professional allure most of us are craving for. That being said, here are the busy female professional's five accessorizing musts.
1. A Watch
Every business professional regardless of gender or the niche in which they work must have at least one high-quality watch in their collection of accessories. You may be tempted to think that female professional who wears watches are slightly more masculine in appearance, but the truth is that modern watches come in a wide array of styles and colors – you can easily wear one, maintain your feminine allure and impose an authoritative look at the same time.
Tiffany's watches, for instance, are particularly popular amongst businesswomen these days. However, it is important to choose a color that compliments your overall outfit, and that will not make you stand out from the crowd in a negative manner – remember that being feminine does not mean wearing bright pink accessories.
2. Scarves Are Your New Best Friends
Nothing says "classy" louder than a refined, well-chosen scarf around your neck. Both practical and very functional, scarves are a must have for every woman who wants to look good and to feel good at the same time. Besides this, these accessories can be easily matched with a two-piece suit; they are affordable, trendy and available in a plethora of colors and patterns. Have at least two different scarves in your wardrobe. Here are some fresh ways to wear a scarf to work.
3. A Professional, Designer Handbag
You can tell a lot about a female professional by only looking at her handbag, and one thing is for sure: if you do not have the time or the resources to shop for high-end designer bags, it is certainly better to settle for something less expensive than to wear a replica that will only ruin your entire image.
Also, most female professionals these days tend to avoid handbags that have obvious labels all over them – discretion is the key when it comes to picking an accessory that looks extremely fashionable without having its designer's label everywhere.
That being said, try to avoid the classic big YSL, Prada or LV bags – stylish as they may be, being tasteful and classy means being discrete and not showing off, especially not at the workplace, where you can easily create a sense of competition between you and your superiors or co-workers without even knowing it.
4. Discrete Jewelry
One of the biggest mistakes some female professionals are tempted to do these days is that they underestimate the incredible power of wearing a refined, small pair of diamond earrings, trading discrete jewelry for big and bulky statement jewelry. While statement necklaces are perfect for casual wear during the weekend, especially if you are the type who likes to have all eyes on her, a subtle piece of jewelry will send a more powerful message.
Wealth, power and success are not transmitted through bulky and obvious items, but rather through the small yet very suggestive pieces that allow you to make an overwhelming statement.
5. A Chic Belt
As a female professional, you most likely wear two-piece suits or dresses at the workplace, but sometimes you may feel the need to "let loose" while still maintaining the professional allure. Fortunately, you can wear comfortable outfits without making any compromise regarding image or style – all you need is a stylish skinny leather belt that can be easily matched with fitted tops or sweaters. Besides this, they can also be easily combined with skirts. Find the most flattering belt shapes for your body here.
Good tailoring is your best accessory
While accessories can play a huge part in how polished a woman will look in professional attire, the best accessory is good tailoring. There is no amount of accessorizing that can make up for ill-fitting clothing.
Accessorizing Your Prom Look
Your prom is the opportunity for you to look and feel your best. It is that one special night that you will remember, so what you choose to wear, and how you choose to wear it can make all of the difference to the way your prom shines in your memory. Once you have located that perfect prom dress, you will then want to choose the correct accessories to compliment your outfit. The trick to the accessories you choose will depend heavily upon the type of look you wish to achieve for your prom. The best way for you to select your look is to narrow it down to these options – "Classic and Regal", "Simple and Clean" or "Funky Fashion".
If you are aiming for the "Classic and Regal" prom look, you will most likely choose a prom dress that is long, flowy and elegant. The accessories that are most suitable to this look are often short or choker necklaces that are encrusted with beads, pearls, colorful gems, or sparkly stones. It is wise to select the matching set of earrings, or earrings that flatter the necklace. It is entirely your personal choice if you wish to wear dangling earrings or studs. The best idea would be to sample both and ask the opinion of a trustworthy critic. You may also wish to glam-up your outfit with a ring or two, a bracelet and perhaps a glittering tiara. If you are wearing a strapless dress, you may wish to adorn yourself with a lovely pair of long posh satin gloves. The most popular colors for satin gloves are black and white, but you can also find them in a variety of other colors. A dainty purse will finish off your "Classic and Regal" prom look, and you'll be dressed to the nines!
A "Simple and Clean" prom look is one that is more modern. It's not so much about the frills as it is about looking and feeling natural. The prom dress that might appeal to you for this look could be one that is long and sleek, or short and chic. The jewelry you may wear in order to compliment your outfit should be something dainty and charming. You will also find that a small purse will also flatter your attire. The "Simple and Clean" look isn't about being flashy it's about the perfect touch. You don't require gloves, a tiara or the complete set of matching jewelry, all you need is to look and feel your best. Remember it's your prom, there is no law that states you must look like a movie stereotype; just be you, and wear what makes you feel beautiful.
Are you looking for the perfect designer prom dress? Find the perfect prom dress at Beautyshortcutips.com.
The last of these looks is "Funky Fashion", and this is a style that is geared towards those with a little more flare, and eccentric tastes. If this is where your heart lies, there is no telling what form of prom dress you will choose to wear. The accessory tips that you will need to think about will depend most importantly on your outfit. Keep in mind that although it is fun to be wild, there is still a line you won't wish to cross. Do not fall into the trap of becoming a fashion disaster by clashing! Stay away from excessive chunky jewelry, and conflicting colors. Most proms are formal occasions, so make sure you are aware of what is allowed before you start concocting too many racy ideas for your outfit. "Funky Fashion" is about originality and creativity. The key is to create a look for prom that compliments you.
It doesn't matter which of these fashions suits your taste. All that matters is that you feel good about how you look in your prom dress when all is said and done. You don't need to overly concern yourself with accessories, because it's choosing the prom dress that is usually the hardest part. Shopping for accessories is usually a fun expedition, whether it is at the mall or online, that you can enjoy with your best friends. Have a great time at your prom and take with you the one accessory that no fashion style should be without your camera.
How to Accessorize for a Job Interview
Here are some helpful tips to help you to accessorize for a job interview, no matter what type of profession or environment you will be interviewing.
Accessories add the finishing touch to any outfit, even when interviewing for a job. However, when it comes to being in the hot seat with a potential career advancing opportunity, special attention should be taken on choosing which accessory pieces you wear.
Rarely is there a one-size-fits-all answer to the right way to dress. Interview attire is no different. In some professions, less is definitely more, and in others, your potential employer is counting on personal presentation as an indicator of your level of creativity. Here are some helpful tips, based on different types of professions, to help you figure out what accessories are and aren't right for you and your upcoming job interview.
1. A corporate job interview
If you are in a serious corporate profession, less is definitely more. Employers are looking for are candidates who aren't frivolous, who are dependable, responsible and mature. You want your image to express this. Coming to an interview with loud and distracting jewelry, scuffed shoes or a cheap handbag will not send the right impression and may give off the impression that you are haphazard, sloppy or unreliable.
To make a positive first impression, go for quality over quantity, timeless and classic pieces, and investment items. Even if you can't outright afford a good watch, a pricey handbag or diamond stud earrings, consider borrowing these things from a friend or family member or purchasing the best you can afford and taking good care of these items. Certainly, an employer won't overlook you if you don't have a designer watch or parts of a shoe, but they might react negatively if your handbag is in bad shape or your shoes are scuffed or worn out.
Lastly, keep accessories understated. Choose shorter earrings and avoid any jewelry that is noisy, distracting or cumbersome.
2. A creative job interview
In terms of a creative job interview, a business suit and accessories that don't express you or the level of creativity an employer is looking for in you won't work. In cases of creative job interviews, you can step out a bit more.
However, this does not mean showing up in an unprofessional manner that expresses to your employer that you don't care enough to put some effort into your outfit. Accessorizing allows you do dress in an appropriate way while using these accent pieces to creatively express yourself. Try colorful and unique jewelry, interesting belts worn over a classic blazer or dress, a pair of statement shoes that pop a more understated outfit or a creative handbag, portfolio case or tote bag.
Despite being able to take a bit more creative license, just like a corporate job interview, everything you wear, including your accessories, should be clean, neat, polished and scuff free. Creative does not mean sloppy or unkempt.
3. A business-casual job interview
If the workplace is more laid back in dress code and it is clear that a suit isn't required and the environment is more dress casual, for the interview, accessories can play a major role in making a more lax interview outfit look more polished.
In cases where a smart pair of trousers, a top, and cardigan or even a pair of jeans and blouse are acceptable to wear to the interview, the simple addition of a great necklace around your neck, a pair of understated, yet unique pair of earrings, a pair of fun shoes or scarf can add a touch more interest and polish that will separate you from the rest of the candidates. Sadly, when most women think about dress casual, they forget the final step of adding something extra with accessories. However, it is quite amazing how much better dress casual basics can look with just a little attention paid towards this.
4. A first job out of college interview
There is a uniform-look to a first job interview and if you don't want to get lost in the sea of sameness try stepping out with your look with accessories. Not only will they add a little something different, in an understated way, to a basic suit, but the beauty of accessories is that you can change up one suit a variety of different ways if you get called back for a second interview. This is a great solution for any college graduate on a budget.
The choice of accessories definitely depend of work environment, whether the job you are going for is creative, corporate or more dress casual, however, universally speaking, the avoidance of using the same backpack you lugged all over campus or those big earrings or necklace you used to dress up an outfit during your rowdy college days won't suffice. Invest in a few work-appropriate accessories, one good bag and at least one pair of decent shoes. To get the most out of one pair of shoes a good pair of nude or tan heels will go with everything and will easily elevate your look. Not sold on nude shoes as being versatile? Here is some more info on this.
General accessorizing tips to keep in mind
No matter what type of job you are going for, good grooming, well-fitting clothing, and attention to small details in your look will go a long way. Also, for peace of mind, and the potential accident, consider emergency accessories on hand, as well, like a stain stick, Band-Aids for emergency blisters, breath mints, a hairbrush, and a lint roller, just in case. As they say, an ounce of prevention is worth a pound of cure.
How to Know When You Have Chosen the Wrong Accessories
If you have been trying to accessorize but can't figure out what you have been doing wrong, here are a few ways to know when you have chosen the wrong accessories.
Often, the difference between a good outfit and a mediocre or, worse, a terrible one is in the subtle details, like the accessories you choose to finish your looks. The wrong necklace length, earring shape or belt choice can make a good outfit turn bad in seconds. If you have been trying to accessorize but can't figure out what you have been doing wrong, here are a few ways to know when you have chosen the wrong accessories.
1. You Feel Fussy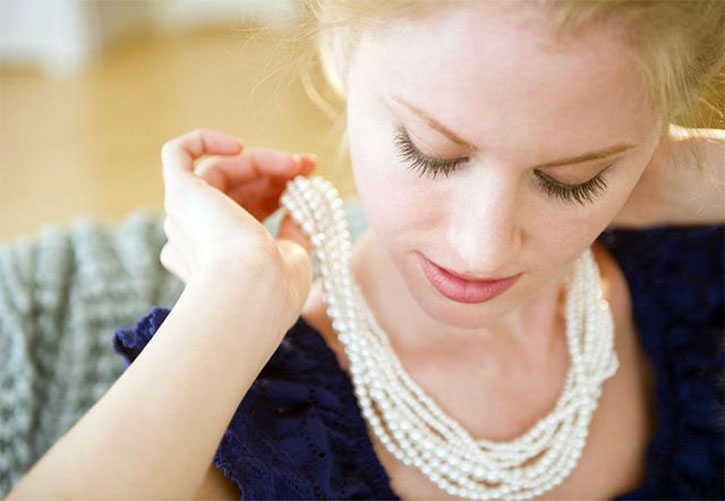 The easiest way to know you have accessorized wrong is if you feel fussy or uncomfortable with what you are wearing. Maybe your bracelets are getting in the way, your earrings are making it difficult to talk on the phone, or that necklace keeps getting caught on things when you bend down. These are all things to make a note of when putting on and buying accessories in the future. There is no point in buying more things that will drive you crazy.
2. Your Necklace Looks "Off"
Have you ever put a necklace on and found it just sat there, doing nothing? Something about the length seems off, but you aren't sure. You may not know that, but everyone has what is called balance points, which are the points on the body where necklace lengths look the most flattering. Finding your own points is super easy with this step-by-step guide. Of course, if a necklace isn't the right length, you can always lengthen it or shorten it yourself.
3. Your Belt Spins
Nothing is worse than a spinning belt that won't stay put on your body. You wonder what the point of wearing it is when you find that the buckle has shimmied to the back of your body. Belts that spin usually aren't tight enough or are in a hard leather that stands away and doesn't cinch the waist. To avoid your belts from spinning, try an elasticized belt style, a fabric belt or a contour shape that usually sits to the natural curves of the waist. Here are some additional tips on choosing the right belts.
4. Your Earrings Look Out of Place
Bold earrings can be fun. However, when they are too big and too bold, there is a chance that these dangling baubles will work against you versus enhancing your features and who you are. There are a few tips for choosing the right earrings styles and lengths, all which you can read here, that will allow you to wear bold earrings without going overboard.
5. People Can Hear You Coming a Mile Away
Right now a big trend is to stack multiple bracelets on one arm. Women are mixing metals, bracelet styles, and even adding watches, to their stacks. One problem you have to be careful of when wearing this bracelet stacking trend is the noise. Load up your wrists with bracelets and shake your arms. Heading somewhere that requires quiet or where you don't want to be a distraction? It's probably a good idea to leave the stack at home.
6. You're Teetering When You Walk
So you have decided to take a chance with a pair of super high heels. Kudos to you for stepping out. Yet, before you decide to clamp down the street like a supermodel in your spindly stilettos give it a little practice. High heels are only as sexy looking like the woman who wears them. If you look like a baby deer taking their first steps, you might want to start with a lower heel and work your way up.
7. Everything Matches or Feels Over-the-Top
Nothing is worse than looking matchy-matchy when you accessorize. In order to avoid this, stay away from necklace and earring sets, wearing gold earrings and a gold necklace at the same time (choose one or the other) or wearing too many statement accessories in one outfit. Usually, one statement piece is enough.
If it feels wrong, it usually is
Most women make the wrong choices when accessories simply because they don't trust themselves. If you're wearing something and it doesn't feel right, trust your gut, it's probably right.
Jewelry Subscription Boxes: The Hottest Trend in Accessorizing
Here are some of the most popular jewelry subscription services, what sets them apart and how to decide if this is something that is right for you.
One of the hottest trends in accessorizing right now is jewelry subscription boxes, a hassle-free and easy way to stay up to date with the hottest and trendiest jewelry pieces. With most of these jewelry subscription sites (with more popping up every day) all you have to do is fill out a style profile, pay a monthly subscription fee and, voila, you've got several new accessory pieces showing up at your door every month. Aside from getting new jewelry every month, who doesn't love getting a package in the mail?
But is it really that easy? Are these jewelry subscription services worth it for you and, with all of the different companies to choose from, how do you decide which one to use? Here is a breakdown of some of the more popular jewelry subscription box services, what sets each one apart and how to decide if this is something that is right for you.
For those who want to choose their own jewelry
Unlike many of these jewelry subscription companies that don't allow you to choose or shop for your own accessories, Chic Peek is different in that, for a flat monthly subscription fee of $30, you get to choose one accessory item at 80% off the retail price. They also offer access to in-house stylists, monthly style tips, and trend reports.
For those looking to be able to return boxes, they don't like
Wantable ($36.00 a month)- Wantable offers monthly subscriptions for accessories, beauty products, and intimates. Plus, the company has plans to expand into additional categories. Like most sites that offer this type of subscription services, you pay a monthly subscription and receive a box of either 4-5 jewelry pieces, beauty products or intimates based on your style preferences.
What sets Wantable apart from other subscription sites is that you can return a box for a full refund if you don't like what was sent to you. Seeing that most of these companies don't let you choose the accessories you will be receiving, and rely solely on your style profile answers to choose what you receive, being able to return your box is a real bonus that Wantable has over other companies in this retail space.
For those who can't commit
RocksBox ($19.00 a month)- RocksBox has a bit of a Netflix spin to it. Similar the other jewelry subscription sites, you fill out a style profile and let the company's stylists choose accessories that they think you will love. However, where this company differs is that for the $19.00 a month fee you are technically just borrowing the jewelry, you don't own it. You are allowed to hold on to the jewelry for as long as you want, but, if you choose to buy any of the pieces, you can for a price of 20% off the retail price of the item. This is a fantastic option for the person who frequently changes their look or who wants to test drive a few alternatives before committing.
For those who want to be rewarded for loyalty
Jewelbits – (Starting at $33.00 a month) – Jewelbits rewards loyalty and has tiered plans with better monthly subscription prices the longer you commit. You can sign up for a one, three or six-month plan. If you are just starting out with a company like this, and aren't sure if the stylists will capture your style, test out a one month before committing to a longer subscription as you won't be able to cancel lengthy subscriptions until they expire.
For those who want additional perks
Cate & Chloe ($39.00 a month) – At Cate & Chloe, VIP members not only get two jewelry selections a month, based on their style profile and chosen by their stylists, but membership to this jewelry subscription does come additional privileges. As a VIP member, you not only get your monthly jewelry packages, but you also enjoy a variety of other benefits as well. These benefits include a gift on sign-up, 20% off any other item purchased, free shipping on any order, pre-release jewelry items, special customer support, and exchanges for products you don't love.
Enjoy, but read the fine print first
Most women today are not only time-starved, with little to no time to hit the stores or stay up on trends, but feel overwhelmed by all the accessory and jewelry options out there. What these jewelry subscription sites allow women to do is sit back and let the trends that have been handpicked by experts come to them. Overall, it's a fun way to refresh your looks and enjoy a fun little monthly surprise. However, it is important to shop responsibly. Whichever jewelry subscription service you choose, read through the terms and conditions, as well as FAQ's, on the company websites, as many do not accept returns and may have complicated cancellation policies that you should read and understand thoroughly before committing. It would be a real downer if this fun way to accessorize got dampened by poor customer service that wasn't what you were hoping for.
Accessorizing Tips for Busy Moms
You're a mom, you want to look stylish but can hardly remember when you took a shower last or had a chance to put a brush through your hair. At this point, you consider yoga pants haute couture. If this is something you can relate to, yet find yourself also realizing that the better you feel, the more productive, energized and good about yourself you feel, here is why accessorizing can be such an easy and effortless way for moms to keep it casual, yet pulled together.
Few women think accessorizing is easy. In fact, even those without the added stress of having to manage kids all day grumble at the idea of another step in the dressing process. However, accessorizing is the thing that can make that yoga pants, and basic t-shirt looks more interesting, the crop pants and blouse you wore to take the kids to the zoo, or the simple sundress you wear on a hot day at the park look more polished.
For moms, accessorizing allows new moms and seasoned ones to keep it super casual while not feeling bland in an outfit.
Additionally, few moms want to wear anything too precious while with children. Can you imagine getting grubby hands or a juice box stain on that new blouse that cost a fortune? Moms tend to keep their looks simple not just because they are busy but because the chances of making it through the day without a kiddie generated stain is slim to none. This is another reason why moms can benefit from adding a few accessories to an outfit that is less expensive and more basic. Additionally, accessorizing allows you to change up one basic look a variety of ways.
Moms who accessorize are also able to move throughout their day more easily.
Despite the fact that they spend most of their times with their children, many also have activities, plans, and commitments that don't involve the kids. The beauty of accessorizing as a mom means that all it can take is a shoe change from a pair of sandbox friendly flip flops to a fun wedge sandal to make a sundress more sophisticated or the addition of a some jewelry to the basic t-shirt and jeans outfit to take the lookout with friends while the kids are home with the sitter.
Take a look at how easily some quick accessory changes can make an outfit more polished here. Moms don't have the time during the day for an entire outfit change, making the quick accessory change an easy solution.
So what types of accessories will moms benefit from having in their wardrobes? First, the shoes. Having the ability to make a quick shoe change as your day changes will make changing up your look effortless. Having a super casual pair that you can wear with the kids, that are comfortable, easy to walk and run in and get down and dirty is a must. Next, think about how you spend the rest of your time. Do you volunteer, get involved in your child's school, spend time with friends? Look for a pair of shoes that will work for this part of your life. In the summer, something like a dressier pair of sandals or a fun wedge is worth considering. For fall or winter, changing out of a pair of sneakers to a pair of more stylish boots can elevate a look instantly. The goal is to choose shoe options where the base of your outfit can stay the same and, with a quick shoe change, the outfit gets polished.
Jewelry is another area where you can make some small changes that have a big impact on a basic mom outfit. The right choices depend greatly on the age of your child. If you have young children, choosing accessories that could cause potential choking should be avoided, babies and toddlers love pulling on dangly earrings so you might not want to wear them when your children are young and easily wooed by shiny things that hang. For time with the kids, jewelry is probably the last thing on your mind but, again, if you want to keep your outfit the same but elevate it, having some pieces on hand that you can throw on in a pinch is smart. A white t-shirt and pair of jeans can be played up with the quick addition of a long pendant statement necklace, colorful earrings or a bracelet. With one step, a bland outfit gets a pop. As you move throughout your day being able to add or subtract some jewelry can keep it effortless without sacrificing style.
Lastly, bags. If your children are young and you still need a diaper bag to consider getting one that is stylish enough that it can be used even without kids. Instead of choosing one that has a juvenile pattern on it try a metallic diaper bag or one in a pop color and shape that looks more like a tote or handbag.