Hi there, welcome and thank you so very much for joining me. It's been a while and I wish to thank you for your patience and understanding. I thought I take a moment to share with you a requested topic and it is my pleasure to do so. I will be sharing with you my Cartier Love Bracelets. Now, these are gifts and I never take them off. But for this show-and-tell session and Cartier love bracelet review, I will be taking them off for you.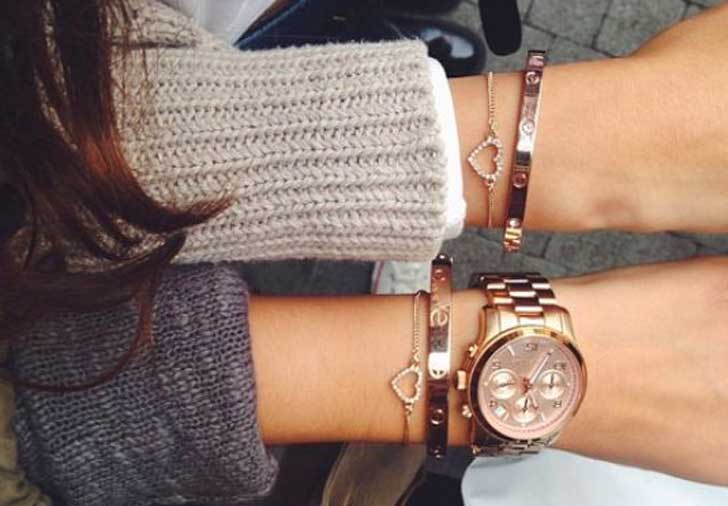 I have had both of these bracelets for quite some time. These are the white gold with 10 diamonds and the rose gold with colored gemstones. I really love them, they are an iconic Cartier piece symbolizing enduring love and commitment. So they are meaningful to me. They range in size from I believe starting at sixteen, all the way up to 22. These are gender-neutral bracelets and are suited to be worn by a man or woman. I find them to be very classic, very chic, very elegant, and rapid trendy these days as well. Cartier Love Bracelets were introduced in the seventies, I believe in 1974 or 1975. They have really endured the test time and they continue to still be extremely special and popular.
Fit and Sizing
Now I want to share a little bit about the fit. I know that for those people looking to gift or purchase a new love bracelet, sizing is a huge debate. First of all, if possible do going to the boutique to get sized. They have sizes made from regular alloy to these bracelets in stock where they will perhaps place them on you to determine to size. I was sized to be size 16 and they fit perfectly, they actually go down a little further than recommended. They're supposed to be rather fitted look at your oval dangles. Just for aesthetic purposes and fitting purposes I've arranged for some bangles here.
This is the hexagon bangle from Tiffany and as you can see from the picture above it goes down, rather a far sort of up the arm. So this supposes to stop on the wrist and what happens is, it prevents the scratching or severe scratching that can occur if its sort of a little too loose on the wrist. They are substantial bangles and they measure about 30 grams (1.05822 Ounces) in weight each and for me, I can actually rotate the bangle on my wrist. And that's considered a little bit too loose. The white gold one with a screwdriver is the original love bracelet Cartier design.
The Guide to Stacking Cartier Bracelets
The Cartier Love Bracelet with white gold comes with a screwdriver is the original Cartier bracelet design. The rose gold with colored gemstones is a newer version. There is Cartier engraved on the bracelet. I will illustrate them for you in a little while.
Sometimes I like to stack them occasionally for variety I like to sandwich these bangles (pictured below). Also from Tiffany with the top rope diamonds between them so it's a sort of more festive look and feels. Occasionally this is how some people will wear them. But as I like to keep things a little simple, I do tend to furnish a minimum of accessories when I am presenting in these postings as to a sort of keeping the focus on the product. In terms of presentation, it's really just absolutely gorgeous.
Cartier Love Bracelets come with a beautiful and gorgeous box. A red presentation box with the corners locked out. So it's really octagonal-shaped with beautiful gold detailing. The box lifts up and you will find the screw that comes with it in the box. I always put the bracelet and accessories in this red box marked Cartier. Inside the box, you will also find a wealthy velvet pouch where when you can choose to store it in two separate compartments they don't further scratch each other up.
Because I wear these bracelets, I really don't store them in the box. It is not recommended to take them on and off as they are that type of jewelry piece. It also comes with a certificate of authenticity as well. I do carry one screwdriver with me at all times in a handy trusty pouch that I have in my hand back at all times.
I also do wish to point out that these crews initially do loosen up. But as time goes on that becomes fewer far between, so as a new owner please be sure to take notice of the screws and make sure that they are on securely.
This is the original screw design and the entire screw actually comes off. Now, these screws do not entirely unscrew from the piece as the newish design allows for the screw to remain intact. I've not taken them off for years.
Now I wish also to point out that the orifice of this particular bracelet is a little bit more narrow it is a little more rounded. I'm not sure how I can illustrate that for you but it is fatter overall. This particular oval is a lot more flattened. I think I may be able to illustrate them as I stack them for you as you can see one of them sticks out a little bit more (see picture below). So I wear this on the thicker part of my wrist. I love them both, I like having the top of them as I quite enjoy mixing metals
Rose Gold or Yellow Gold?
Additionally, I also want to point out that I found that Cartier's rose gold love bracelet does fade. I'm not sure if that's a person-to-person's, skin alchemy, or type of situation. But their rose gold bracelet does fade a little bit. Initially, it was a lot more Capri and now it's much closer to the yellow. Cartier Love Bracelets is known for its beauty. Their rose gold does not have Capri as the Rolex rose gold, which is why I was so drawn to it. But I've come to realize that it does fade, which is neither here nor there for me. It would have been nice if it didn't. But even with the colors that fade, I also quite like it.
So there you have it, a bit of a show-and-tell as well as a review of the Cartier Love Bracelets.
>> Check Price and Customer feedback on Amazon <<
The Love Bracelet by Cartier Symbolizes True Love
Do you want to have or give a piece of jewelry that epitomizes the love you share with your beloved? Since 1969, there has been only one piece of jewelry that captured that sentiment perfectly: the Love bracelet by Cartier. This bracelet design has the unique ability to symbolize the eternity of love, a deep facet of true love. It has been time-tested and celebrity-approved. What could be better?
Since its inception, the Cartier Love bracelet has been a visual symbol of love. The design on the side of the bracelet features two semi-circles joined tightly in love. In addition to that, the bracelet itself is made up of two semi-circles joined together with a screwdriver that comes with this special bracelet. It's important to get your wrist sizing exactly right since the bracelet cannot be re-sized. The bracelet is also not designed to be used as a bangle and slipped on and off. The proper way to wear this is to use a screwdriver. Thus when you wear someone's bracelet, for that time they show the timelessness of true love.
If you start to look around, you'll notice that this idea of love and its conceptualization in the form of the Cartier Love bracelet has been warmly received by celebrities and the fashion elite. Cartier Love bracelets are a common accessory at major fashion events, awards shows, and boutiques. When you watch closely, you'll find how popular this bracelet design really is.
The Cartier Love bracelet is synonymous with true love, with the semi-circles embracing each other tightly seemingly for eternity. When you're shopping next for that special someone of yours, keep that in mind. If the Cartier Love bracelet seems like a big expense, try online to see if you can get a good deal on the appropriate size. Good luck!
Cartier love bracelet has been on my wishlist for a while now. I am unable to wear the original screw style because of the work I do so I was delighted when @cartier brought out the small version that can be removed more often.
The customer service was amazing. We were given a delicious complimentary bottle of champagne, and the children received these beautiful Cartier coloring books
Cartier Jewelry – A History and Review
If you haven't developed brand loyalty to a particular designer jewelry line, then you haven't really encountered Cartier jewelry yet. When you do, you'll discover like so many others have all you've been searching for. In this article, I'll take a look a bit at the history of Cartier jewelry and share why I think you might have to look no further than Cartier for all your jewelry needs.
The Cartier family has been designing and making jewelry for over 160 years. In Paris in 1847, Louis-Francois Cartier opened a jewelry workshop. His jewelry quickly became associated with the upper class and even royalty, especially when the queen of France began to wear Cartier pieces. Cartier passed the business on to his three sons, one of whom moved to New York to set up a location there. Once in America, Cartier jewelry came to be adored by the elite of the country, like the Rockefellers and Vanderbilts. Cartier continues to be a name in jewelry that exudes superiority.
Though it is high-class designer jewelry, Cartier is unlike other brands in that you have an unusual number of choices. Once you start looking, you'll find like I did that you will have plenty of choices in types of jewelry – men's and women's, brooches, earrings, pendants, rings, charms, and even cufflinks. The designs are many and varied, too. And you'll have an unusually high variety of metal types with a given design.
Cartier Love Bracelet Price
At this point, you may be wondering if all this hype is worth the price. Ask others who wear Cartier jewelry. I bet they'll say yes. The name recognition and reputation alone would be worth it. Cartier is a company that knows the business and does it well. You really can't go wrong with that.
I believe you can find the best Cartier love bracelet price at Amazon. Also in case, you are wondering, the Cartier yellow gold bracelet price is about $6,500 and the white gold bracelet is about $7,000.
How much is the cheapest Cartier love bracelet?
The cheapest versions of the Cartier bracelets are the pink ones or yellow gold ones, and the cost is about $4,500. The yellow-gold Cartier bracelet with a diamond is about $5,300. With more diamonds, the bracelet's price will get more expensive.
A Beautiful and Timeless Investment
The Love Bracelet from Cartier is widely regarded as one of the most beautiful and sought-after pieces of jewelry in the world. This bracelet was designed by Aldo Cipullo, an Italian jeweler, in 1969. It wasn't long before the demand for this bracelet skyrocketed. The chastity belt played an important role in the inspiration for this stunning piece. It features two curved halves that clasp together. Each half of the bracelet is secured to the other with screws, reinforcing the idea that love is a strong bond between two people. The Love Bracelet has become a popular wedding and anniversary gift because of the symbolism behind the design.
A Unique Design with Mass Appeal
The incredibly unique design of the Love Bracelet has something to offer for just about everyone. Many celebrities and fashion influencers have been spotted wearing this bracelet over the years. This bracelet is available in white gold, blush, and yellow. You can also choose to have diamonds added to the bracelet instead of the usual plain screws.
One of the things that make the Love Bracelet such a popular piece of jewelry is its versatile design, allowing men and women of all ages to look good wearing it. The basic concept behind the bracelet's design is the eternal bond that is created when two people love each other. There are few other bracelets in the world that convey luxury and beauty like this one.
The Symbolism Behind the Love Bracelet
As the person who designed the Love Bracelet, it should come as no surprise that Cipullo believed that life is essentially meaningless without love. He also believed that any item that symbolized love should have an eternal aesthetic.
The Love Bracelet has a fascinated story behind it. This bracelet was supposedly once reserved for only couples who took possession of the screwdrivers to unhinge the other's half. It was eventually sold to famous couples like Steve McQueen and Ali MacGraw. This was a strategic move on the part of Cartier with the intention of creating a high-class status for the piece.
Cipullo was known for transforming what appeared simple into something more meaningful. These bracelets started being worn by even those who were single.
Qualities That Make the Love Bracelet the Perfect Investment
Cartier Love Bracelets can be purchased for as little as $6,000 or as much as $11,000. There are a number of things that ultimately affect the value of these bracelets, including the size, type of metal, and style.
The following qualities determine a Love Bracelet's value:
Type of metal: While the Love Bracelet was initially only made in yellow gold, Cartier has since released in rose gold, white, and solid yellow as well. This bracelet is still at its most valuable when made out of the original yellow gold metal. There are many people who prefer the classic look, though the rose gold has become very popular. The white gold bracelets are also very fashionable, though not as much as the others.
Diamonds: The Love Bracelet is available in a wide range of gemstone and diamond combinations. You can purchase one of these bracelets encrusted with amethyst and garnet gemstones for a truly uniquely beautiful aesthetic. The bracelets that contain these stones are sold for far much more than the classic version. Diamonds are typically more valuable than gemstones, but not when it comes to this bracelet.
Style: There are numerous styles that you can get with the Love Bracelet, each of which has something very different to offer. Cartier released a slimmer version of this bracelet in 2021. There is a self-fastening closure mechanism in place of the traditional screwdriver design. This new design was meant to convey the importance of independence and loving one's self.
All of the modern Love Bracelet models are pretty close to the original design, but these unique updates played a pivotal role in the overall success of this piece. Each of the newer bracelets bears a completely unique number to prevent customers from getting scammed with cheap counterfeits. The original bracelets did not have these number engravings, which made it more difficult to tell them apart from counterfeits at the time.
Determining Authenticity
Over the years there have been many attempts to replicate the beauty and elegance of the Cartier Love Bracelet by other companies and scammers. The easiest way to tell if your bracelet is authentic is by checking the engraved number on it. If you have what you believe is an original Love Bracelet, you will need to take a close look at the logos. There is a hallmark on each of the original bracelets to indicate the quality of the metal.
The 18K bracelets are engraved with "18K" on them, as well as "750". All platinum bracelets have "950" on them. If you do not see these numerals on your bracelet, it is likely that yours is not genuine. You can also get a good idea about the authenticity of the bracelet by feeling the weight.
The precious metals that Cartier used to make these bracelets are definitely heavier than any imitation you will find. These bracelets can weigh anywhere from 30 to nearly 40 grams, depending on the type of metal that is used as well as the size. A standard imitation Love Bracelet will feel extremely light in comparison. You should also take a look at the screws on the bracelet. Cartier is known for painstaking attention to detail, so the screws should be lined up perfectly.
You can also take your bracelet to high-end jewelers or to a Cartier store to find out if your bracelet is authentic. The differences between the fake and genuine bracelets are fairly striking, so you should be able to tell just by looking at yours.
Is the Love Bracelet Really a Good Investment?
When you consider the overall quality of these bracelets as well as the years of history behind them, they are well worth the money. Many people have purchased these bracelets as family heirlooms, passing them down to their children. These bracelets are very stylish, but they are so much more than just another fashion statement. The Love Bracelet is truly one of a kind.
10 Interesting Facts About the Cartier Bracelet
Over the years the Cartier Love Bracelet has become a legendary and almost mythical piece of jewelry because of all the history and lore behind it. There is no question that this is one of the most iconic pieces to ever come from Cartier, and it has endured in its popularity over many years. There are very few other pieces of jewelry that have earned the same status and reputation that this one continues to carry.
Despite what many people believe, this bracelet was not designed in Paris, which is where Cartier's headquarters are found. It was actually made in New York back in 1969.
The original oval shape of the bracelet was designed to fit snugly against the wrist of those who wore it. It was also designed to be worn by men and women alike. This bracelet was initially called a "modern handcuff of love" due to their screws.
It was Aldo Cipullo's first piece specifically made for Cartier. He also designed the Juste un Clou bracelets, which have quite a spectacle reputation of their own.
The design of the Love Bracelet is thought to have had a major influence on how jewelry was and is worn. One of the unique things about this bracelet is that it was designed for sheer versatility.
Rumor has it that at one point Cartier forbade any single people from purchasing their Love Bracelets. Every bracelet had to be bought by a couple.
The first of these bracelets were made of silver with gold plating. It wasn't long before Cartier began making these bracelets with actual solid gold. The diamond-encrusted bracelets hit the marketplace back in 1979 with a very warm reception from the public.
The iconic round screws that can be found on these bracelets were inspired by the bezel of the Santos watch from Cartier.
Upon the release of the Love Bracelet, Cartier gave these pieces to celebrity couples at the time. It was the company's hope that this would drive up demand for the bracelets, and it worked. These bracelets have been worn by Elizabeth Taylor and Richard Burton, as well as many other famous couples.
The very first love bracelets did not feature serial numbers. Once counterfeit bracelets began flooding the marketplace, Cartier began putting numbers on each bracelet. No two modern love bracelets bear the same series of numbers. This is still the easiest way to tell a genuine modern Love Bracelet from a counterfeit one.
Some people have said that various hospitals throughout New York City keep special screwdrivers for love bracelets just in case they need to remove them from the hands of patients who come in.
Planning to write a new review about Cartier's small love bracelet review 2021.
Thank you so much for reading.