Citizen Women's EM0030-59A Stainless Steel Eco-Drive Watch Review
CITIZEN, since its foundation in 1930, has developed a multi-cultural outlook fostering creativity and excellence. The brand's name carries a deep respect in terms of quality, reckoned by citizens all over the world. Hence, being a worldwide "citizen" the brand bears the responsibility of helping the cultivation of a positive cultural change and constant craft evolution. The company takes its mission steadfastly and seriously welcomes the future and the innovation it brings.
As an authentic d'horlogerie manufacturer, CITIZEN integrates an extensive manufacturing process starting with the creation of the individual components and ending with the final assembly of the Citizen Women's EM0030-59A Stainless Steel Eco-Drive Watch. This is an artisan's method of watchmaking, based on pushing technological boundaries forward and leveraging manufacturing experience towards the exploration of new functionalities.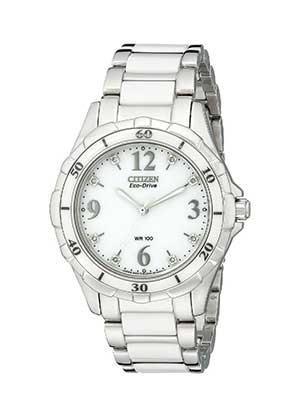 Features
Citizen Women's Stainless Steel Eco-Drive Watch literary eliminates any battery replacements, which makes it particularly valuable for places where such batteries are not available. This paves the ground for citizens of just about any country to experience the unlimited joy of using and wearing a Citizen watch.
Eco-drive does not need a battery, because it is powered by light. A fundamental technological advancement for the company was the creation of the first watch, driven by light. CITIZEN pioneered its engineering innovation well before many other manufacturers in 1976, which resulted in the launch of the highly appreciated 1995 Eco-Drive. With electrical energy converted from almost any source of light, this extraordinary technology changed the way of powering watches forever, even to this present day.
This is a stainless steel round watch with bracelet white center link and hour markers accented by diamonds and an analog display with Japanese Quartz movement, a combination of Ceramic and Stainless Steel
With its luminous hands, a protective mineral glass dial window and a push fold-over button safety clasp, Citizen Women's EM0030-59A Stainless Steel Eco-Drive Watch is waterproof to up to 100 M (330 feet): appropriate for swimming and snorkeling, but not for diving
"The Fusion of Technology and Beauty" (the product's development policy), remains a continuing motivation for the manufacturers to merge revolutionary technology with the perfection of beauty and style, which as a result inspires customers to strive to be the best all the time.
Imported
Pros
Shiny
A simple, yet revolutionary concept – a watch that never needs a battery, charging continuously from any source of light to run forever
Citizen Eco-Drive harnesses the power of light from any natural or artificial light source, converting it into energy
Trouble-free maintenance
Perfect Size (a 19 millimeters bandwidth)
Beauty & Elegance
No battery replacements ever
Environmentally-friendly
Materials: Ceramic, Stainless Steel, Diamonds, Japanese quartz, Mineral Glass
Cons
No Calendar
No metal stamp
Customer Reviews and Ratings
While writing this product review, I came across Citizen Women's Stainless Steel Eco-Drive Watch 13 reviews that made up an average of 4.7 out of 5 stars. Over 92% of all reviewers have given a 5-star rating to the Citizen Women's EM0030-59A Stainless Steel Eco-Drive Watch. Here is what customers are saying:
Carol: The watch is exactly what I was searching for – a timepiece that will not leave me when its battery dies. This is classic, stylish-looking item, which can be a great compliment to a business- manager suit or sneakers and jeans.

DebofAmber: This is a ceramic summery watch, with a perfect size. I ordered it because I needed durability in a watch that did not need a new battery all the time, with a classic design.

Therefore, I ordered it. Now I think the watch has everything I wanted. It looks great on my hand, because it is not one of those 'old women' types of watches out there. It has a clean and neat look. I love it!

Garza: A great-looking watch. I bought it as a present for my spouse and she really liked. A major reason why I selected this watch was its size. Women watches usually are very small or too large. This watch has just the right size without resembling any features of a man's watch in no way. Its diamonds make it look good, while the ceramic in the strap and the stainless steel make it look not too serious. It's very cool indeed!
Conclusion
Using an Eco-Drive Technology, Charging indoors or in Sunlight, no Batteries replacements are required. When fully charged just once, the watch has a Power Reserve of 360 Days. With its scratch-resistant crystal mineral, polished stainless steel bracelet and case, water resistance to up to 100m and case measures of 38mm width by 10mm thickness, Citizen Women's Stainless Steel Eco-Drive Watch is one of the best CITIZEN women watches, according to customers.