Citizen Eco-Drive Watch Review
Introduction
Up for review today, the Citizen Eco-Drive Chronograph. This watch is a quartz chronograph with a military/ rugged looks, but that's just on the outside. The really interesting bits are in the inside — the Eco-Drive system. Citizen Eco-Drive Chronograph runs on a quartz chronograph movement that is powered by a battery that is recharged by sunlight. Sun –> battery –> quartz goes tick. The Citizen Eco-Drive line has been very popular for Citizen and with good cause. They are low maintenance and with minimal re-charge times (mere minutes in sunlight yields a full charge that will last for 45+days at a minimum).
Case and Crystal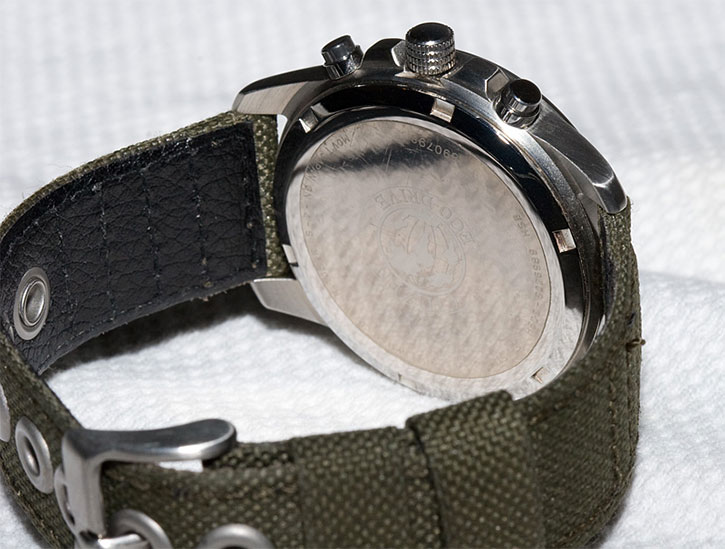 The case is a slender 10-11mm thick with a 41mm diameter stainless steel case. The watch fits more like a 40 or even 39mm watch, however. The crystal is flat, mineral crystal and nothing special. The case has a polished bezel and is brushed everywhere else that you see, giving this more of an "officer" look. The case back is also polished with the standard fair of Citizen Eco-Drive logo surrounded by stats on the watch. In the pictures, the case back is covered by a protective plastic film – sorry about that! The chronograph pushers are solid non-screw type buttons that feel firm and give a confident feedback. The crown is knurled and separated from the pushers by little blocks almost sticking out from the case. I think the separation is a little overdone and I would have liked not to see case protrusion between the crown and pushers. The crown is not screwed down, even though the watch still boasts a WR of 100m. I have dunked it in water and it has survived. I have no doubt this watch would survive light swimming, but it's certainly no dive watch.
Dial and Hands
The dial almost looks dark green in some lights and dark gray in others. The official stats are that it's gray, but you could have fooled me. The dial is a military/utilitarian styled dial with almost everything printed on the dial, not applied. There are lume dots at every hour around the outside minute counter. The chronograph rings are placed at 2, 6, and 10 with a date window at 4. Due to dial thickness and the recharge system of Eco-Drive the date wheel is quite low in the case and appears far down into the date window. Even though the date wheel is lower into the case, it is still easily visible with a quick glance. "Citizen Eco-Drive" adorns the center top of the dial whereas "Chronograph 100m" gets shoved in between 8 and 9. Needless to say, this is one busy dial. Every hour is marked with a large Arabic numeral non-luminous painted onto dial. Chronograph dials will look busier than non-chronograph dials, but this chronograph is especially busy. The only saving grace is that the actual dial base color/coat is flat and matte and uniform, giving a straightforward and clear base on which to print this massive amount of information. Overall, it's geared toward the casual obviously, but moreover, it's a functional and efficient timepiece that you can quickly and easily tell the time, chronograph timing, and date. Well done overall.
Bracelet/Strap
The strap that comes on this Citizen Eco-Drive Chronograph is a fabric on top with leather back 2 piece strap. The buckle tang fits neatly into the rather unique holes that are lined with a metal ring to prevent wear on the strap material. A nice touch, but certainly adds a certain military/utilitarian je ne sais quoi. A functional strap to be sure, but the case leaves room for a NATO or likely ZULU, which is nice to have that versatility if you don't prefer the stock strap. I've found that the leather on the back of the strap over months of wear will start to crack at the hole you use due to bending it back and forth while taking it on/off. This hasn't affected the functionality or looks (since it's on the underside) but should be noted.
Movement
This Citizen uses the Eco-Drive Chronograph movement. As discussed, this is a light re-charged, battery-powered quartz chronograph movement. It's therefore impeccably accurate because it's quartz and also reliable because of the continuous light recharge of the Eco-Drive system, making this movement great for precise, reliable chronograph timing. The subdials are seconds, 24-hour, and chronograph minutes. The 24 hour counter is not connected to the chronograph timing, it just tells you what hour in 24-hour teams you're currently in. The second subdial is the standard running seconds sub-dial. So the only two hands that are directly related to chronograph timing are the center large red seconds hand and the 60-minute register at 10 o'clock. This limits the functionality of this chronograph really to 1 hour of timing max and the accuracy of the timing is only to the nearest second. The movement has performed well and recharges quickly in my experience. When low on battery, the running seconds starts to tick once for every 2 seconds, telling you it's time to recharge. This has only happened to me one time and it was in a dark watch case for a while. A few minutes in the sunlight and it was fully charged. Overall the Citizen Eco-Drive movement is a great technology and certainly welcomed by many who dread to watch battery replacement and the always-inopportune dead battery syndrome with quartz watches.
Conclusion
The Citizen Eco-Drive Chronograph AT0200-05E is a wonderfully straightforward watch with a high-tech movement and a no-nonsense style. I highly recommend this watch to anyone looking for a great quartz chronograph watch that is supremely easy to read and will stay ticking. I think Citizen has really hit a home run with Eco-Drive and this chronograph is a prime example of how you can do it right.
Quick Specs
Brand: Citizen
Model: Eco-Drive Chronograph, AT0200-05E
Crystal: Mineral
Clasp: Buckle
Case material: stainless-steel
Case diameter: 41 millimeters
Case Thickness: 11 millimeters
Band material: canvas/leather back
Bandwidth: 20 millimeters
Band Color: green
Dial color: dark gray/green
Calendar: Date
Movement: Japanese-quartz
Water resistant: 100 meters.