One thing many people worry about when it is time to buy a diamond is whether or not it is a genuine diamond. They wonder how to tell if a diamond is real, and what they can do to protect themselves against buying a stone that isn't what it was represented to be – a genuine quality diamond. To that end, let's take a look at how to tell a real diamond from a fake one.
How to Tell if It's a Real Diamond
First, and this is not really how to tell a diamond, but just an all-around good practice: Always shop with a reputable jeweler! If you are looking for a bargain and end up in a pawn shop or a cut-rate discount shop, or you buy a diamond ring from a flea market, you cannot be sure of what you are getting. Most likely, there will not be a warranty or guarantee of any kind from this type of seller, so if you find out later that your lovely "diamond" is not what you thought, you will have no recourse. Shopping with a reputable jeweler is as easy as browsing the internet and choosing a store with a guarantee of satisfaction and a good return policy, and one that has copies of the gemological certificate for the stone in question available for you to see. Of course, local jewelry stores in your area will be glad to get your business, also.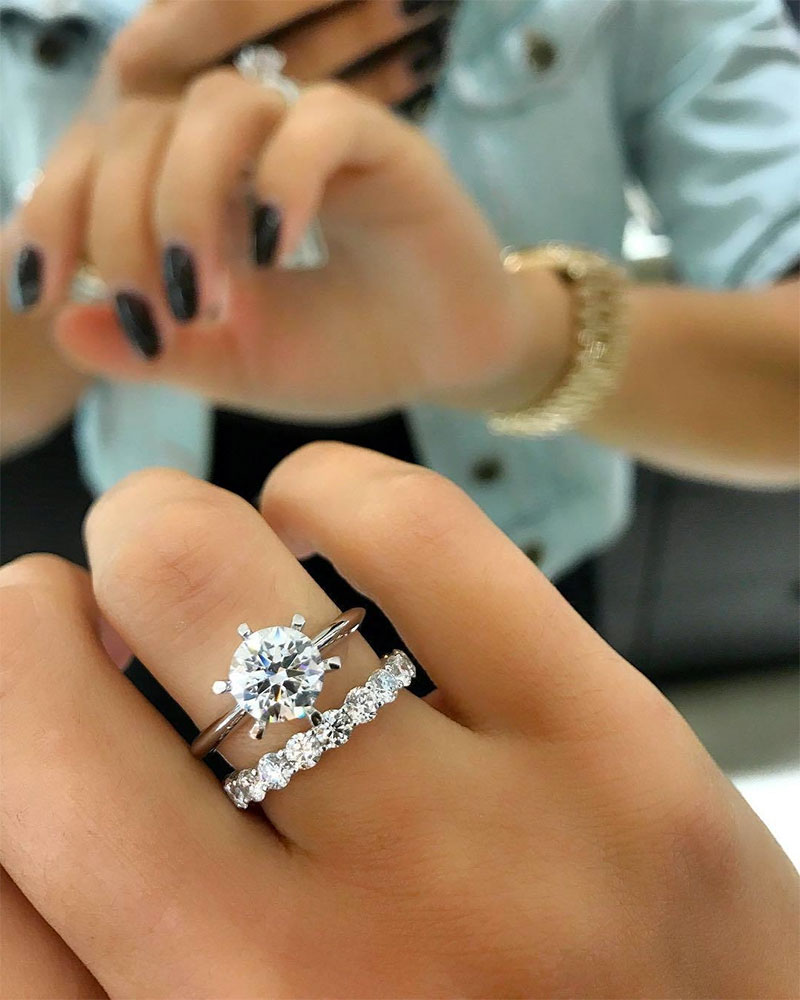 After you have purchased a diamond, get an appraisal. An appraisal will cost $50-75 and should be done by a certified gemologist. Always insist that the diamond be looked at in your presence. This will clear up any uncertainty and will give you an idea of how much your diamond is worth also, and then you will know whether you need to add extra coverage on your homeowner's insurance to cover the loss or theft of the diamond.
Now, On to How to Tell if Diamonds are Real:
Diamonds have a high refractive index, which means that light is easily bent when passing through the stone. It would be very hard to see anything through the stone since the light will be bent in many directions by the faceting. To do a quick, easy check on an un-mounted diamond, place it upside down on a piece of newspaper or other printed material. Look through the stone, and if you can read words through it, you are probably dealing with a fake. Glass and other imitation diamond materials don't bend light like diamonds do, and so you will be able to see the words as you look through it. The only time this test will not work is if the stone is very shallow from top to bottom. Even a diamond can be read through if it is shallow enough. This test should work for most normal diamond cuts, like princess cut diamond rings or round brilliant cut rings, however.
The reading test above can't be done on a mounted diamond, so here is how to tell if diamonds are real after they have been mounted into a setting: Breathe on the top of the stone like you do when you want to clean a smudge off of sunglasses. By the time you can look at the stone it will be clear if it is a diamond because the heat from your breath will disperse almost instantly. If it is still fogged up, chances are it is not a genuine diamond. Make sure there is no dirt or oil on the stone before doing this, however, because if it is dirty, the heat will not disperse as quick and it may stay fogged up for a second or two, making you think it is not a real diamond. Also, if the stone is a doublet, the upper diamond portion will not fog, causing you to think it is genuine, even though the majority of the stone is cubic zirconia underneath.
If there is a UV light available, place the stone under it. Most diamonds will show up blue or slightly blue under a UV or black light. If it doesn't show up blue, however, this doesn't mean it isn't a diamond. Very high quality, near colorless to colorless diamonds will not show the blue color; in fact, no color under the light will show that your diamond is more valuable and will likely cost more. If the diamond shows up very blue, it is likely to be a low-quality diamond. If the yellow, green or gray color shows under the light, you may be dealing with Moissanite.
Ask to look at the stone with a jeweler's loupe. Very few diamonds are flawless, so you should be able to see tiny specs in the diamond. These are bits of carbon in the diamond. There may even be cracks or needles that show up under magnification. Fakes will not have these visible flaws. Some gemological certificates have a "map" of the diamond included, and the visible flaws are marked on it. Make sure the flaws you see match the certificate.
Weigh the stone. A cubic zirconia stone weighs about 55% more than a diamond does, carat for carat. You would need to have an actual diamond and know the carat weight of it to compare it to the stone in question for this, so it might not be a very practical way to tell if you really have a diamond, though.
When observed under a bright light, the reflections in the diamond should be gray, not rainbow-colored. If they are, you may have a fake on your hands, so to speak.
One last thing to note about how to tell if it's a real diamond: Do not rely on the "scratch test"; in other words, checking to see if the stone will scratch glass. While diamonds certainly will scratch glass, other stones and fake diamonds will also scratch glass. Please don't try to scratch the top of a jewelry display case with a gemstone; it won't tell you anything, and it will not be appreciated by the store at all!
The main takeaway here should be this: Always shop at a trusted, reputable jewelry store, whether it be online or in person. It's your hard-earned money at stake, so don't be afraid to ask questions, perform some of the above tests, and ask to see the gemological certificate for the stone you want. The jeweler will appreciate the fact that you are an interested and informed diamond shopper if you do!
Ready to shop now? Check out Amazon Store for everything on your jewelry wishlist.
Happy Shopping!