Making a fashion statement is easier when an item is inexpensive. Being fashionably bold is a bit more difficult when it comes to diamonds and other upscale merchandise. The reason is simple; you have to be happy with the decision for a much longer period of time, right?
Fancy colored diamonds are not a risky choice – they are a bold choice. Dare to be different and forge your own fashion path. Selecting a diamond for casual, cocktail, engagement or any ring is about deciding what you love without being too swayed by friends, family, and other outside influences. After all, you are the one who will have the longtime pleasure of wearing one of the most beautiful items you may ever own.
More rare than a diamond without color, fancy colored diamonds are formed from trace elements that interact with carbon atoms and alter the color permanently. The odds of that happening are about one in 10,000, which makes them some of the most exclusive stones you could ever wear. As with all diamonds, the 4 Cs still apply when it comes to fancy colored stones: Clarity, Cut, Color, and Carat.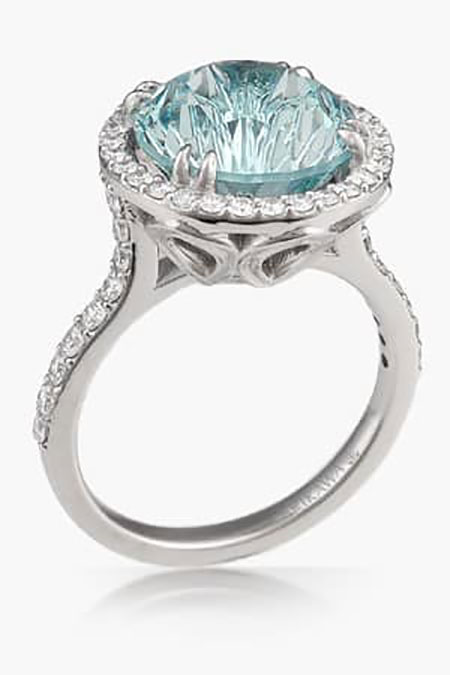 Fancy diamonds come in just about every color of the rainbow. The rarest are red, pink, blue, and green. The most common are yellow and brown, which doesn't make them less desirable, only a little easier to find and afford.
Celebrities Love Fancy Colored Diamonds
If you take a look at a few of the celebrities who know how to rock fancy colored diamonds, it will get your creative juices flowing. Even though JLo's engagement to Ben Affleck fizzled, she stunned in a $1.2 million emerald-cut pink diamond created by world famous Harry Winston. Word is that she gave the 6.1-carat diamond ring back when the engagement ended. But not to be outdone, former JLo husband Marc Anthony bought "Jenny from the block" a 14-carat blue diamond ring on their first anniversary. "It's a solitaire, a very rare diamond. It was a big deal, I'd been married a year," JLo told British OK! Magazine. JLo's love of colored diamonds was said to have started the fashion trend and since then we are seeing them on celebrities everywhere.
Blake Lively wears a $2 million pink diamond, Heidi Klum sports a 10-carat yellow diamond, and Nicki Minaj rocks a heart-shaped 15-carat yellow diamond. "American Idol" winner and country music megastar, Carrie Underwood wears a canary yellow diamond 5-carat stone encircled by shall square brilliant diamonds. Tennis player Anna Kournikova shows off in a pear shaped pink diamond, which is appraised at $4.5 – 6 million.
You Don't Need To Spend a Fortune
The good news! Did you know that fancy colored diamonds are the hardest stones available, which means they can easily be shaped and customized to suit your inner bold?  To get the best start, you will need to make a few decisions; this guide will help.
But basically, you will decide if you want a solitaire and/or accent stones, which metals you prefer, the cut of the diamond(s), and the setting. An artisan jeweler who is experienced in custom-designed fancy colored diamond rings is the most important key to manifesting your vision. Determine a budget in advance and schedule a consultation where you can view photos of past creations and colored diamond availability… and make sure the jeweler has the ability to 3D render your dream ring.
If the old saying is true, then get out there and set a new jewelry trend among your friends and family. After all, diamonds are a girl's best friend and that includes fancy colored diamonds!
By Sandra Faleris
Marketing professional/writer