These are not your grandmother's pearls
Pearls are classic. They will never go out of style. However, given their timeless nature wearing pearls can get a stale looking. Or can they? Pearls are back in a big way, and they are being worn in a fresh, funky and bold manner. Rethink pearls with all these fantastic ideas and get some great inspiration.
Go bold or go home
Oversized pearls have been spotted everywhere. Here, Actress Caitriona Balfe poses in the press room at The 41st Annual People's Choice Awards at Nokia Theatre LA Live on January 7, 2015, wearing a very large pearl bracelet.
Double up the boldness
At the 72nd Annual Golden Globe Awards, Lena Dunham was spotted doubling up the oversized pearls with a bracelet and cocktail ring.
Extra large cocktail
Ariana Grande showed up at The 57th Annual GRAMMY Awards with a very large cocktail, a pearl cocktail ring, that is.
A little goes a long way
At the UK Premiere of 'Fifty Shades Of Grey', Dakota Johnson was also spotted wearing a very large pearl cocktail ring. With a bauble of this size keeping the rest of your jewelry is the smart way to go.
Oversized pearl bracelet
It's not just about large pearl cocktail rings. Oversized pearls are showing up in bracelets and necklaces. Here G. Hannelius is wearing a large pearl bracelet to a film screening in Hollywood.
Layer your pearls
Another way to update the look of your pearls is to stack them with other jewelry. Layering gold and silver pieces with your pearls makes them look more modern. Here a fashion blogger from Brazil stacked her pearls with other bracelets while in Paris. You can also try making your pearl necklaces look trendy by layering them with other necklaces too.
Pair edgier accessories with your pearls
Pearls and Chanel may go together like peanut butter and jelly, and it may be a classic look, but, to make your pearls look edgier, try wearing wilder accessories with them. Here,
Fashion blogger Cailli Beckerman wears all Chanel, in a super funky way, on day 8 of Paris Collections
Make your pearls look Boho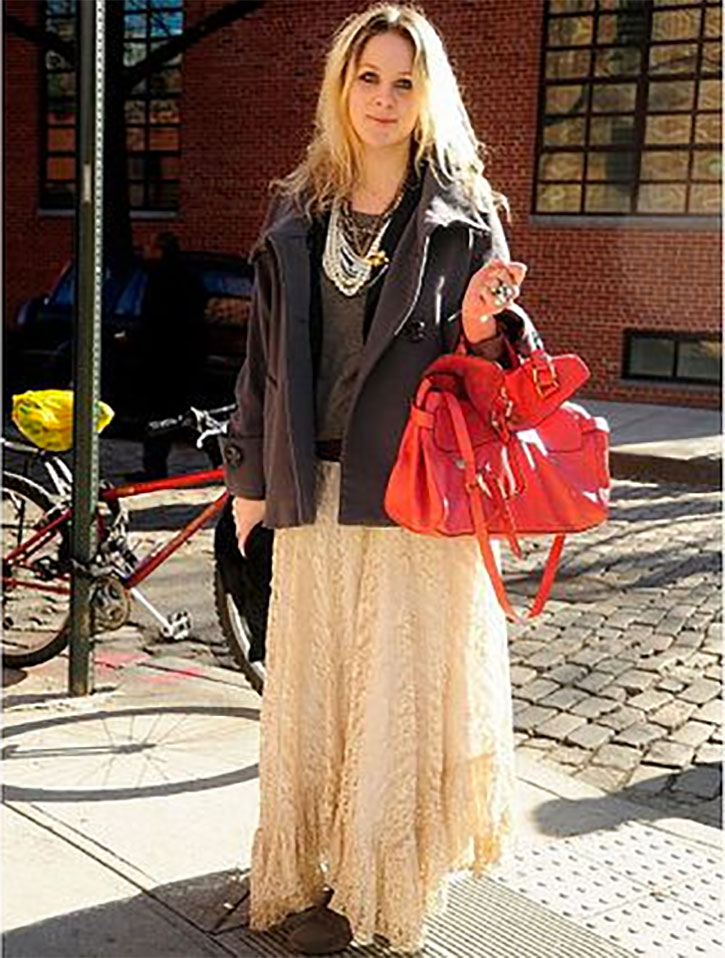 Pearls are very agreeable. They really do work with whatever you are wearing. Here, for example, Julie Baumgardner, an editor at First Dibs, is leaving the Duckie Brown show wearing vintage slips, vintage shoes, J. Crew t-shirt, Chinatown pearls, and other random jewelry. Think pearls are fussy and uptight? Remember this Boho outfit.
Make classic pearls look up to date
You may not want to go out and buy oversized or other trendy pearls. You just want to make the classic strands you own look more modern. An easy fix is to wear trendier and sleeker outfits with your pearls. Here, for example, Andrea Baclea is seen wearing a Chanel purse, skirt, gloves, pearls, Fendi shoes, and Helmut Lang top during Art Basel. Who says crop tops and pearls don't mix?
Pearl ear crawlers
Actress Kat Graham arrived at the Vanity Fair and Fiat Toast to 'Young Hollywood' wearing one of the biggest trends of the moment, ear crawlers. There is no way anyone will think you look stuffy and stale in these pearls.
Mix up your earrings
Do you have a pair of classic pearl earrings in your jewelry box that seems so boring and predictable? Check out what Scarlett Johansson did with pearls for the 2015 MTV Movie Awards. Who knew that pearls could look so funky?
Modern pearl rings
At the 2015 Juno Awards at First Ontario Centre, Kiesza was spotted in this very trendy double finger pearl ring.
Open ring style in pearl
Sophie Turner attended the World premiere of Game of Thrones: Season 5 at the Tower of London wearing this very cool open pearl ring
. A definite departure from the classic styles.
Funk up your pearl necklaces
You have to love how Stella McCartney funked up classic pearls at her Fall/Winter 2015/2016 fashion show. Here they are tied like a scarf. Who would have thought to do this?
Cluster pearl necklace
Statement necklaces are all the rage and why should pearls not get in on the action? Here
Ayanna Pressley used a cluster pearl necklace to frame her face at the EMILY's List 30th Anniversary Gala at Hilton Washington Hotel.
Pearl bib necklace
Tristin Mays attended the premiere of 'The Wedding Ringer' also wearing a cluster of pearls. In this case, the pearls fill in her deeper neckline and beautifully finishes her look.