There are times when all you need to feel pretty and reinvigorated is a great pair of statement earrings. Forget the necklaces, forget the bracelets, and explore some of the best ways to incorporate a pair of haute couture statement earrings into your wardrobe.
1. What is Haute Couture Jewelry?
Haute couture is French term originating in the fashion world that means "high sewing," but it has come to encompass much more than just clothing.
Haute couture jewelry, which is also known as high jewelry, depicts jewelry that is created by designers with as much care put toward the design and execution as a couture runway gown would.
Lucky for us, a great pair of haute couture earrings will last much longer than one season. Let's take Elizabeth Taylor for example who wore her important jewelry pieces for decades, having them never fall out of fashion.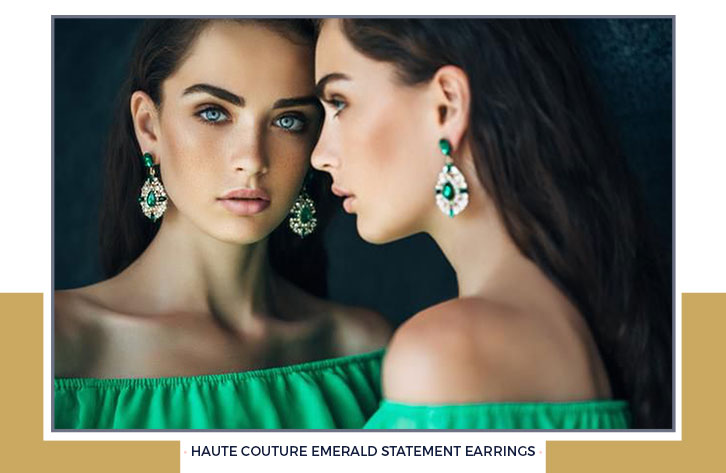 What are Statement Earrings?
Statement earrings are similar to haute couture earrings in that they are usually designed by an important designer or design house, but they don't necessarily have to be. A pair of statement earrings simply makes a statement because they are large and vibrant.
Sit back and remember why statement earrings are so wonderful with this luxurious slideshow. Keep on scrolling to find out where you can buy earrings like the ones modeled here.
2. Haute Couture Amethyst Statement Earrings
These statement earrings look great with the hair pulled off the face and a dramatic smokey eye. It is important not to over-do it with other earrings when styling large dangles.
3. Haute Couture Amethyst Statement Earrings
A high neckline looks great with a pair of statement earrings because it adds contrast without adding too much interest to the neckline. Your eyes are immediately drawn upward to the amethyst earrings.
4. Haute Couture Sapphire Retro Inspired Statement Earrings
Statement earrings don't have to be absolutely massive to make a statement. These retro-inspired blue earrings look great against the pink lip and smokey eyes.
5. Haute Couture Sapphire Retro Inspired Statement Earrings
If you opt to wear your hair down with a pair of statement earrings, consider pushing the hair behind your ears.
6. Haute Couture Diamond Dangle Earrings
Diamond chandelier earrings look great with a vibrant red lip!
7. Haute Couture Diamond Dangle Earrings
This look is balanced perfectly between only one pair of long earrings, a dark lip, and neutral eyes. When wearing an eye-catching pair of earrings, it is important to pick and choose what else you want to accentuate.
8. Large Haute Couture Drop Earrings
I love this look because only one earring is really highlighted, which if both were in view if the hair was pulled back, I think the earrings would overwhelm the face. Give yourself a deep side part, keep one side of your hair pulled behind your ears, then let the rest curl over your other shoulder.
9. Haute Couture Dangle Earrings
This look certainly isn't for everyone and shows off more of what we see on runways. Make this look wearable by adding a simple headband, some soft blue statement earrings, and a red lip.
10. Haute Couture Coral Earrings
This everyday statement earring look incorporates a half-up-half-down hairdo with a lip that matches the earrings perfectly.
11. Haute Couture Coral Earrings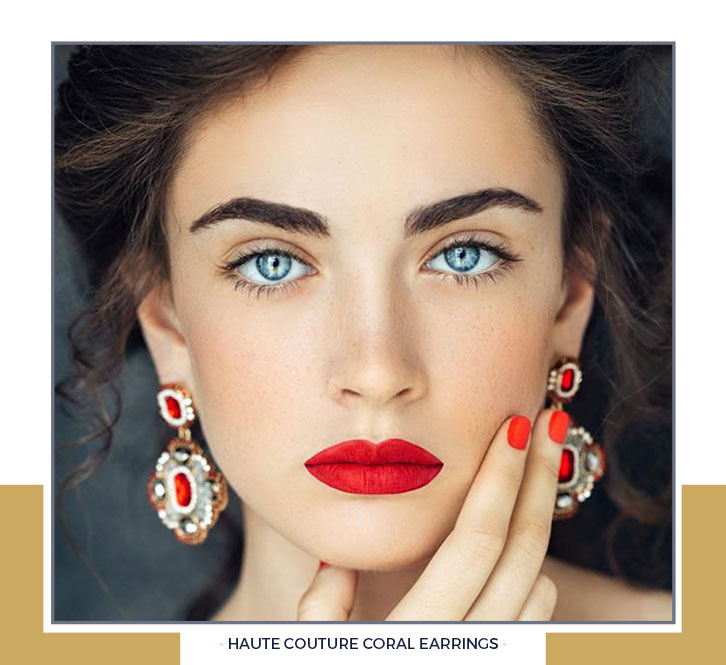 Pull the whole look together by keeping your hands bare of rings but painting your nails in the same color as the earrings.