Blue topaz rings captivate and awe any who look upon them with their sky blue colors and tranquil brilliance. The main appeal of a blue topaz ring is its distinct color, which tends to invoke a calm feeling of serenity. Because of its natural tone, blue topaz rings are often set in sterling silver or white gold. The centerpiece gemstone in this kind of jewelry is almost always enhanced in order to bring out stronger and more vibrant colors. The exact treatment used will determine the precise color and feel of the blue topaz ring. This creates a huge variety of amazingly elegant rings for you to choose from, each unique in its history and splendor.
Fundamentals of Blue Topaz Rings
A blue topaz ring must have a high-quality gemstone in order to reach its full potential as an amazingly elegant piece of jewelry. This means that the cut, clarity, and color of the gem must all be well done by an expert gemologist. The better the gem, the more expensive the blue topaz ring, but an exquisite piece demands nothing less than perfection.
The centerpiece of a blue topaz ring is almost always not completely natural. Blue topaz gemstones found in nature tend not to have very strong colors at all, making them appear shallow. The natural colors inside the gem are unlocked by irradiating it for a time and then applying a heat treatment. The precise radiation treatment and heat cycle will determine just how deep the distinct blue color is. Most blue topaz rings use gemstone which has achieved a sky blue color.
London Blue Topaz Rings
One of the more popular varieties of the blue topaz ring has a distinctly deeper and darker blue color associated with it. This is called a London blue topaz ring because of the kind of radiation treatment the gemstone received. The gem is placed inside a nuclear reactor where it interacts with fast neutrons. This leaves it radioactive for a while before it can be safely used. Don't worry about buying a London blue topaz ring, though, as they're certifiably safe. If you're looking for a relatively inexpensive semi precious piece of jewelry with a gorgeous blue color to it, London blue topaz rings may be the perfect item for you.
Blue Topaz and Diamond Rings
Another popular variety of blue topaz ring makes use of diamond accents to craft absolutely breathtaking pieces of jewelry. The natural brilliance of diamonds draws the eye naturally to the serenity of the blue topaz gem. A blue topaz and diamond ring is impressively exquisite in its look and feel. If you're looking for the best of the best, look into a blue topaz diamond ring.
Sterling Silver Blue Topaz Rings
Of all the available band materials, the most popular selection for blue topaz rings has traditionally been sterling silver. This is because the sleek and smooth feel of polished sterling silver serves to reinforce the connotations of the blue topaz gemstone. A sterling silver blue topaz ring is an excellent choice as it is relatively inexpensive. This kind of ring delivers tremendous value, making it a great gift for any occasion.
Blue Topaz Rings
Blue topaz rings are timeless and beautiful pieces of jewelry. While fashions might change, a blue topaz ring will never go out of style and is always a good choice for a gift or even for an engagement ring. Blue topaz is popular with men and women and can also be combined with other precious and semi-precious stones, such as the greenish blue aquamarine. A blue topaz and diamond ring is the perfect wedding ring for women who like their diamonds, but prefer a unique touch to the wedding band.
Topaz is an aluminum fluorite silicate; it contains fluorine and can in specific circumstances grow into large crystals. Topaz can come in a wide range of colors and although the purest topaz stones are colorless and transparent, most stones have some impurities that give them a colorful tint. Natural colors include reddish orange, brown, pale blue and yellow. The paler colors can be treated to create brighter and deeper reddish yellows, gold, light green, and pink. Pink topaz is a rare but highly valued variety and is popular in rings and other jewelry.
A natural deep blue topaz is rare, and most dark blue varieties have been created by treating a pale blue (or a pale yellow or colorless) stone with heat and radiation to turn it into a deeper shade of blue. The deepest and darkest shade of blue is the London Blue type of topaz. Other popular varieties include the Swiss Blue, a turquoise tone of blue, and the Sky Blue, the color of a blue sky.
Topaz can be found in different parts of the world, including Russia, several Asian and African countries, and parts of the United States and Mexico. Good quality topaz has also been found in the UK especially in the Highlands region. Germany produces pale yellow topaz and some quality crystals are found in parts of Japan.
Blue Topaz Symbolism
Most gemstones have a specific symbolic meaning in astrology, and blue topaz represents love and fidelity. This makes it a good stone for blue topaz engagement rings. A blue topaz diamond ring in sterling silver can be a unique and beautiful alternative to gold wedding bands, or if you prefer gold to silver, a white gold blue topaz ring looks stunning. Many women who prefer silver or white gold, instead of yellow gold, choose sterling silver rings with a blue topaz, possibly combined with aquamarine or other gemstones.
Traditionally blue topaz has been given as a present for specific wedding anniversaries, including the 4th, the 19th and the 23rd year of the marriage. Blue topaz is also the birthstone for December, and for a December child, a piece of blue topaz jewelry can make an excellent birthday gift or Christmas present.
Topaz has been worn by many ancient cultures including the Egyptians, the Greeks, and the Romans. It was traditionally believed that topaz could cure poor vision, sleeping problems, and even mental disorders. The ancient Greeks believed that topaz could give strength, and in the Middle Ages, it was used to heal mental as well as physical illnesses. In gemstone therapy, topaz is believed to stimulate the endocrine system and to help the regeneration of tissues, and to stimulate appetite. It is also used to balance the emotions and to calm down heated tempers. In some ancient cultures, it was believed that blue topaz, dropped in a pot of boiling water, would cool down the water and make it safe to touch with a bare hand.
How to Take Care of Topaz
Topaz is a hard stone, but it can split easily if subjected to a sharp blow. It can often break into two parts from the effect of the blow. Always remove topaz rings if you are about to do any housework or garden work, or if you are about to deal with household chemicals or use hairspray or cosmetics; these can damage the stone. Topaz should be protected from scratching, so when not in use, store it safely away, preferably wrapped in soft cloth and away from other stones or pieces of jewelry that may scratch it. Do not store gemstones near a heater or any other place where temperature changes may affect the stone. Most gemstones, including topaz, do not like changes in temperature. Topaz can also become paler in color if left in direct sunlight.
Blue topaz should be cleaned with a mix of water and gentle dishwashing liquid. Always use a soft brush or a cloth and never use any household chemicals or abrasive scrubs. For best results, soak the ring in the water for up to twenty minutes and use a soft cloth or a soft toothbrush to remove any dirt. Modern ultrasonic cleaners should never be used on topaz or other gemstones.
Blue topaz rings can be combined with earrings, bracelets and necklaces, and the dazzling blue color suits most people and most skin types.
The True Color of Blue Topaz Rings
Women love gems and precious stones and if you want to make your lady happy on her special day, give her something special. A kind of gift she will never forget such as a topaz ring. But if this is your first time to get one, then this article will certainly help you choose the best shade of blue topaz rings that would definitely make your queen very happy.
Blue topaz rings are breathtaking gifts for those who are born in the month of wintry December — nevertheless, everyone can get pleasure from these exquisite light colored blue gemstones. The most remarkable thing about this exquisite birthstone is that it actually offers color selections. For this reason, the shade is an imperative feature when selecting for this kind of precious gemstone ring.
Time and again, the shade can be verified whether a piece of charms is worn frequently or sits in a jewelry box. Blue topaz is only one of its kinds by being obtainable in a number of shades of light colored blue. The accurate color for your gem setting depends on several various features.
Three Essential Colors of Blue Topaz Rings
Royal Blue Topaz: Those who adore classiness and valiant avowal may favor the royal blue topaz rings. These jewelry are extraordinary for affluent, profligate designs and elegant time. This shade is unfathomable, shadowy and vague. The royal blue topaz rings are perfect for a stylish occasion such as a ceremonial wedding or even the red carpet.
Standard Light Blue Topaz: This shade is lucid and spotless and attractively light. It is evocative of the heavens on a bright day or the clear blue stream on island seashore. This is a much-loved variety amongst people who adore light colors and fresh spaces. These pieces of charms are just right for a day at the shore.
Teal Topaz: Teal is a preferred shade amongst those who worship the forest. This character presents a delicate allusion of green. This ring is perfect for everyone who adores taking long hikes along with the trees and woodland foliage. This is as well a grand option for redheads who look eye-catching in everything that has green traces.
These details will certainly help you choose the perfect topaz rings for your lady.
The Beauty of the Blue Topaz Ring
A blue topaz ring makes a beautiful gift or a unique engagement ring. A sterling silver blue topaz ring is a great birthday gift for a woman in any age group. A white gold blue topaz ring can be an alternative to diamonds and yellow gold in typical wedding rings and engagement rings. If you cannot think of a wedding or engagement ring without diamonds, a blue topaz diamond ring in either silver or white gold will look stunning and is often appreciated by women who do not like the yellow varieties of gold.
What is Blue Topaz
Topaz is a gemstone that comes in a wide variety of colors. A pure type of topaz is transparent and colorless; although most of the time, the colorless varieties have small impurities that create a tint on the stone. Colored topaz is available in a range of different shades from yellow and reddish-orange to different tones of blue and brown. Topaz can be also treated to change its color and can be turned into gold, reddish yellow, white, blue, pale green, opaque or the rare but much-loved pink shade.
Blue topaz is rarely found naturally and the bluest shades are usually man-made. Often the pale yellow and pale blue, colorless or gray varieties of topaz are treated with heat and radiation to create a deep blue color. Blue topaz comes in several different shades, but some of the most popular is called London Blue, Swiss and Sky. The Swiss Blue variety has a shade that is close to turquoise and is very attractive. The deepest blue is that of the London Blue, and it is sometimes used as a cheaper alternative to sapphires. However, compared to the other shades of blue topaz, the London type is more expensive and the most sought after.
Topaz is a hard stone and on the Mohs scale (used to determine the hardness of gemstones), it gets an 8. Despite its hardness, topaz can get split, so keep your rings safe when not in use, and protect them from knocks and blows.
The Qualities of Blue Topaz
The name of topaz is said to come from the word "tapas", meaning fire in the ancient Indian language Sanskrit, although it could also originate from to ancient Greece. In ancient Rome, topaz was associated with the Roman god Jupiter.
Blue topaz was believed to be a cooling stone and could be used to cool hot water or to cool down hot tempers. Like many gemstones, blue topaz is believed to have healing properties including a power to heal insomnia, problems with eyesight, asthma and even insanity. In Greece, topaz was used to increase the wearer's strength, and in Rome, it was believed to have the ability to improve vision. Topaz was also known in Ancient Egypt, where it was used as a protection from injuries. In medieval Europe, topaz was believed to heal mental illness and even prevent death.
Today topaz is mainly mined in Brazil, the US, Nigeria, Mexico, China, Sri Lanka, and Pakistan, and is used in blue topaz rings, earrings, necklaces, and bracelets. It is very popular with women looking for silver jewelry with a light and delicate gemstone as an alternative to gold jewelry.
Buying Silver Topaz Jewelry
If you are looking for a silver and topaz ring, here are some tips for purchasing quality silver jewelry.
The most popular type of silver in jewelry is sterling silver. Because genuine silver is too soft to use in jewelry making, it is mixed with other metals to make it stronger. This creates an alloy, or a silver mixture, such as sterling. Generally, any silver marketed as sterling or "solid" must have a minimum of 92.5 percent of pure silver in the mixture. You can usually see a tiny marking with the numbers 92.5 inside a silver ring as a guarantee of the quality.
Copper is often used in silver mixes because it can make the material harder, but a copper mix can also darken over time as the jewelry comes into contact with air. To preserve your sterling silver in a good condition, keep it wrapped in a cloth or inside a bag when the jewelry is not in use. There are special clothes for storing silver that have the ability to prevent the tarnishing (darkening) effect.
When to Give Blue Topaz
Blue topaz engagement rings, made with blue topaz and silver, can be very attractive alternatives to gold rings and diamonds. Traditionally this gemstone has been used to symbolize fidelity and love, which makes it an excellent choice for weddings and engagements. Topaz jewelry is also often given on the 4th, the 19th and the 23rd wedding anniversary to celebrate the marriage. Blue topaz is the birthstone for the month of December, and a blue topaz ring can make an excellent birthday present for anyone born in December.
Topaz Birthstone Rings | 8 Topaz Rings You Will Never Want to Take Off
Discover some of the most beautiful natural Topaz birthstone and engagement rings available on the market today.
Below are some of the most stunning topaz rings available on Etsy right now. Whether you were born in November, looking for an alternative engagement ring, or you just love Topaz, one of these rings is guaranteed to make you want to wear it every day. Topaz remains one of the most underrated gemstones on the market even though it is available in pretty much every color imaginable – either naturally or by way of some gem treatments.
1. Gorgeous 1920's Filigree Golden Topaz Ring
This has to be my favorite topaz ring available right now. It is a perfect example of 1920's filigree work, surrounded by delicate seed pearls and centered with an 11.62-carat natural topaz gem.
2. Fiery Topaz and Diamond Halo Ring
Not only is the topaz so incredibly stunning on this ring, but it is also set in one of my favorite precious metals: rose gold! The nearly 11-carat topaz gemstone has a unique halo of rubies and diamonds that add to the spectacular look of this ring.
If you don't like rose gold as much as I do, this same ring is also available in yellow and white gold.
All the stones from Anye Jewelry are conflict free!
3. Antique Edwardian Turn of the Century Topaz Ring
This is a gorgeous oldie from the turn of the century! Topaz has been used for centuries, but most of them were foil backed during the Georgian era. This Edwardian piece has the look of an older Georgian ring with a lovely large faceted topaz weighing about 13 carats, but the topaz has an open back that allows light to get down into the stone and make it shine. The silvery tone of the original seed pearls makes this ring all the more special.
4. Princess Halo Honey Topaz and Diamond Ring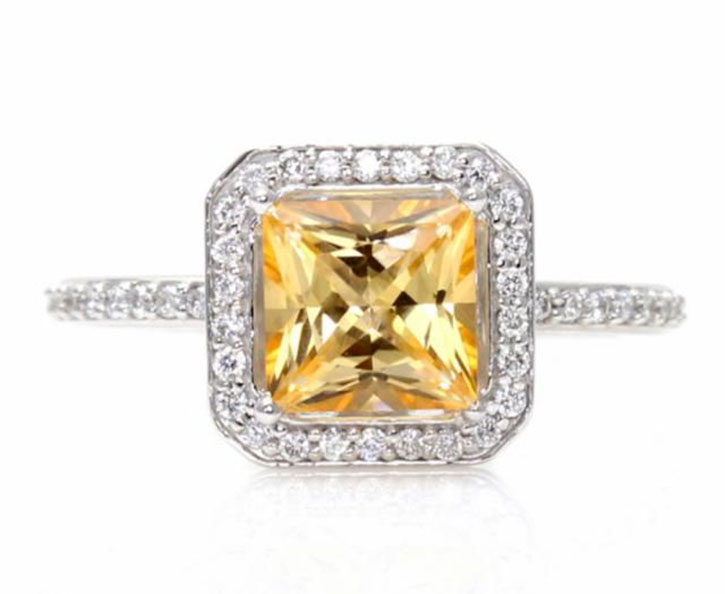 I would wear this ring every day! I would wear this ring not only every day but as my engagement ring! The honey tone of the topaz goes with everything, and the diamond square halo makes this ring sleek and timeless. Topaz makes for a great alternative engagement ring because it is a hard, durable stone for a fraction of the cost of a diamond. Rare Earth offers a variety of matching wedding bands for this ring, though I would just as happily wear it on my right hand as a birthstone ring.
5. Antique Victorian Smokey Topaz Floral Ring
So far I've shown you a ring from the Art Deco era and one from the Edwardian era. Well, I couldn't resist showing you one of my all-time favorites from the Victorian era as well! This elegant rose gold ring has a thick etched band that is so comfortable to wear daily. The topaz itself has an inlayed diamond with a gold gilt flower detail that is both unique and beautiful.
6. Two-Tone Smokey Topaz and Diamond Halo Ring
I love the two-tone detail on this ring! Both rose gold, and white gold comes together to highlight the peachy brown undertones of this 3.50ct topaz gem.
7. Recycled Palladium and White Topaz Ring
This ring is a great combination of new and old for those that crave a modern look but desire an environmentally friendly and ethically mined treasure. White topaz is a great diamond alternative because not only is topaz durable; it is very difficult for a lot of people to tell the difference between white topaz and diamonds. With this ring, you get a natural stone without the cost or conflict. This artisan also recycled palladium and white gold to create this simple but sophisticated bezel setting.
8. Emerald Cut Peach Topaz and Diamond Halo Ring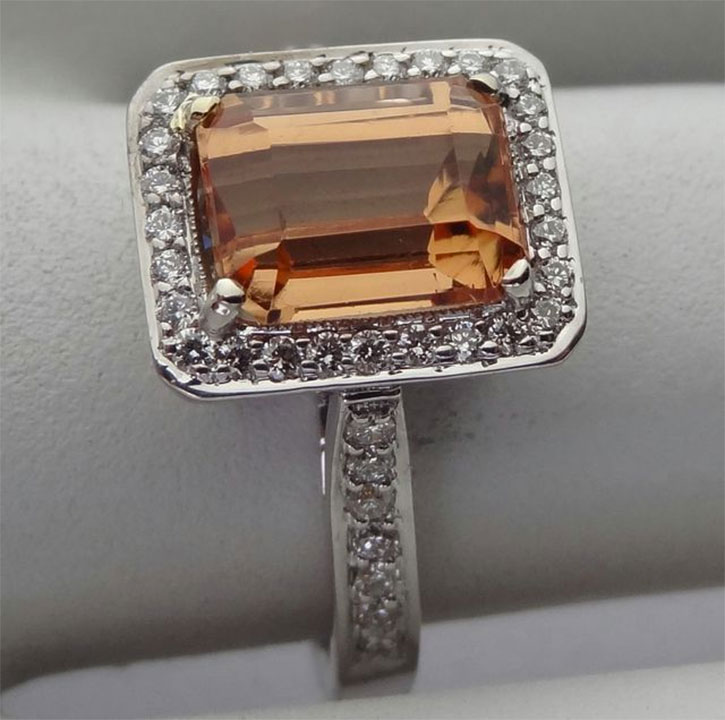 This topaz is just too pretty not to share! The natural peach color suits the faceting so well, and I'm sure looks even more beautiful in person.