Browse our Articles to Learn About Antique and Vintage Jewelry
When it comes to admiring, learning about, and ultimately purchasing a piece of fine estate jewelry, there is an unlimited amount of knowledge to acquire. Without having a least a small amount know how about estate jewelry, it's very easy to accidentally buy a reproduction or pay too much for an item. However, all this information on jewelry can be daunting to sort through. It helps if you start with the estate jewelry basics and work your way up from there. Here you will find some must-read articles that will teach you pretty much everything you should know before you purchase a piece of estate jewelry.
Have a specific question about fine estate jewelry or an heirloom you want to share? Head over to my Facebook page, and join the conversation!
1. Difference Between Antique, Vintage, and Estate Jewelry
One of the most common questions in the estate jewelry industry is "so what makes an item antique?" Learning the difference between antique jewelry, vintage jewelry, and estate jewelry can help prevent you from accidentally buying a reproduction or from having a case of buyer's remorse. It is important to understand how honest and deceptive jewelry dealers use these terms to define the heirlooms they are selling.
2. Common Jewelry Design Eras
The first step to identifying a piece of estate jewelry is figuring out which jewelry era it comes from. Jewelry eras have been defined by specific trends in fashion and jewelry that fit within certain periods of time. Analyzing different design characteristics allow us to group jewelry together within these different eras and furthermore help us date the jewelry within a period of 15 – 30 years. Two of the more common Jewelry Eras are Art Deco and Art Nouveau. Many people mistakenly think these two terms represent the same era/design, but there are many differences between Art Deco and Art Nouveau jewelry.
3. Best Places to Shop for Vintage Fine Jewelry
If you've never purchased a piece of fine estate jewelry before, it is likely you have little idea as to where to buy it. A lot of people assume a nice diamond engagement ring can be found at an estate sale, but very little fine jewelry actually ends up at these sales. Fine estate jewelry due to its value is usually sold privately to dealers in the trade so that the dealer can properly assess and value the heirloom.
4. Antique Engagement Ring Advice
Antique and vintage engagement rings are becoming more popular among couples for a variety of reasons. Some women actually insist on having an heirloom diamond, maybe because they prefer the style, the craftsmanship, or the cost. If you or the person you're proposing to is one of these women, you must read this article. These are some questions every person should ask before purchasing an antique or vintage engagement ring. Since the heirloom diamond can be over 100 years old, it is important to know exactly what you are purchasing.
5. Important Estate Jewelry Terminology
We all know how it feels to be talking to someone in a particular trade different than our own and not understand a lot of the industry-specific terminology they are using. This is very true when talking to an antique jewelry dealer. Here is a list of some of the most commonly used terms in the antique jewelry industry. This grouping is by no means a comprehensive list, but it serves as a starting point to help you learn some of the most important or most commonly used the jargon of the trade.
Go-To Guide for Vintage Jewelry Shopping | All About Buying Vintage Jewelry
If you're just discovering a love for vintage jewelry, and you want to learn more about being a savvy vintage jewelry shopper, this guide will help you navigate the ins and outs of buying vintage jewelry.
Where to Start Searching for Vintage Jewelry
If you have no idea where to start shopping for vintage jewelry, this article is a must-read. A great heirloom isn't as hard to find as you might think.
See Also: What is the Difference Between Antique, Vintage, and Estate Jewelry? More »
What to Ask When Buying a Vintage Engagement Ring
If you're set on buying a vintage engagement ring, there are a few questions you should be prepared to ask first… More »
Where to Buy Vintage Engagement Rings Online
Why the heck would anyone spend thousands of dollars on the internet? Well, you can actually save thousands of dollars by buying your engagement ring over the internet. Not only that, you may have a limited supply of local shops that carry vintage engagement rings in your area. These websites are excellent places to start your search. More »
10 Reliable Places to Shop for Vintage Jewelry
Everyone loves a good recommendation, and I have 10 great ones for you. These antique jewelry dealers have been in the industry for a long time and have gained great reputations for being reliable, honest, and fairly priced. More »
Discover the top ten antique jewelry shops with this unique and inspiring gift guide.
Looking for a unique and lasting gift to give to your loved one this year? Antique jewelry is one of the most sentimental and timeless gifts you can give, though finding the exact piece you want can be daunting. There are literally thousands of one of a kind pieces of fine antique jewelry on the market today. I've sorted through a list of some of the most reliable and diverse antique jewelry dealers out there today and brought to you my favorite piece offered by each in this drool-worthy gift guide. Be sure to browse all the wonderful heirlooms each of these shops has in their collections!
This beautiful moonstone necklace is from the Victorian era and dates to about 1880. Each moonstone jewel is encased in a 15k gold bezel and dangles in a festoon style from a 14k yellow gold link chain. Moonstone is one of my favorite stones, so I would happily add this necklace to my collection!
I couldn't resist promoting my own antique jewelry shop which has been in business since 2006. I have sold thousands of pieces both locally and online, and this season I plan to add hundreds of new items to our online collection. This particular ring is an affordable gold ring from the 1930s with a beautiful simulated amethyst gem.
Jewelry from the Victorian era has become very popular in recent years, and you can see why when you look at beauties like this one. This rose gold ring consists of two entwined knots, one chased, one plain, with bar detail on shoulders. It dates to the 1860's and tests as 18k.
This is another Victorian beauty that you are either going to absolutely love or hate. Snakes were a popular motif in the Victorian era and believed it or not were a symbol of wisdom and eternity. This double snake ring is cast in a 10k rose gold with two old mine cut diamonds set into each head. This heirloom dates to about 1880.
If Victorian jewelry isn't your thing, then more than likely you will be a fan of Art Deco era jewelry. Instead of yellow and rose golds with nature motifs, white gold and platinum accent very geometric and elegant designs. This ring from Jean Jean Vintage is set with a garnet doublet in 14 white gold and is just so pretty!
This amethyst ring is a lovely light lilac color which is also referred to as rose de France amethyst. The center of the jewel as a gold gilded rose that is inset with a diamond. It also dates to the later Victorian era around 1880 – 1890 and is also set in 14k rose gold.
Read our interview with the owners of Maejean Vintage here.
This ring is a nice mix of the Victorian era and Art Nouveau era and is set with three nicely matched opals. There is a very intricate scrolling detailing down a split shank design which is now widely used on rings today.
This late Victorian opal halo ring has an incredible pearl halo around a lovely opal gem. The ring dates to about 1890 and is cast in 10k rose gold. Opals symbolize purity and fidelity, and this one is particularly magical.
Peridot isn't the most common gemstone, but when we find it in antique jewelry, it is generally very beautiful and of good quality. I love the square cut of this gem which compliments the squared off shape of this Art Deco ring. The diamonds add more shine to the beautiful milgrain and side details, making this a ring you will happily wear every day.
Edwardian era jewelry is all about luxury! However, good quality earrings from this era are increasingly difficult to find, so Trumpet & Horn found these impeccable reproductions made in the Edwardian style. Shopping for high-quality reproductions will save you time and money, and you will likely feel more comfortable wearing them on a regular basis knowing they aren't completely irreplaceable. The peridot gems are accented with rose cut diamonds and set in sterling silver just like they would have been over 100 years ago.
Where to Find Vintage Jewelry in NYC
From the Diamond District to a quaint storefront in Brooklyn, I will walk you through some vintage jewelry destinations you don't want to miss in the big city.
Fine Vintage Jewelry in New York City | Where to Shop for Estate Jewelry in NYC
Excellent places to shop for estate jewelry in New York City
New York City is a mecca for shoppers, particularly for fine jewelry shoppers. The hundreds of fine jewelry shops can be daunting to navigate, so it helps to have a reference for some must-visit locations. I recently traveled to the city and of course spent a lot of my time visiting as many jewelry shops as I could fit into my trip, many of which carried some form of fine vintage jewelry. This by no means is a comprehensive list of places to shop for fine antique and estate jewelry, but it offers a starting point for travelers in Manhattan looking to add a unique and timeless heirloom to their collection. Stay tuned for an article on my favorite jewelry stores in Brooklyn that I was able to visit this past month.
Diamond District
The Diamond District is located on West 47th Street between 5th and 6th Avenue. It can be very intimidating for a first timer because there are over two thousand jewelry dealers and jewelry businesses that operate within this small block. Many of the dealers will stand on the street and try to either sell or buy jewelry from you. In the Diamond District, there are a handful of quality antique jewelry dealers as well as dealers that may have an old hidden treasure tucked away among piles of modern jewelry. Be sure to leave a lot of time to hunt. Many dealers will even put items aside for you for a period of time to allow you to shop around the other booths and come back. Try not to be pressured by a hard sell. Among the antique dealers on this block, some are the extremely high end and almost museum quality while others offer a good range of affordable items.
Doyle & Doyle
Doyle & Doyle reminds me of a museum. Located in the Meat Packing district of Manhattan, the showroom is sure to wow even the most discerning collector.
The double door buzzed in the entry can be a little confusing, but once you make it into space, you are greeted with a clean display of shadow boxes along all of the walls. They have a lovely collection of antique engagement rings with ample staff to help answer any questions you may have. They weren't pushy which was nice, allowing myself to walk along the walls and take in and comment on many of the elaborate jewelry pieces much like one would in a museum.
Lori McLean
Lori McLean is a great place to visit when you want to get away from the hectic pace of Manhattan and have a very personal and calming buying experience. The shop beautifully displays jewelry from dozens of different designers and mixes those pieces with a curated selection of antique pieces. Lori McLean also designs a collection of vintage-inspired jewelry that mixes modern lines with antique-inspired stones like Persian turquoise and fire opals. Whether you're looking for an unusual antique pendant or locket, a converted stick pin, or a dainty antique diamond ring, Lori McLean is worth checking out. The shop is located at 49 Grove Street in the West Village.
Pippin Vintage
Pippin Vintage was one of my favorite little shops in Manhattan located at 112 W 17th Street. Antique apothecary tables and furniture lined one wall of the shop and were filled with vintage costume jewelry. The other side was lined with glass showcases filled with higher end costume jewelry and a great range of fine vintage jewelry. There are plenty of vintage engagement rings as well as fun gemstone rings from all ages to swoon over. The staff was very friendly, accommodating my desire to look at multiple pieces.
Where to Shop for Vintage Jewelry Boxes
Need a vintage or vintage-inspired box to put all your heirlooms in or a special keepsake box for that vintage engagement ring? This guide showcases some great options.
The Best Vintage Inspired and Heirloom Jewelry Boxes | 5 Jewelry Boxes You Need For Valentine's Day
Find the best and most unique vintage inspired and heirloom jewelry boxes for your Valentine.
To some, a presentation is everything, and to others, a gift could come in a plastic bag, and they wouldn't think twice. Do you put your box of chocolates for your Valentine in a gift bag, or do you just hand it off with little in the way of presentation other than the heart-shaped box it came in? With jewelry, I have always been a big fan of presentation, so much so that I have a wonderful collection of antique jewelry boxes. Jewelry doesn't need much to show it off due to its flashy and impressive nature, but it does need something! Sad as it seems though, many have grown accustomed to the plain jane cardboard jewelry box or lackluster velvet jewelry box that is a world away from some of the antique and vintage ones in my collection. It seems that 100 years ago, they just put more time and effort into the beauty of the box than we do today. With that said, there actually are some incredible new jewelry boxes out there that will make any woman swoon even before she has the chance to open it, and I've found them for you!
1. The Mrs. Box
If I had to pick one box that is my ultimate favorite box that isn't vintage, the Mrs. Box would be it! These are made from old french velvet and come in a great variety of colors. Claim yours soon, because supplies are limited!
2. The Emily + Meritt Wishbox Collection
These jewelry boxes remind me of an old Victorian jewelry box. They have a ton of antique charm without having to deal with any condition issues like a deteriorating silk liner or broken hinges. Plus they can be delivered right to your doorstep without having to hunt through an antique mall to find an original, which can be like finding a needle in a haystack.
3. Large Engraved Ivory Vintage Celluloid Ring Box
In the 1920s there were a ton of beautifully created celluloid jewelry boxes. The celluloid generally keeps up well over the years, making this a great choice to store your heirloom jewelry. I love this box in particular from Etsy, but a simple search of "antique celluloid jewelry box" will yield some incredible results.
4. Antique Ring Box Leather Engagement Wedding Ring Box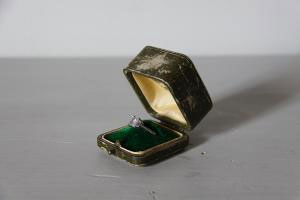 To craft and sell a leather ring box similar to this antique one, it would cost hundreds of dollars, and you wouldn't get all the amazing character this box has. This leather-encased box has its original velvet interior and dates to about 1900.
5. J. Devlin Beveled Glass Boxes
I love these keepsake boxes from J. Devlin! They come in a wide variety of sizes and designs, and each one would work perfectly with a piece of heirloom jewelry. I have a wonderful collection of these vintage-inspired boxes and have given many as gifts!
How to Buy Vintage Jewelry at an Auction
Have you ever wanted to be involved in a fast-paced auction, hold up your paddle, and win a piece of vintage jewelry? Read this resource before you bid so you know exactly what to expect and what you will be expected to pay on top of the final bid.
How to Buy Fine Jewelry at an Auction | Tips for Buying Fine Jewelry at an Auction
Learn the ins and outs of purchasing fine vintage and modern jewelry at an auction house. Discover the top jewelry auctioneers in the world.
One of the most thrilling ways to purchase a piece of vintage or modern fine jewelry is to score it at an auction. Depending on the auction house, the amount of publicity, and the type of items auctioned off, you can either end up saving a lot of money, overspending or spending a satisfactory amount. Let's face it when there is only one of something, and multiple bidders have their heart set on it, emotion is going to be a big factor in the final value price.
Auction Buying Tips:
Register early! Even if you are going to be attending the auction in person, it is important to go to the auctioneer's website early and register. Some auction houses will have to approve your credentials and then give you a bidding ID. There's nothing worse than hearing about an auction last minute, rushing to get registered, then missing out on a great piece. Some auction houses will make you register for each individual auction, whereas others will let you register to bid one time for all of their auctions.
Soon before or after registering, read all the policies of that auctioneer. This is especially important if you are going to be placing absentee bids or online bids where your item will need to be shipped to you. Some auction houses will ship, while others require you to have your own shipping service.
Explore the auction catalog well in advance. Be sure to highlight and notate different lots that you want to bid on with your starting bid as well as the highest price you are willing to go on any given item. This will help keep your spending in check.
Go to the preview! Some auction houses will have a preview of the auction just days before while others are just hours before. Don't go to the auction right when it starts and expects to bid on an item without inspecting it during the preview. All items are sold completely as-is! Of course, this is in a perfect world. If you are bidding remotely, the best you will be able to do is make notes based on the auction item's description and pictures. Usually, any significant damage will be listed, though this isn't always the case.
Be ready to pay! For most auctions, you will need to pay for the items you've won at the end of the auction. Be sure to read their terms and conditions, because some auctioneers will only accept verified checks and cash.
Remember that on top of the actual auction sale price, there are buyer premiums everyone must pay. These can range from 10% – 25% depending on the auction house. If you are bidding at an auction in state or out of the country, certain sales tax, and shipping and handling fees can apply.
Listen! Auctions move very quickly and can take some getting used to in part because the auctioneers can speak so fast that you don't really understand what they're saying.
Top Fine Jewelry Auction Houses:
All of the auctioneers listed below offer incredible vintage and modern fine jewelry. Some of these auction houses are so high end that I would never be able to realistically bid on the jewelry offered, but that doesn't make them any less exciting to follow or any less important to the jewelry industry.
For a comprehensive list of all the auction houses in your area, do a google maps search. Some of the auction houses listed above, as well as many others, offer online bidding so that you can bid or admire remotely.
Antique and Estate Jewelry Appraisal: What is a jewelry appraisal? How much does it cost to get a ring appraised?
In picking an appraiser of diamonds, antique, and estate jewelry ensure they are certified as such by the Gemological Institute of America (GIA). They should have one or more certificates posted. If not, ask for them.
It's important to select an appraiser who does not, themselves, buy or sell jewelry. This will help eliminate the tendency to appraise low if buying, and high if selling. A few years ago a lady called us with some jewelry to sell. As she did not have any written appraisals, I offered to meet her at the appraiser. One piece was a diamond bracelet which appraised at about $9000. The woman was stunned as she had paid over $18,000 for it and said that it was appraised at $22,000. The appraiser asked if the $22,000 was appraised by the jeweler who sold it to her? The woman said "OH", as the light lit over her head. It helps to find an appraiser who knows their antique or designer jewelry if you have such a piece. Too often they may not include the additional antique or designer value of the piece. A piece by, let's say, David Webb may bring double the intrinsic value of the gold and gemstones use to create it. A rare piece of Georgian jewelry that is 300 years old is worth a lot more than a contemporary piece with bigger and finer gemstones. In such cases, it would pay you to take along guides on antique jewelry or auction catalogs showing the prices that similar items have brought in the past. Following these points will take you a long way toward getting accurate appraisals of your jewelry. If you already have old appraisals, it might pay you to spend a few dollars to update them as values change over time.
On Diamond Certificates, Appraisals and Insurance
Diamond is very valuable and is used to mark occasions that have the same amount of significance that the diamond possesses. Taking care of these delicate yet expensive and valuable items of jewelry does not come easy. A little knowledge can help in making them assets and investments that can yield profits as well as protect from theft or damage.
Home, car and engagement rings are a few of the expensive purchases that are mandatory in anyone's life. Hence it is important to make sure that the diamond purchased pertains to standards like quality, characteristics, and value. Knowledge of diamond certificates, appraisals, and insurance is beneficial to avoid any sort of fraud.
Certificates provide proof of the diamond's identity. Certificates are usually issued by the independent accredited gem labs like the Gemological Institute of America and the American Gem Society that have no part in the sale of the diamond. The certificated issued by these bodies attest to the quality and authenticity of the diamond. These help in determining the value of a diamond in comparison to others. The certificates are used by the appraisers to determine the replacement value of the diamond or for insurance purposes; although this has to be accompanied by a separate appraisal. The certificate lists the characteristics of the diamond-like its shape, carat, color, clarity, exact measurements, proportions, imperfections, polish, and symmetry. The quality of the cut and the presence of fluorescence is also mentioned and commented upon.
Appraisals are documents stating the approximate value of insurance, replacement, and estate of the item. The insurance company requires this document to provide insurance. The value of an item is calculated on factors like current retail price, regional markets, cut, color, clarity, carat weight, the weight of precious metal used for the jewelry, the origin of materials used and the craftsmanship of the piece. Some of the appraisals have plots, diagrams, and photos in addition to documentation. Insurance options are available with the retailers usually in association with an insurance firm. The policies are many and research and comparisons should be done before settling on one. The coverage of the insurance can be added to the home owner's policy if permitted by the agents. Another option is to take special jewelry insurance policies from insurance firms that provide separate policies.
Certificates, appraisals, and insurance are helpful in maintaining and looking after the precious diamond that you purchased for those cherished moments of life.
Stay up to date with the latest jewelry news and tips by following us on Facebook, Twitter, Pinterest, and Instagram. Want to read even more? Sign up for our weekly jewelry newsletter here.