Charms for Bracelets – What Are Your Choices?
Charms for bracelets is a subject I love to talk about! There is nothing more personal than a charm bracelet, and that's why I think they are so popular. You can give one as a gift to someone you love, or just start one for yourself. They can be fun expressions of your personality and the things you like, or they can be a "memories" bracelet, with each charm representing a milestone in your life. I generally divide charms for bracelets into three general categories: Italian charms, bead charms, (think Chamilia and Pandora charms), and traditional hanging charms. Read on to find out about each type of Charm Bracelets!
Italian Charms
Italian charms are flat, rectangular charms that snap onto a "starter" bracelet. They wonderful because they are easy to add and subtract or re-arrange. These charms have a modern, sleek look and come in gold, silver, and stainless steel. The stainless steel starter bracelets are hypoallergenic, which is a great plus for anyone who has trouble wearing costume jewelry. Design choices for Italian charms are huge – there are laser etched charms, enameled charms, and even picture charms. One of the most well known Italian charm companies is Zoppini, which has a reputation for making high-quality charms and bracelets. Prices for starter bracelets start around $30, and charms go for $5 and up.
Bead Charms (Pandora and Chamilia type)
Bead charms have become very popular in the last ten years thanks to companies like Pandora and Chamilia. These charms for bracelets are actually large hole beads that slide on a metal snake chain, leather or fabric base bracelet. The beads can be silver, gold, or even Murano glass. Like Italian charms, they are easy to add, subtract or re-arrange on your bracelet. There is a large selection of bead charms to choose from, but keep in mind that all bead charms are not interchangeable. In other words, bead charms from Chamilia or Pandora might not fit onto the bracelet from another company. Prices for starter bracelets start around $30 and beads start at about $30 for high-quality name-brand bead charms.
Hanging Charms
There are literally thousands and thousands of hanging charms for bracelets available. They range from gold and silver plated, enameled, and pewter to 14K gold and sterling silver. They can be harder to attach/remove from your bracelet without help, as they require some sort of ring to attach them to a chain type bracelet. Split rings (like a little key ring) and spring-ring jump rings can help to attach them yourself. Using a plain, unsolder-ed jump ring to attach these charms is risky, especially if the charm is gold or silver, or has a lot of sentimental value. I love this type of charms for bracelets because they create a playful, swingy, lively bracelet that "talks" to you when you move. Prices range from under $5 each for plated charms to $30 and up for precious metal charms.
Deciding which type of charms for bracelets you like best is not hard, in my opinion. I don't choose – I have charm bracelets in all three types, and I love all of them. I can wear my cubic zirconia rings, my blue tanzanite necklace, or just about anything in my jewelry collection with my charm bracelets. So my advice for you would be don't choose, get several of each type!
You can find everything on your jewelry wishlist at Amazon Store.
Silver Charm Bracelets
Nobody is entirely sure who came up with the very interesting concept of charm bracelets, but it is well known that they have a long and interesting history. In all likelihood, they were probably originally created as a way to allow disenchanted and disillusioned jewelry-wearers to add variety to their bracelets. This is one thing charm bracelets do very well – they allow you to take a simple base bracelet and customize it is essentially an infinite number of ways. The logic probably went something like this – "If necklaces can be customized with unique pendants, why can't bracelets?"
And to be honest, there is a lot of truth in this. Charm bracelets allow jewelry-wearers to take their creativity to new heights, and express themselves in metal. At an airport recently, for example, the author of this article spotted a young woman who was wearing a very ornate charm bracelet. Upon being asked about it, the young lady explained that she was a college student who had taken a year off to travel around the world, and that she purchased silver bracelet charms in every country that she visited, so that she had a solid souvenir with which to remind herself of all the places that she had been. In other words, the bracelet was a composite of her travels. In essence, she had turned her bracelet into a sort of travelogue, a record of everywhere she had visited – a fantastic idea, and a truly creative one.
These are the kinds of people that the world of jewelry needs. Enough uninspired pieces by high-end marques; enough diamonds and rubies and other flashy stones; enough hoop earrings, thick studded bracelets, and cliched signet rings – what we need is an opportunity for jewelry to once again become a canvas for the inspired among us to paint their thoughts upon. This, after all, is what fashion is all about – it's about expression, not statements of how rich and dull you are.
And like always, of course, it takes the youth to remind us of this – like that young college girl in the airport. No surprise, then, that charm bracelets have recently seen a revival in popularity with the youth, particularly the stylish young people that like to experiment with different ideas, which the charm bracelet allows them to do at a level that very few other items of jewelry can match. The beauty of it is that you start with a very simple base – a silver charm bracelet, with no charms attached. The bracelets themselves are very, very simple – until you start adding charms to your bracelet. Because there is such a vast amount of different silver charms for bracelets available, pretty much every charm bracelet can be turned into a unique one-of-a-kind item of jewelry, customized to reflect your personality. The best part is, you can do this anywhere in the world – nearly every store that sells jewelry has silver charms charm bracelets and other charm bracelet related items for sale.
One warning – we recommend only using sterling silver charm bracelets, as sterling silver (or 925 silver) is strong enough to withstand the stresses of regular everyday wear, unlike the more pure forms of silver, which are fine for some articles of jewelry but are far too soft and malleable for charm bracelets, and will definitely start to get deformed and twisted out of shape with daily wear.
Selecting Charms For Bracelets
When you are trying to select charms for bracelets that you are going to make yourself, there are a few things that you will want to think about. There are some people who enjoy making their own jewelry as a hobby, and there are others who do it professionally but run out of ideas from time to time. If you need a couple of ideas for the charms that you are going to be using then make sure to keep reading. Here you will find some great ideas that you can use to create, dare we say, the best-looking charm bracelets on Earth.
Something you will want to think about before you select anything for your silver charm bracelet, you need to think about the personalizing the bracelet for the recipient. If the person is a mother then you might want to select charms that will represent her child or children. If the person is a grandmother then you might want to find charms that can be used to depict her entire family. You will also want to consider the occasion that the bracelet will be worn for. If it is going to be worn to a formal event then you will want to select some nice silver charms to put on the bracelet so that you will be able to get the classy look you want to have for the bracelet around your wrist.
These are just a few decisions to make when you are selecting charms for a bracelet whether it's for yourself or a gift for someone else. There are a few things which your decision will depend on, so make sure to take the time to think about all of the different times you will want to wear your bracelet. By taking the time to consider all of your options, you will be able to choose the one that will look the best dangling from your wrist.
Gold Charm Bracelet
The gold charm bracelet has always been a popular item of jewelry, particularly because of their immensely customizable nature. Very few pieces of jewelry offer the kind of infinite customizability that charm bracelets do. This aspect is particularly important for people who value the opportunity for creativity in their jewelry; for example, a person who travels all over the world can buy a single charm in every city or country that they visit, in the process creating a piece of jewelry that not only reflects an embrace of global culture but also the sophistication of the wearer. This kind of opportunity is unique to charm bracelets; you cannot, for example, customize a gold ring in the same way.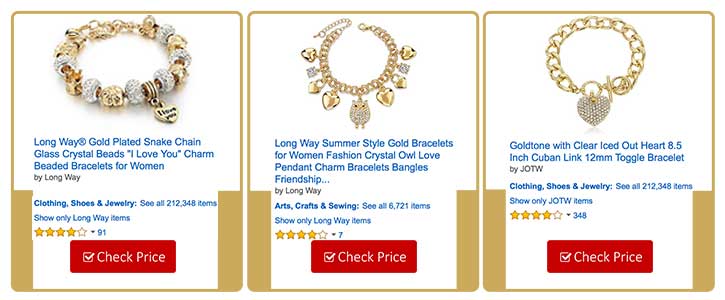 Of course, there are further options for personalization. An important thing to note is that there are many variations on charm bracelets. There is the classic link charm bracelet, which caters to the traditional and the kinesthetic; on the other hand, for those who value the visual aesthetic of their gold jewelry, there is the Italian charm bracelet, with its flat charms. These are only the two most popular – there are other styles of charm bracelet as well.
Another way to personalize the design of your bracelet, excluding the charms, is to have the bracelet itself made from an unusual material. The white gold charm bracelet, for example, is a more subtle and understated take on the classic charm bracelet, and can also look stunning in the Italian charm bracelet style, since the luster of white gold lends itself very well to smooth flat charms.
Some people, however, do not like white gold – this is not an issue, as there are many other kinds of gold available. In particular, 9ct gold charm bracelets are very popular. They are preferred to purer kinds of gold, in fact; this is because any higher purity than 9 or perhaps 14k gold charm bracelet stands a risk of suffering damage from regular wear, as gold is a very soft metal, particularly in its purer incarnations. As a result, a 9ct gold charm bracelet will last longer than, say, one made of 18-carat gold.
An unbelievable thing that people often overlook is the incredible variety of charms available. There is practically an infinite number of charms in circulation – things ranging from national flags to countries to an infinite variety of hearts and other shapes, cars, horseshoes, animals, whatever.
The Italian style is a particularly lovely innovation to the charm bracelet – Italian charms are tiled, forming a flat bracelet that stretches around your wrist. These are a bit expensive, but most people consider them worth the price – not only because of the outstanding craftsmanship and warranties/assurances you get from jewelers but also because of the absolutely fantastic visual impact that they portray.
However, some purists find Italian charm bracelets too oversimplified. These people turn instead to classic charm bracelets and augment them with gold charms instead. Gold charms for bracelets are seldom seen in real life but are quite a lovely sight. Gold is a very visually pleasing metal; it gleams, and the charms gleam as well, meaning the movement on your wrist will catch the eyes of everyone in the room. A very overlooked item, gold charm bracelets have recently started coming back into fashion. Already, the magazine world has started advertising them in droves, and they are making a visible appearance on the wrists of ladies from New York to Milan.
Happy Shopping!