There is just nothing quite as breathtaking and elegant as a diamond solitaire ring. A 1 carat diamond solitaire ring would make the perfect engagement ring, and when paired with more diamonds or gemstones, it would make a stunning cocktail ring. Diamond solitaire rings are the most sought after ring in the world, and it is no wonder. Their beauty is rivaled by none. What should you know about diamond carat weight before you begin your search for the perfect diamond solitaire engagement ring or cocktail ring?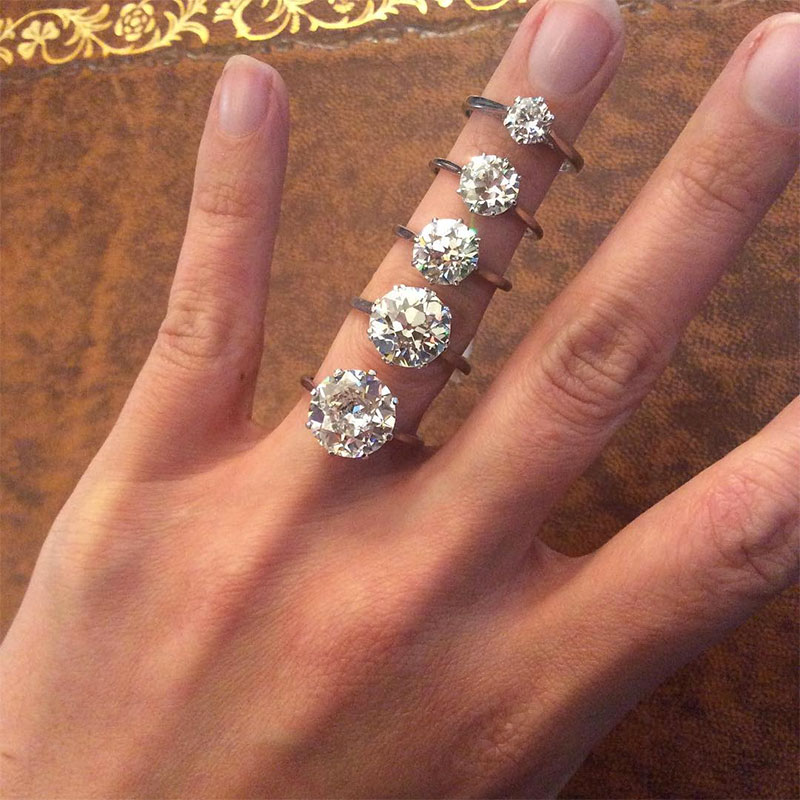 The 1-Carat Diamond Solitaire: A Weighty Subject
The term 'carat' refers to a diamond's weight, not its size. Just as two people weighing the same amount can look drastically different, it is the same with diamonds. Some shapes look larger than others even though they may weigh exactly the same. The units people are weighed by are pounds or kilograms, and the units a diamond are weighed by are called points. The diamond in a 1-carat diamond solitaire weighs 100 points. A ½ carat diamond will weigh 50 points, and so on.
Shape, Cut and Width: Important Considerations for a Diamond Solitaire
Not only the shape of a diamond can affect how big it looks; the cut of the diamond and the width across the top of the stone can make it appear larger or unfortunately, smaller. Because people perceive greater width to be naturally larger, a solitaire diamond that is a few millimeters wider on top may appear to be larger than a diamond that actually weighs more. If a diamond is cut poorly, with much of the weight underneath, two things happen; it is not as wide at the top, and less light is reflected out of the top of it. Both of those things can make the diamond appear smaller.
Round cut diamond solitaire rings are by far the most popular. Round brilliant cuts account for about 80% of all diamond sales. They have the most fire and brilliance when cut well, which can make a 1-carat diamond solitaire look even larger than it is. Princess cuts are the next popular, even though they exhibit less brilliance than round diamonds. Their square appearance tends to make them look larger because the diagonal width helps them appear larger than they are, and thus they are a very popular choice. Cushion cut engagement rings tend to look larger carat-for-carat also, because of their plump, pillow-like shape.
When it comes to beautiful rings, you just cannot find anything prettier than a 1 ct diamond solitaire ring. The shape you choose will affect how large it looks, so if having a larger looking ring is important to you, choose wisely.