Top Antique Ring Picks
As jewelry lovers, we're used to exploring new engagement ring collections, and we love getting seasonal lookbooks from our favorite jewelry designers and brands. But what about antique jewelry collections? It can be difficult to admire and write about antique inventory because it changes so often.
I love perusing antique jewelry collections online because collections aren't being updated every season; they are often updated weekly and sometimes even daily.
Which brings us to EraGem. I have followed this company for many years and have admired the range of their antique ring collection. You'll find a several thousand dollar diamond ring next to a much more modest amethyst ring, each given the same amount of attention and authority on their website.
Join me in honoring my ten favorite antique rings from EraGem currently, a little snapshot in time of some truly spectacular pieces. Accompanied with each ring is a little snippet from an owner of EraGem describing how the jewelry was acquired.
EraGem History from Founding Partner, Michael Magnotti
Weston and I founded our company in December of 2006 under the name Weston Jewelry. I actually grew up working in my father's antique store, and Weston's father owned a photography store. Ironic that our company specializes in antique rings and the key to selling online is the excellent photography.

My main role has always been acquiring and describing jewelry, customer service, and sales. Weston has specialized in website design and product photography. I also have two brothers that work here as well as a lovely lady named Jennifer that is the daughter of a longtime jewelry associate of mine.

We started heavily dependent on eBay but always had our website running along the side. As of last June 2015, we cut ties with eBay and have operated solely through our website, with a bit of Etsy and 1stdibs along the way.

We operated as Weston Jewelry until 2012 when we changed our company name to EraGem. We wanted something short, sweet and relevant, and it just popped into my head when looking at combinations of short words. The website domain was available, and we were able to get it trademarked as well. We also thought ERA was a good acronym for Estate Retro Antique.

I believe our curation and most importantly our images have helped set us apart online, and we go over the top on customer service as well.
Antique Victorian Lab Ruby and Diamond Ring from the 1880s
First, we have this elegant Victorian ring set with lab-created rubies and old mine cut diamonds. Yes, they did have lab-created gemstones back then! I love the way the curled prongs cradle each stone.
Antique Ring History and Acquisition
We purchased this lovely ring from an estate a local Seattle area family, but I do not remember any specific history on it.
Antique Victorian Turquoise and Diamond Halo Ring from the 1890s
This low profile antique turquoise ring is probably my favorite on this list. I absolutely love rich turquoise and old halo settings. So must most other antique jewelry lovers because this style is hard to find.
Antique Ring History and Acquisition
We received this beautiful ring from a dealer that operates in the Scottsdale area. This Victorian halo style is a personal favorite of mine.
Antique Victorian Tourmaline and Pearl Ring from the 1890s
Pearl halos are easier to find than diamond halos in antique rings. However, there's a good chance there may be a few pearls missing. This pink tourmaline ring is in great shape with each pearl beautifully intact!
Antique Ring History and Acquisition
This antique ring we selected from a large estate collection that was collected from the 1960s through the 1980s and has sat in a vault since. It was a Father and Son business.
The father passed away, and the son has been selling off some pieces to pay for his ailing mother and himself.
Antique Victorian Opal and Diamond Ring from the 1900s
If the opal is your birthstone, you must treat yourself to an antique opal ring. The deeply saturated hues on an antique opal are unlike anything you find in similarly priced modern jewelry. I love how these opals are intricately bead-set around equally pretty antique cut diamonds.
Antique Ring History and Acquisition
This gorgeous opal ring was hand selected at the Las Vegas Antique Jewelry & Watch Show
Antique Victorian Opal, Ruby and Diamond Ring from the 1900s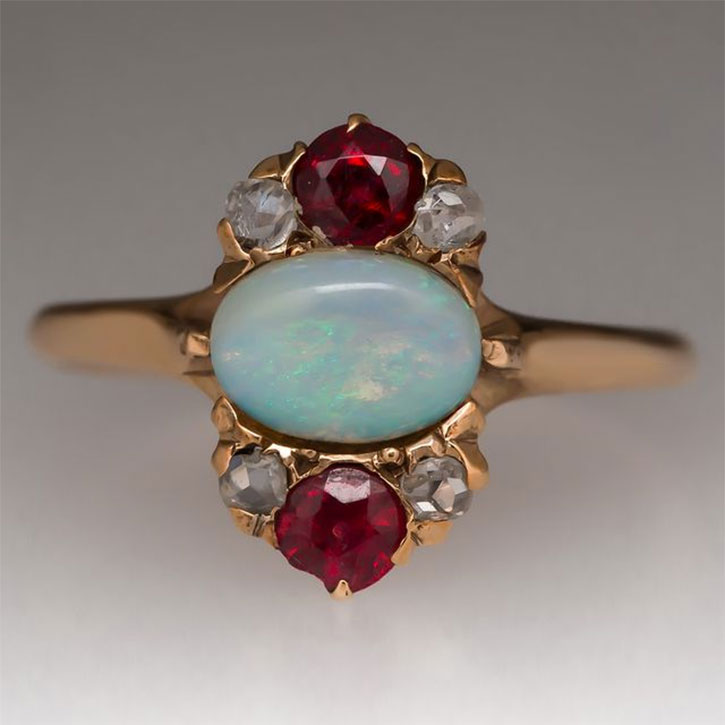 The shape of this antique opal ring is unreal. I love how the distinct rose gold prongs at the top and bottom of the ring create a pointed shape, making this ring look even more regal.
Antique Ring History and Acquisition
This antique ring was selected from a large estate collection that was collected from the 1960's through1980s and has sat in a vault since. It was a Father and Son business. The father passed away, and the son has been selling off some pieces to pay for his ailing mother and himself.
Antique Edwardian Red Spinel & Diamond Dinner Ring from the 1910s
My list wouldn't be complete without a little bling. If you love bling, then you naturally love the Edwardian and Art Deco eras. This dinner ring features a rare natural spinel gemstone that could be easily confused with ruby. Just take a minute to admire the detail of this setting.
Antique Ring History and Acquisition
As you will see in the comparison picture, this magnificent dinner ring is similar in size to the double diamond ring.
This spinel looks like a great large ruby and may have been purchased as such when it was originally purchased. We have this by way of a dealer, so I don't have any family history on it.
Antique Art Deco Old Mine Diamond Dinner Ring from the 1920s
If you spend some time comparing this ring with the one previous to it, you'll see the similarities and differences between Edwardian and Art Deco jewelry. Edwardian jewelry is just slightly more refined and lacey than Art Deco jewelry. This inner ring is no joke, though. Each diamond has its own unique story, woven together to create an heirloom packed with family history.
Antique Ring History and Acquisition
This incredible ring features 2 amazing antique diamonds.
These were most likely a collection of the great grandmother's or grandmother's stones reset into a huge dinner ring for the daughter to wear.
Antique Art Deco Diamond North-South Ring from the 1930s
This ring is Art Deco at its finest, created right at the end of the 1920s or the beginning of the 1930s. I love the calibré cut emeralds and transitional cut diamonds. The late Art Deco era is where we see a lot more geometric shapes and less lacey, natural shapes that we see from Edwardian era jewelry.
Antique Ring History and Acquisition
We purchased this is a classic art deco dinner ring from a customer here in the Seattle area.
Most commonly sapphires are used in settings like this, but sometimes rubies and emeralds can be found along with their synthetic counterparts.
Antique Art Deco Amethyst and Pearl Cocktail Ring from the 1930s
No Art Deco roundup is complete without a filigree ring. Seed pearls are relatively common from rings this age, but they usually are missing or damaged. You can see this ring is missing a couple of seed pearls, which only adds to the character and overall charm.
Antique Ring History and Acquisition
The original owner of this antique filigree ring contacted us from Texas and mailed it up to us to purchase.
We have quite a few of these lovely amethyst rings with the seed pearl accents.
Vintage Amethyst Flower Ring from the 1960s
I love everything about this floral amethyst ring. The richly toned amethyst looks amazing up against the rose colored gold. I love the crown prong contrasted with the round petal detail.
Antique Ring History and Acquisition
We purchased this pretty vintage amethyst ring in our showroom. We estimated the date to the 1960s, but the ring could be more retro 1940-1950's also.
10 Gorgeous Yellow Gold Antique Rings | 10 Antique Rings That Will Make You Fall in Love With Yellow Gold
Admire some of the most beautiful golden rings that are over 100 years old.
1. Antique Victorian Rhodolite Garnet and Pearl Ring
This collection of antique rings will showcase why white gold isn't always the best and most beautiful metal choice for fine jewelry.
The above ring is a spectacular Mid-Victorian ring that is set with rhodolite garnets and pearls. The metal is a mix of 12 and 15-carat gold that highlights some really elegant scrolling and beading. The ring dates between the 1860s and 1880s.
2. Antique Edwardian Diamond and Sapphire Wedding Ring
This ring is an antique Edwardian ring that dates to about 1910 and is set with sapphires and diamond. The metal is a mix of platinum and a bright 18k yellow gold which was a common combination from this time period.
3. Antique Victorian Coral & Sapphire Ring
Lower karat gold jewelry from the Victorian era was made by mixing gold, copper and other alloys together. The copper tarnishes over time which gives a lot of jewelry from this era a dark rosy hue. This patina is impossible to replicate if it is removed, so use care when polishing your antique jewelry.
I absolutely love the patina on this ring up against the coral and sapphire stones. The ring dates to the late 1800s.
See Also: Antique Diamond Rings Online
4. Antique Victorian Large Baroque Pearl & Diamond Serpent Snake Ring
This antique snake ring dates to the turn of the century, c. 1900 and features a 14 yellow gold frame that encases a large baroque pearl. The snake depicts the Ouroboros symbol which signifies eternity and self-renewal.
5. Antique Victorian Turquoise, Diamond and Pearl Ring
This rare and beautiful antique ring has a simple 14k yellow gold setting with pearls, diamonds and turquoise inset into an oval onyx gemstone. The ring is from the late Victorian period and dates between 1880 and 1890.
6. Antique Art Deco Opal Ring
I always think opals look best in yellow gold. This 18k yellow gold ring had an opal doublet and platinum accents and was crafted in the 1920s.
7. Antique Victorian Turquoise and Pearl Ring
If you haven't noticed by now, Persian turquoise was a very popular stone from the Victorian era and was also used a lot with pearls. This Antique Victorian ring has a rosy hue in a 14k gold frame that has hand engraved detailing.
8. Antique Victorian Turquoise and Amethyst Ring
I love this antique ring because it is a combination of stones you don't ever see: amethyst and turquoise! The floral-like setting highlights the contrast between the turquoise and purple hues of the stones and the rosy color of the 9ct yellow gold setting. There are also delicate engravings set in silver on the shoulders of the ring that add a hint of character you just can't quite match in a modern ring.
9. Georgian Sapphire, Diamond, and Pearl Ring
This is one of the oldest antique rings on the list and is from the Georgian era which is known for incorporating a lot of high karat yellow gold into their designs. This ring has an 18k yellow gold setting that is accented with diamond, pearls and a beautiful sapphire gemstone.
10. Antique Georgian Diamond Cluster Ring
This is another Georgian era antique ring that is crafted with both silver and yellow gold. The 15ct yellow gold frame is set with rose cut diamonds that make this ring truly one of a kind.