Check Out Watches Worn by U.S. Presidents
Different make and models of watches were worn from the earliest US president to the current president, Obama. From Timexes to Patek Philippe, there are many brands. While some presidents loved to wear them others wore out of compulsion. Most of the early US presidents carried pocket watches.
CHECK OUT CLASSIC WATCHES AT AMAZON
George Washington
The first president of United States, George Washington wore a pocket watch which was made by an unknown maker. However, it was made by a Swiss maker. The gold pocket watch was acquired by Washington in 1775. The watch has Neuchâtel hallmark which is believed to be of Swiss origin. You can find '1775 / G. Washington' engraving on the inside of the watch. The outside of the watch has the following graving:

"Trenton N.J. / Dec. 10th 1777. / Presented to my Friend / Col. Thos. Johnson of Md. / as a Memento / of my great Esteem. /Geo. Washington."
Washington also owned another watch by name, Jean-Antoine Lepine.
Barack Obama
Current president (44th president of United States), Barack Obama wore TAG Heuer timepiece during presidential campaign in 2008. After taking office, he wore Jorg Gray 6500 Chronograph which was customized as per his needs. it was presented to him on his 46th birthday. The watch is not expensive. It is cut from solid steel. It has durable dial and Italian buffalo grain strap. It has water resistant property to the extent of 330 feet. The popularity of Jorg Gray 6500 watch increased as he was photographed with the watch on many occasions.
George Bush
George W. Bush wore inexpensive Timex Indiglo quartz watch. It was assumed by many that he wore such inexpensive watch so that he can connect with common man very easily.
Bill Clinton
Bill Clinton – the 42nd president of United States wore very cheap watch during the election campaign. The cost of the watch was just $50. In fact, the trend of wearing low cost watches began with Clinton. It was followed by Bush and Obama as well. However, Bill Clinton wore many watches after assuming office. The collection includes Panerai, Kobold and Cartier.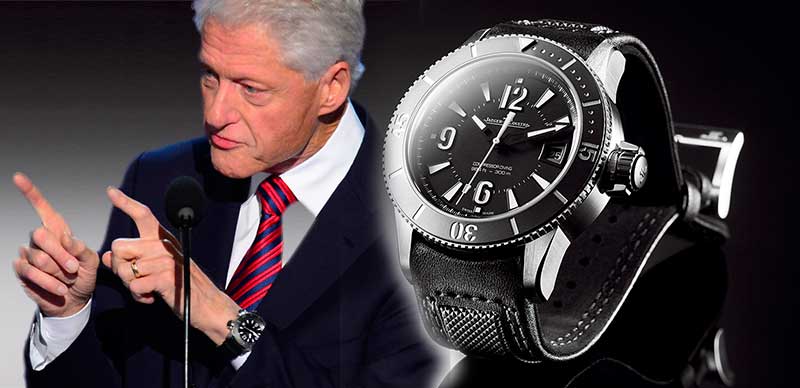 Lyndon B. Johnson
The 36th president of US was often found wearing Rolex Datejust, valued at around $6,000. The watch was referred as Rolex President during his reign. The other watches worn by the president include the Vulcain Cricket alarm and a Patek Philippe, which was valued at $33,550.
John F. Kennedy
Many luxurious watches were worn by the youngest and 35th president of US, John. F. Kennedy. A Cartier watch was presented by his wife on their 4th anniversary. He received a square OMEGA watch during the presidential campaign from a friend. His wife often appeared with Cartier Tank watch. John F. Kennedy possessed 18kt yellow gold Rolex Day-Date (valued at $25,000) which is also known as the Rolex President.
Harry S. Truman
The favorite watch of 33rd president of US is Vulcain Cricket, valued at $5,825. It was the world's first mechanical wrist watch and was worn by several US presidents. The Vulcain Cricket watch was presented by White House Press Photographer's Association in 1953. Truman also owned a Vacheron Constantin watch.