Like snowflakes, no two loose diamonds are exactly alike. Through the forces of nature that create the crystals to the skill of the cutters that shape and polish the finished diamonds, no two diamonds will turn out exactly alike.
However, the VALUE of the diamond is determined by what nature created and what the cutter finished. GIA Certified loose diamonds tell you exactly what nature created: primarily the color, clarity, and fluorescence. GIA Certified loose diamonds also tell you what the cutter finished: primarily depth, table, carat weight, polish, symmetry, girdle, and culet.
"GIA Certified" is recognized worldwide as the standard for diamond grading. Unfortunately, not all labs adhere to GIA's strict diamond grading standards. There can be wide discrepancies in grading for color and clarity between labs. And since color and clarity are two of the "Four C's" that determine a loose diamond's value, it is important to have your diamond "GIA Certified" or graded by a lab that adheres to GIA Certified diamond grading standards on a consistent basis.
A diamond is forever! Take the time to make sure your diamond is a GIA certified loose diamond or graded by an equivalent lab.
When dealing with a commodity as precious as diamonds, one should be aware of all factors affecting the true value of a given stone. Most "Jewelers" will promote carat weight as the primary determination of value when, in fact, cut, color and clarity can all have a greater influence on the value of a loose diamond than carat weight alone.
The Gemological Institute of America (GIA) has taken great strides in developing a grading system to standardize value in diamonds. These diamond grading standards are applied to cut, color and clarity by professionally trained gemologists worldwide.
A Brief Insight on Getting the GIA Certified Loose Diamonds Online
Diamonds were first discovered and mined in India. The very mention of it evokes fantasies of brilliance, eternal magic, joy, sparkle, and fabulous riches. In the Middle Ages, Diamonds were so expensive and rare that only affluent people were able to afford. However, thanks to the unearthing of numerous Diamonds deposits led to possession by even ordinary people.
There is no substitute or comparison for these purest of the pure gemstones. With changing the preference of people and trends, consumers are becoming savvier to buy certified loose diamonds. Today the jewelry markets are flooded with varieties of loose diamonds, and you can always personalize your jewelry by buying them.
When buying loose diamonds, you need to ensure that they are certified by a recognized independent laboratory like Gemological Institute of America (GIA), European Gemological Laboratory (EGL) or American Gemological Society (AGS). This grading certificate plays a vital role to insure with Insurance Companies or sell to potential customers.
Loose Diamonds come in different shapes like Round, Marquise, Pear, Oval, Heart, Princess, Radiant, Emerald, Asscher, and Cushion and vary in different color, size, and carat. The prices of these diamonds depend upon many quality aspects of 4 C's.
Your shopping becomes perfect when you are buying certified loose diamonds online. The online stores assist you with every detail of your jewelry with all your needs. You not only enjoy the ease and comfort of shopping online but also get value for money.
Buying loose diamonds online has many advantages.
Firstly, you can always have that leisure of buying them online at any point of time and also compare with other diamonds from their huge database.
Secondly; you need not pay overhead costs that retailers charge for their inventories like store cost, distribution, staff, security, maintenance, etc. that are added to the price of a diamond.
Lastly, retailers don't offer as much merchandise as online stores due to limited stock of merchandise. As online stores have huge merchandise, you can always narrow your search with variable options that they offer.
The above advantages are controllable factors that you can take care of, but there are few uncontrollable factors like market condition and supply and demand of loose diamonds. In addition to that, few online stores also offer a refund policy of 30 days which in turn acts as a security measure while buying online.
The Benefits of Buying Certified Loose Diamonds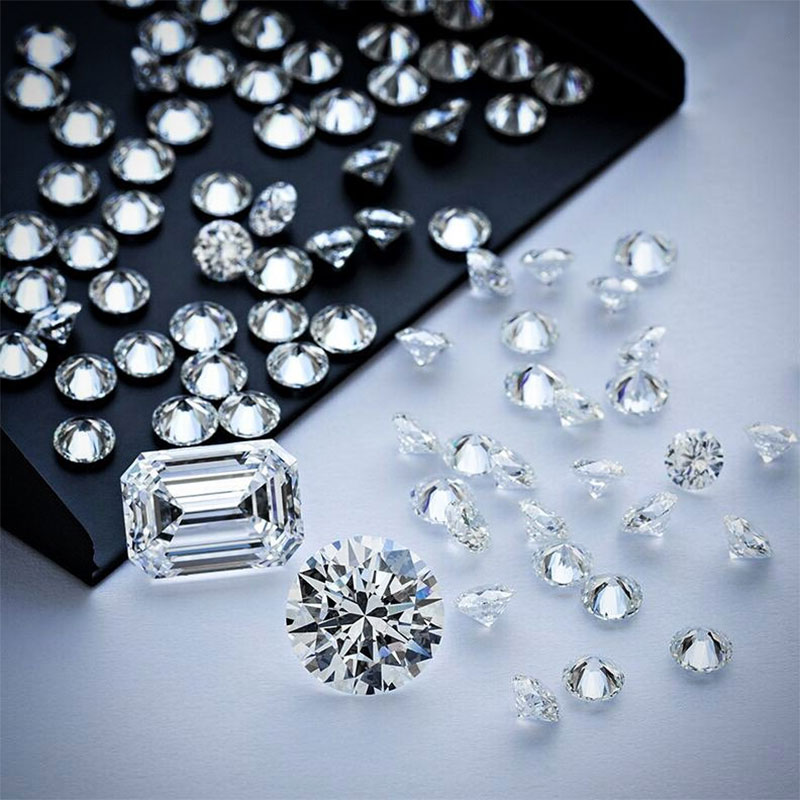 Diamonds are the best way to express your innermost feelings. This gemstone has all the quality to convey your eternal love without uttering a single word. The importance of GIA certified loose diamonds is also exactly the same.
You can always present loose diamonds to your loved ones and express the profound love and respect you hold for him or her.
Many people prefer buying loose diamonds rather than purchasing pre-designed jewelry. It is extremely important for them to check the certificate of authenticity. You will not be fooled or become a part of any scam when you have the proof right in front of you.
Diamonds are huge investments, and it is, therefore, necessary to check the authenticity of the gemstone that you are buying.
The world is dominated by false people always trying to fool others. GIA Certified loose diamonds are risk-free from all sorts of forgery.
People are often skeptical of buying expensive things like a diamond on the internet, but when you get the certificate from the jeweler, you can be assured of the purity and authenticity.
Another important benefit of certified diamonds is that they are tested thoroughly and graded properly. They are examined with the best possible techniques.
Before certifying a diamond, the gemstone has to undergo lots of processes. It is done by trained, reputed and highly professional gemologists.
You can buy any shaped diamonds and need not worry about the genuineness once it is being certified. Loose diamonds can be of any shape like round, pear or heart, etc.
Heart diamonds look extremely beautiful when you gift it to the person you love. The cost of loose diamonds increases by manifold after they are used in jewelry.
If you are planning to gift something to your beloved on the occasion of Valentine's Day, you may want to consider heart diamonds.
There are ten shapes of diamond known as the round, princess, emerald, asscher, oval, radiant, marquise, pear, heart and cushion. There is a new shape introduced very recently known as the trilliant shape diamonds.
Each of the diamond is differentiated from others by the number of facets. Emerald diamonds resemble stair steps whereas princess diamonds are square in shape with many facets. Both these diamond shapes look attractive with longer fingers. However, it is crucial to check the color and clarity of each and every diamonds that you buy.
The cost of emerald diamonds is not that expensive as a round brilliant shape. Hence, people having low budget may also prefer buying this step-cut diamond which looks good as a solitaire on the engagement or wedding rings.
There are many wholesale stores available on the internet from where you can buy diamonds for a lot cheaper prices than any retail store or jewelry showrooms. These online stores also have free shipping facilities for the convenience of their customers.
Buying GIA certified loose diamonds are beneficial because you can sell them at any point of time without any difficulty. On the contrary selling jewelry items studded with diamonds is a little difficult because the metal used may fade its color or texture. Diamonds are the closest to the heart of a women and gifting diamond jewelry is the best way to impress your lady love.
Layman's Guide to Loose Diamond Grading by Table and Depth Percentage
Table and Depth Percentage are two critical measurements for loose diamonds. The angles of cut will affect a diamond's natural ability to both reflect and refract light – that is, the diamond's ability to virtually explode with brilliance. If the proportions are good, the sides and bottom of the diamond will all reflect their light back out the top of the diamond, which creates the brilliance diamonds are famous for.
Table percent is the width of the top facet of the crown compared to the diamond's total width. Table width between 53% and 64% are considered Preferred in Round Brilliant Cut diamonds. The Depth percent is the total depth or height of the diamond compared to the total width. Depth measurements between 58% and 63% are considered Preferred in Round Brilliant Cut Diamonds. The Preferred range for these measurements will change as the shape changes, i.e., a Marquise cut diamond will have different ranges for Premium Table and Depth percentages.
The following table shows the Ideal ranges for depth and table for Round Brilliant diamonds as well as the Preferred ranges for Rounds and all other shapes:
Table and Depth Percentage Chart
| | | |
| --- | --- | --- |
| IDEAL SHAPE | DEPTH RANGE | TABLE RANGE |
| Round Brilliant | 59% to 62.6% | 53% to 57% |
| | | |
| --- | --- | --- |
| PREFERRED CUT | DEPTH RANGE | TABLE RANGE |
| Round Brilliant | 58% to 63% | 53% to 64% |
| Marquise, Oval, Pear | 58% to 66% | 56% to 64% |
| Emerald, Radiant | 59% to 69% | 60% to 69% |
| Princess | 60% to 75% | 60% to 79% |
| Heart Shape | 55% to 65% | 51% to 65% |
Naturally, diamonds with measurements within those ranges will be more expensive than diamonds with measurements outside those ranges. You need to balance that decision yourself. A few %'s one way or the other is minimal.
Besides Table and Depth Percentages, there are several other minor grading factors that combine to affect the diamond's beauty and value.
GIA Certified Diamonds
GIA certified diamonds set the standard in the gemological market. While they are not always more advantageous in comparison with many different diamonds they're completely attested instead of non-certified diamonds that have unknown skills.
The particular GIA is a non-profit research and academic organization with a guiding objective connected with maintaining strength in the stone industry.
All GIA certified loose diamonds that you can find online have a validating report which informs you a lot more than you almost certainly anytime need to know concerning the 4 gemstones of this small slice connected with bliss.
GIA Certified Diamonds Online
You will find a couple of additional benefits of obtaining certified diamonds. While shopping around in addition to carrying out cost critiques, you are able to compare the actual features regarding GIA certified diamonds towards the retailer's costs.
It will likely be simpler to discover that gleaming stone using equivalent features.
If the actual diamond band is going to be lost or taken, it may be useful in the restoration or insurance reasons, to possess the GIA certification which the particular gems specific qualities.
GIA Quality Certification!
Stone Features connected with GIA Certified Diamonds are usually recorded withinside the Stone Validating Statement for diamonds more than one-carat weight in dimensions as well as in the Diamond Dossier Report for those individuals beneath One-carat weight. The Stone Validating Report signifies a number of the going after:
Stone quality is the method of calculating diamonds' flaws (inclusions). Every diamond has lots of inclusions, a great diamond getting a perfect quality grade. This kind of quality really describes the general shape and just how nicely the shape is to minimize marks that represent any diamond's surface and facet positioning. This is a good sign with the treatment taken up increasing the risk for diamond as stunning as possible.
Shade whenever diamond is seen below Ultraviolet light: Just one way in which gemologists take advantage of to assist determine and independent diamonds out of your diamond look-alikes is as simple as placing the treasure within Ultraviolet light. Whether or not this lights up (lights up) blue, it truly is probably GIA certified loose diamonds.
The design, alignment and the gems feature with regards to each other in addition to the invariability with the scribe. The weak part position allows mild to leak out just in front of it demonstrates again leading to less beauty.
A map with the blemishes since seen within the microscope. If your gem features a quality connected with VS1 or superior, you'll avoid seeing any defects together with your human eye. In the event the clearness level is going to be VS2 or a reduced amount of, evaluate the stretch of land to determine the location with the primary flaws.
The particularly certified diamonds that are issued offers microprint lines, holograms, as well as security screens to create counterfeits much a lot far additional readily recognized. The sole some various different accreditation that will hold any candlestick for the Gia will be the American Gem Society Laboratories. The particular AGSL is very highly regarded as well as concerns an objective, in-depth statement having each and every stone that's looked over withinside their laboratory.