Elizabeth Taylor's Fine Jewelry Collection
Elizabeth Taylor may very well be the most influential fashion icon in the jewelry world. Through her work as a famed Hollywood actress, to her many love affairs, to her impeccable and daring sense of style, she has inspired us both with her glamour and intrigue. Her vast collection of fine jewelry purchased by her and given to her as gifts are well documented in her jewelry autobiography My Love Affair With Jewelry that came out in 2002.
She so poignantly expresses a timelessness about jewelry that is both beyond her lifetime and our own. She begins her book,
"here, in my own words and as I remember them, are my cherished stories about a lifetime of fun and love and laughter. …I've never thought of my jewelry as trophies. I'm here to take care of it and to love it, for we are only temporary custodians of beauty."
In keeping with her book's introduction, Elizabeth Taylor passed away in 2011, and it was then time to find her heirlooms new and worthy homes. Records were shattered when the prized jewelry from this Hollywood starlet hit the auction block. The once in a lifetime event was by far one of the most anticipated auctions the jewelry industry has seen in a long time, which was no surprise due to the incredible and lasting influence Elizabeth Taylor has had on all of us jewelry lovers. Her jewelry exceeded their weight in gold and then some as the prices clearly showed. All the proceeds from the auction went to support her longtime humanitarian efforts with The Elizabeth Taylor AIDS Foundation (ETAF).
Join me on a look back at some of Elizabeth Taylor's most unforgettable heirlooms as well as some of her best jewelry looks.
Above: Elizabeth Taylor tries on an earring at her dressing table, circa 1950.
Elizabeth Taylor in the 1940's
A youthful Elizabeth Taylor and Jean Simmon sit together and smile, circa the 1940s. Taylor is wearing a simple yet glitz pair of dangly earrings.
Elizabeth Taylor in 1950
Here Elizabeth is wearing a classic bow pendant with matching drop earrings for a promotional photo in 1950. The look is timeless and simple and frames her face beautifully.
Elizabeth Taylor in 1952
As an actress, Elizabeth Taylor has taken on countless roles and has likewise been able to experiment with many different jewelry looks. Here Elizabeth Taylor looks flawless in an unusual tiara and long chain earrings for her role as Rebecca in the film Ivanhoe.
Elizabeth Taylor in 1953
At age 20, Elizabeth Taylor's beauty shines in a 1953 publicity shoot featuring shorter upswept hair and a stunning pair of chandelier earrings.
Elizabeth Taylor in 1954
I just love this photo! The combination of the dark lip, short textured hair and the festoon necklace with matching earrings scream Hollywood siren. Here we see Taylor with her second husband Mike Wilding at an event in 1954.
Elizabeth Taylor in 1955
When Elizabeth Taylor was in her twenties, it seemed every promotional photograph they took of her could be a jewelry advertisement. Here is yet another photo that makes me want to put on a pair of chandelier earrings and chop my hair into a bob.
Elizabeth Taylor in 1957
Here is our first look at the stunning antique tiara that Elizabeth Taylor famously wears in a swimming pool, which you will read about later. This photograph was taken at the 29th Academy Awards ceremony in 1957.
Elizabeth Taylor at the Academy Awards in 1957
This is such a candid and cute shot of Elizabeth Taylor beautiful and beaming with her third husband Mike Todd at the Cannes Film Festival in 1957.
Taylor later wrote on the tiara in A Life of Jewelry, "when [Todd] gave me this tiara, he said, 'You're my queen, and I think you should have a tiara. I wore it for the first time when we went to the Academy Awards. It was the perfect night because Mike's film Around the World in 80 Days won for Best Picture.
It wasn't fashionable to wear tiaras then, but I wore it anyway because he was my king." I cannot get over how romantic this quote is, nor can I get over how gorgeous this tiara is. Check out an up-close view on our next slide.
The Mike Todd Diamond Tiara
This tiara was given to Elizabeth Taylor in 1957 by her third husband, Mike Todd. The heirloom tiara dates to about 1880 and is complete with gorgeous old mine cut diamonds set in gold and platinum. The great thing about Elizabeth Taylor is that she wasn't afraid to wear her jewelry, no matter how lavish, and no matter the event. She was spotted wearing this tiara at events before and after Todd's death even when, as she said on the previous slide, tiaras were not fashionable.
If Elizabeth Taylor has taught us anything, it is that diamonds and gemstones will always be fashionable!
Elizabeth Taylor in 1957
This photograph shows Elizabeth Taylor wearing the famous ruby suite given to her by Mike Todd. We see her talking to the Duchess of Kent at the premiere of Around The World In 80 Days in London in 1957. You can't tell because of the black and white photo, but the dress she is wearing a ruby-red Dior dress. Check out the next slide for a full-color photo of this jewelry.
Cartier Ruby Suite from Mike Todd, 1957
Taylor reflected in her book on this suite as well as the diamond tiara both gifted by Todd, "I got out and put my arms around him, and he said, 'Wait a minute, don't joggle your tiara.' Because I was wearing the tiara, he had bought for me in the pool! He was holding a red leather box, and inside was a ruby-and-diamond bib necklace, which glittered in the warm light. It was like the sun, lit up and made of red fire.
First Mike put it around my neck and smiled. Then he bent down and put matching earrings on me. Next came the bracelet. Since there was no mirror around, I had to look into the water. The jewelry was glorious, rippling red on blue like a painting. I shrieked with joy, put my arms around Mike's neck, and pulled him into the pool after me. It was a perfect summer day and a day of perfect love."
It takes a total jewelry goddess to be able to wear an antique diamond tiara in a pool! This whole story is so picturesque.
Elizabeth Taylor in 1967
This photograph shows Elizabeth Taylor's on-screen persona evolve with the changing styles of the 1960's on the set of the Boom in 1967.
Stay up to date with the latest jewelry news and tips by following us on Facebook, Twitter, Pinterest, and Instagram. Want to read even more? Sign up for our weekly jewelry newsletter here.
Elizabeth Taylor in 1967
In the 1960's, we also saw Elizabeth Taylor experiment with fashion. She matched this now famous emerald necklace and pendant with an eclectic headdress. She had no fear when it came to fashion.
Elizabeth Taylor in 1967
Here is another more normal shot on Elizabeth Taylor wearing the incredible emerald necklace and pendant for the Oscars. Taylor won an Oscar that year for the film Who's Afraid of Virginia Woolf.
The Famous Emerald Necklace from Richard Burton
The Emerald suite of jewelry that included this necklace may be one of the most iconic parcels of jewelry that Elizabeth Taylor owned. Not only was she photographed wearing the emeralds many times over the span of many years, but they were one of the most sought-after portions of the highly regarded Elizabeth Taylor jewelry auction in 2011. The necklace and pendant sold separately for about 6 million dollars a piece!
To give you an idea of how sought after these jewels were, the necklace had an auction estimate of between $1 and $1.5 million. It sold for more than 5 times this amount! The pendant made even more of a splash exceeding its pre-auction estimate of $500,000 – $700,000.
Bulgari who originally made the set bought both the pendant and the necklace and had since unveiled them at their Rodeo Drive boutique in Los Angeles in 2013 and had them on display at the Victoria & Albert museum in 2014 as part of The Glamour of Italian Fashion exhibit.
The Bulgari emerald and diamond suite were gifted to Elizabeth Taylor by her on and off husband, Richard Burton while she was filming Cleopatra in the early 1960's.
Elizabeth Taylor in 1969
Elizabeth Taylor shows off the gorgeous and well-loved 33.19-carat diamond ring given to her by husband, Richard Burton.
The Krupp Diamond
The Elizabeth Taylor diamond from the previous slide was originally called the Krupp diamond. This gift from Richard Burton was purchased in 1968 at auction for $305,000 and is an old Asscher cut from the 1920's that weighs 33.19 carats. The diamond sold at the 2011 jewelry auction for $,8,818,500, setting a record of $265,697 per carat for a colorless diamond.
The Granny Suite by Van Cleef & Arpels
When Taylor became a grandmother in 1971, Richard Burton gave her this gorgeous lion "Barquerolles" necklace with matching earrings from Van Cleef & Arpels. She remembered the set lovingly, "my heart was clicking like a castanet when I saw this set. Richard loved it on me, and he said,
"Wow! You are so beautiful; nobody is going to believe you"re a grandmother."
The necklace had a pre-auction estimate of $120,000 – $180,000 and sold for $902,500.
Elizabeth Taylor in 1973
Elizabeth Taylor poses for a publicity portrait for the film Ash Wednesday in 1973 wearing a 69.42-carat pear-shaped diamond that Burton purchased at auction for over $1 million. It was originally set in a ring. "But even for me it was too big," Taylor said in her jewelry memoir. "So we had Cartier design a necklace."
Elizabeth Taylor in 1975
This is a charming promotional shot of Elizabeth Taylor with her actor husband Richard Burton in 1975. They look very much in love, and Taylor stays on trend with long layered necklaces and large hoop earrings.
Elizabeth Taylor in 1978
Here is a gorgeous shot of Elizabeth Taylor at the Academy Awards in 1978. She is wearing the now famous Burton Cognac Diamond Earrings by Van Cleef & Arpels. Check out the next slide for an up-close look!
Burton Cognac Diamond Earrings by Van Cleef & Arpels
The Burton Cognac diamond ear pendants by Van Cleef & Arpels were a gift from Richard Burton to Elizabeth Taylor on their tenth wedding anniversary around 1974. She not only was gifted these earrings, but also a 33.81-carat pear-shape cognac and white diamond ring also by Van Cleef & Arpels. Lucky lady! I'm beginning to think Burton had a thing for pear-shaped gems.
The earrings were part of the historical jewelry auction of Elizabeth Taylor's jewelry and had a pre-auction estimate of $100,000-$150,000.
They sold for nearly nine times that amount at $962,500!
Elizabeth Taylor in 1988
Eighties Elizabeth Taylor! Enough said.
Elizabeth Taylor in 1992
Elizabeth Taylor presents an award the 64th annual Academy Awards in 1992 wearing an incredible pair of antique diamond chandelier earrings. Check out the next slide for details!
Elizabeth Taylor's Diamond Chandelier Earrings
These earrings have a charming story that Taylor recounted in her book. She purchased them in 1959 from a Paris boutique. They were antique paste earrings, which of course are beautiful in their own right. However, one day she noticed they were a little more sparkly than usual. " "A few months later, back in New York, I was getting ready for a party and went to put them on. I opened the box, and the earrings looked all polished up.
I put them on. There was something different about how they fit. I said, 'Mike, there's something wrong with my earrings.' He chuckled and said he'd had them made up with real diamonds!"
Elizabeth Taylor in 2005
As Elizabeth Taylor got older, she never lost her flair for unique jewelry. This bib necklace is incredible!
Collection of Coral Jewelry From Elizabeth Taylor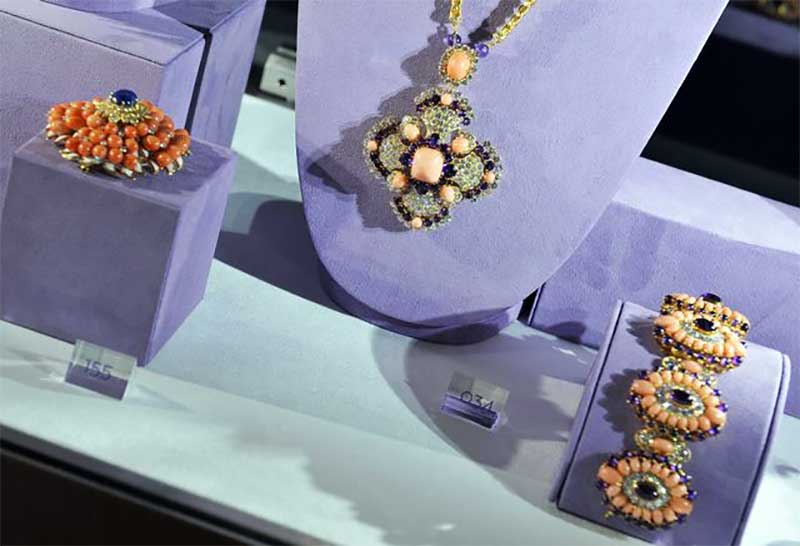 This collection of coral jewelry was on display at 'The Collection Of Elizabeth Taylor' auction press preview at Christie's in 2011.
Elizabeth Taylor in 2007
It makes perfect sense that Elizabeth Taylor launched her own jewelry line, House of Taylor Jewelry, Inc. Here we see her making a sparkling entrance in 2007 to promote her line.
Elizabeth Taylor in 2007
Elizabeth Taylor celebrated her 75th birthday in style at the Ritz-Carlton in Henderson, Nevada, in February of 2007. I love the red lip and classic jewels.
Necklaces and Butterflies of Elizabeth Taylor
Here is a look at some of Elizabeth Taylor's jewelry collection. She had an impeccable eye and collected rare pieces like the enameled butterflies we see here.
Elizabeth Taylor's Diamond Jewelry
Elizabeth Taylor collected all sorts of fine jewelry, from the old to the new, to the designer to the no name costume jewelry. These antique diamond pieces are perfect.