Shopping for diamonds is fun and exhilarating, it's exciting, rewarding but also expensive, so the budget has to be a priority when looking for that perfect bling. The hardest part about shopping for diamonds tends to be the decision, more than anything else, because let's face it, with so much choice on offer, it's not exactly easy to make a decision! With so many options available, choosing the perfect one for you can be frustrating. With all that in mind, we must learn what mistakes that can occur, to avoid making them so that we can have peace of mind in knowing that we make the right choice when the time comes.
Mistake 1: The significance of the 4 C's
Knowing the 4 C's is highly important when it comes to purchasing diamonds. Still, although this is highly significant, it's not all there is to it. There is so much more to know when it comes to a good diamond investment. The more you know, and the more you learn, the better it will all work out for you.
You may think that you know all there is to know when it comes to the 4 C's. However, the truth is that although three out of the 4 C's are pretty straight forward, the other one isn't. With regards to Carat yes you need a scale but do not forget that Carat means weight and specific size. When it comes to choosing a diamond, know that the weight is actually stored within and not significant to the size or width, so try to focus more on the belly rather than the actual outer size.
Colour is another crucial factor, and people do have a personal preference. They tend to be drawn to what stands out to them, but it's essential to make comparisons to a master stone to clarify its actual worth, rather than allowing your taste to draw you in.
With regards to clarity, this is not at all cut and dry either, imperfections within the stone can easily be disguised with design so remember to also pay close attention to this.
Now for the tricky part, the last of the 4 C's. With regards to the cut of the stone, it is the most important of the 4 C's and so often misunderstood. If you happen to get it wrong, it can be costly. Diamonds tend to hold significant value, but even the slightest difference with regards to cut can make a massive difference when it comes to price, as much as over 10% at times. Look for a well-cut diamond, these diamonds tend to show themselves with absolute sparkle and fire, the light will reflect through its top in an extraordinary unmatched and omissible way, you simply cannot miss the difference when comparing to others.
You'd expect that such diamonds would always be certified, but it's not always the case. Often the nature of the 4 C's is unknown to the buyer, and the only real way to verify the quality of the stone is with close observation, under many different lights, so knowing how to do this before you shop, is extremely helpful.
Mistake 2: The GIA grading report
We often rely on the GIA grading report when it comes to buying diamonds, trusting that they offer all of the information that we need to know. Well, that is not always the case. Grading diamonds is very subjective, human errors can occur, and details are easily missed.
Like with regards to clarity some may have higher grades than they are actual worth, errors could mark something well out of its price origin, and since we tend to buy on grading, we may assume that we are getting a good deal for a certain spec when in fact, that might not be the case.
GIA is not to deceive us by all means, it grades according to the thickness of hazy clouds within the diamond, and this will severely degrade a stone where light performance is obstructed. Since the diamond is a large stone, it cannot clarify with absolute certainty, and oftentimes additional clouds are not shown on reports.
Mistake 3: Retailer does not matter
But in actual fact it does. Online you tend to find the best deals when it comes to most purchases, but it's also the breeding ground for con artists, and it's good to be wise and not fall for a deal which is proving to be "too good to be true" because most of the time, it generally is. Instead, you should seek the services of a reputed diamond jewellery store with a proven track record.
Mistake 4: The price is right!
What we all hope for is to find a good deal at a great price, but this could be devastating if we later found out that we paid well over the odds due to lack of knowledge, so yes the price is right for bagging a deal… but only if we happen to bag a deal that's worth it!
Purchasing a diamond is the first point of call. Finding a jeweler that can offer a prolonged relationship in helping you to make positive decisions with regards to aftercare, including warranties, return policies, and precautionary measures should never be overlooked.
Like with any purchase you make in life, of significant value, you want clarity on reassurance and protection thereafter.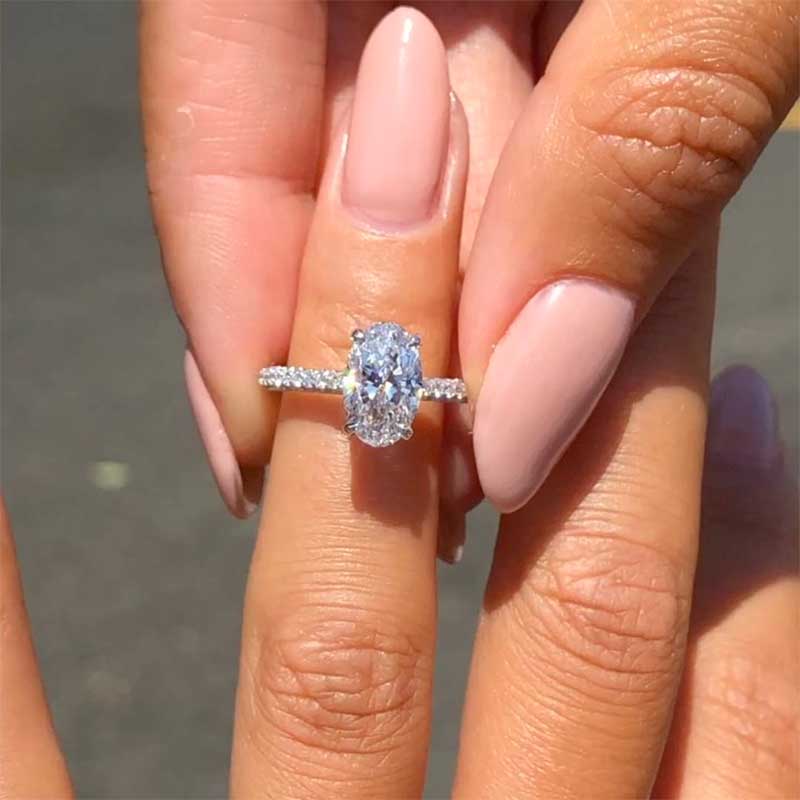 Mistake 5: How much to pay? Three months' salary sounds about right!
People swear by the theory of a three months' salary being the estimated figure of what is expected as the purchase price for a good quality diamond. Let's not forget that it is quite a substantial sum for many, and the truth is that it is not necessarily the absolute requirement for a perfect diamond. Instead, affordability and likeability should be at the forefront of one's mind when it comes to buying diamonds.