10 Labradorite Facts and Photos | Labradorite Facts & Meaning
Labradorite is from the Feldspar Mineral Group
Feldspar is a common mineral that makes up much of the earth's crust. Despite its inexpensive and abundant nature, feldspar is comprised of some of the world's most awe-inspiring gemstones. Labradorite is one of those varieties of feldspar that has become a muse of the creative world. But what is labradorite's meaning?
To many, labradorite signifies interconnectivity between nature and ourselves.
To others, labradorite connects us with our former and future selves. The true meaning of labradorite is linked not only to its unique characteristics but to the lore and intrigue infused into this gemstone by the captivated audience that wears it.
I'm here to dissect some subtle intricacies in this stone that will unravel a little bit of science, history, and jewelry design all linked to this spectacular gemstone.
Labradorite is a Dull Grey Color
Don't be fooled by labradorite's tame outward appearance on first glance. If you were to look at a piece of labradorite sitting on a table with no movement in either the stone or the light around it, you would see an uneventful grey rock.
Go pick up that stone and move it around! If the stone is cut properly, the introduction of light offers up an unearthly display of color ranging from orange to blue.
If you're shopping for labradorite jewelry for the very first time, it might help to do so in person. A picture can either make labradorite look really amazing or really lifeless. Since each gem is so unique, seeing them in person will help you pick a gem with a play of color that appeals most to you.
Shop This Ring: Rose gold ring, gemstone ring, gray gemstone stacking ring, Labradorite ring, bezel ring, rose gold filled ring, wedding ring
Labradorite is Linked to Fate and Healing
In the metaphysical world, labradorite is the great protector and guide. With the thought that our lives are intricately linked to the universe, this stone is thought to create a stronger earth connection for its wearer.
For crystal healing, labradorite is linked to the throat chakra and helps promote insight and truthful expression. There are many healing properties of labradorite. Labradorite can relieve anxiety and stress, aid in eye and brain disorders, and help regulate your hormones.
While I'm not a firm believer in the miraculous healing power of gemstones, I think there is legitimate healing potential within labradorite and other stones which I'll get into a bit more in the next slide.
Labradorite Aids in Meditation
Whether or not you believe that labradorite can open up your psychic channels and better connect you with the universe, the mystical stone is a proven aid in meditation practice. The iridescent colors dance for the viewer, allowing them to channel their attention to this stone's unique beauty.
I think using healing bracelets or stones is a great way to channel negative thoughts when going through a difficult time, or even when you just want to unwind.
I own gemstone bracelets and stress rocks that have truly helped me embrace meditation on another level. Stress rock isn't actually the appropriate term, but they remind me of a stress ball, so that's what I call them.
These stones are actually called worry stones, thumb stones, or palm stones. The polished gemstone discs are shaped into an oval and have an indent where you press your thumb. Rubbing different types of crystals will yield different results according to crystal healers. However, the mere rubbing of the stone and the collection of thoughts was enough for me, even if it didn't exactly link me to a former life or future event.
Shop This Bracelet: Labradorite Spectrolite Bracelet
Shop: Labradorite Thumb Stone
Labradorite Was Discovered Within the Last 250 Years
Labradorite is a relatively new gemstone. Compared to emerald which was discovered thousands of years ago, labradorite is in its gemological infancy. The mysterious gem was first found in Labrador, Canada in the late 18th century.
If you're extremely lucky, you may even find a late Georgian era or Victorian era piece of labradorite jewelry. Though rare, labradorite can be found in antique jewelry.
You'll often find it carved into moon faces and other fanciful designs.
Labradorite is Mined All Over the World
Despite the stone being named after its origin point, Labrador, Canada, the stone can be found in other parts of the world. It is most notably mined in Madagascar, Australia, Russia, and Finland.
The stone has become an increasingly popular gemstone at gem trade shows and among independent jewelry designers in the last decade.
Even more important is the fact that some high-end luxury jewelry designers like Irene Neuwirth are incorporating labradorite into more of their designs.
Shop These Gems: 88.61 Cts AAA Pear Cabochon & Oval Cabochon Labradorite
Labradorite Flashes are Known as Labradorescence
The iridescent light display in labradorite has become known as labradorescence because no other gemstone has quite the same optical properties for quite the same reason. Other optical phenomena of interest include adularescence commonly seen in moonstone and aventurescence seen in aventurine.
I don't think anyone can better explain the science behind labradorescence than the creator of the term, Ove Balthasar Bøggild:
Labradorization is the peculiar reflection of the light from submicroscopic planes orientated in one direction (rarely in two directions); these planes have never such a position that they can be expressed by simple indices, and they are not directly visible under the microscope.
In other words, the mineral is composed of different overlapping planes or layers. As the light penetrates these different layers, each layer sends back a different color.
Most labradorite we see is opaque. However, there are types of transparent labradorite that exhibit the glowing adularescence effect we see in moonstone. These gemstones are known by the trade as rainbow moonstone.
Labradorite is Soft But Durable
Even though labradorite is being used more in fine jewelry designs, it's important to remember that it only ranks between a 6-6.5 on the Mohs Scale of Hardness. Having a hard metal like silver bezel set around the stone will help prevent unwanted chips and cracks. Don't worry too much, though. As long as you don't use ultrasonic cleaners (big NO NO on a stone like this) and you take proper care of your labradorite, it is considered a durable stone.
Which is a great thing, because you'll be tempted to wear your labradorite daily!
Shop This Necklace: Labradorite and Opal- Stunning Spectrolite- Smoky Bronze- Metal Art Statement Pendant/Necklace
Legend Links Labradorite With the Aurora Borealis
If you share my same passion for natural wonders, you might also want to one day witness the Aurora Borealis. The Northern Lights have attracted walks of life from all over the world to their impactful beauty. No amount of science can undermine the sheer magnificence and beauty of this phenomenon.
I'm sure a small labradorite cabochon is no true comparison to the Northern Lights, but a colorful semblance links the two.
In fact, according to Inuit legend, the entirety of the Aurora Borealis was locked up inside the rocks of Labrador. As we learned earlier, Labrador, Canada is where labradorite was first discovered and is a common destination for viewing the Northern Lights.
The legend continues that one day an Intuit warrior stumbled upon this marvel and essentially blew into this rock with a spear, freeing the Northern Lights upward into the sky. Not all the lights were freed though, and the remainder stayed trapped inside what is now known as Labradorite.
It's easy to debunk this myth with science, but how incredible of a place to be home to such awe-inspiring earth and sky.
Designers Love Labradorite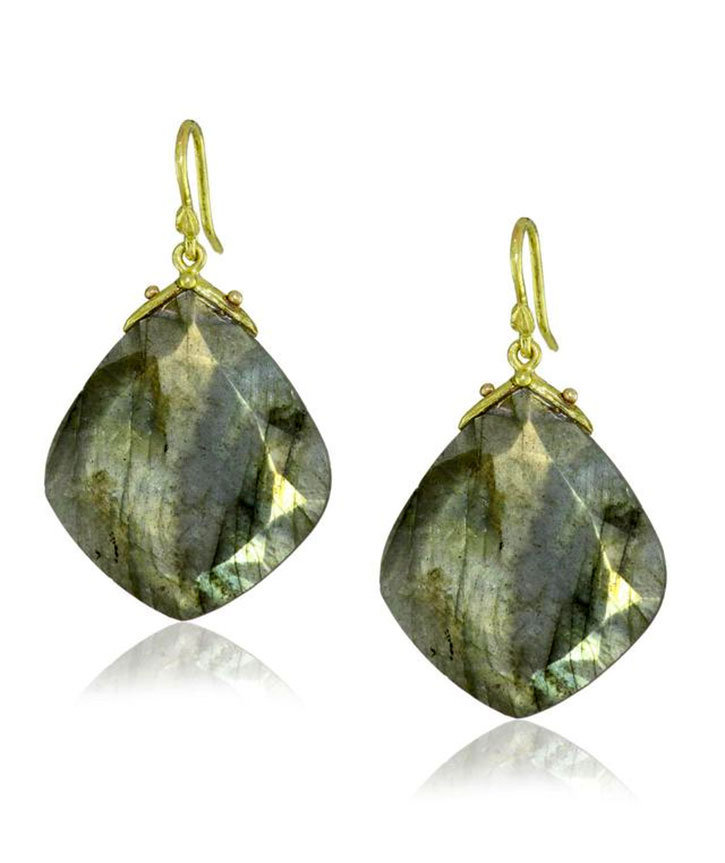 Whether it's the metaphysical meaning of labradorite or the unique optical properties, the stone has become a favorite of popular jewelry designers. I mentioned Irene Neuwirth earlier, but there are plenty of quality labradorite designs out there waiting to be found. Check out Etsy or Amazon Handmade to support jewelry artisans all over the world. The great thing about larger e-commerce sites like this is that they have good seller protection policies in case your labradorite just doesn't gleam like you hoped it would.
Shop These Earrings: Gabrielle Sanchez 11x14mm Faceted Labradorite Drop with Medium Double Seed Earrings