One of the prettiest things in the world is a pair of emerald earrings, agreed? They make any outfit they are worn with look extra special. When you wear emerald earrings, you will look like someone who is classy and sophisticated. I have found though, that even though it is one of the most beloved precious gemstones, most people don't know much about emeralds. Before you buy a pair of them, I believe you should know all you can about them, and that you should start right here with your research.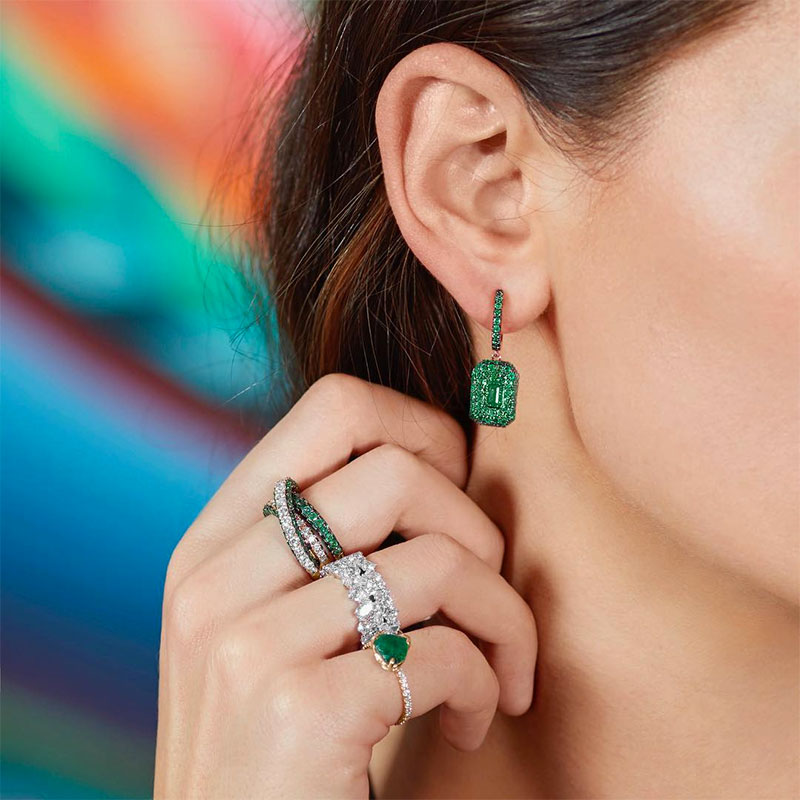 Emeralds can be classified as genuine, lab-created, or simulated. Genuine emeralds are gems made of the mineral beryl that is mined from the earth. Lab "created" emeralds are also made of beryl, but are created in a lab setting. Simulated or synthetic emeralds are made of crystal, glass, or even other gemstones that are made to look like emeralds. When you shop, make sure of what you are buying. Ask for a gemological report on the earrings you want if you are unsure of the origin of the stones in them. If you want genuine emerald earrings, they will be the most expensive, followed by lab-created and then simulated emeralds.
Since emeralds are a precious gemstone, most emerald earrings are set in gold. For most emerald earrings white gold has been the popular choice in recent years. Yellow gold is still a popular choice, also, however. If you are someone who prefers silver emerald earrings, you could choose the white gold version, or some emerald earrings also come in sterling silver. Of course, selecting earrings in 10k or 14k gold will result in a much higher price than will selecting sterling silver settings.
Keep in mind that emeralds are a gemstone that can easily break if not treated with care. An emerald could develop a fracture due to the natural inclusions that all emeralds have. Any fracture on the surface of stone can cause a break if the stone is knocked against a hard surface. Always remove your emerald earrings and other emerald jewelry before doing dishes, playing sports, or any other activity where the emerald could take a hard or sharp blow.
The type of setting you choose for emerald earrings is an important one. Emeralds are not cheap, and you will definitely not want to lose them during the course of your day. With that in mind, avoid fishhook type earrings that have any sort of precious gem in their design. I have found that even pushing a little rubber stopper onto fishhooks does not stop them from coming out of your ear once in a while, especially if you have long hair that catches on the earring. If you find a pair of earrings with a fishhook setting, definitely use the stoppers to help keep them in your ear! I do recommend post-type, as well as leverbacks for the settings of precious gemstone earrings. Both of those will be secure, and you can choose either studs or dangle designs with those types of settings.
Remember the Angelina Jolie emerald earrings that were made so popular by the actress when she wore them on the red carpet? Those are an example of a post-type setting that incorporates both a stud and a dangle in the design. Wouldn't those go beautifully with any cubic zirconia rings or even a couple of emerald rings?
Always be sure to research any precious gemstone purchase carefully before you buy anything, and shop at a reputable outlet. That way you will never have any unpleasant surprises or disappointments with your jewelry purchases. Emerald earrings are certainly on my list, what about yours?