Gold Watches Add a Touch of Elegance To A Person
What do you think of when you think of gold wristwatches? Do you think of luxury and expensive tastes, or do you think of pretty watches with intricate designs? In truth, gold watches do not have to be that expensive, and many of them can be found for a lot cheaper than you might think.
There are also many more types of gold watches available than one initially assumes, and they don't all have to be golden in color either. White gold rose gold, and platinum gold is just some of the materials these timepieces are constructed out of.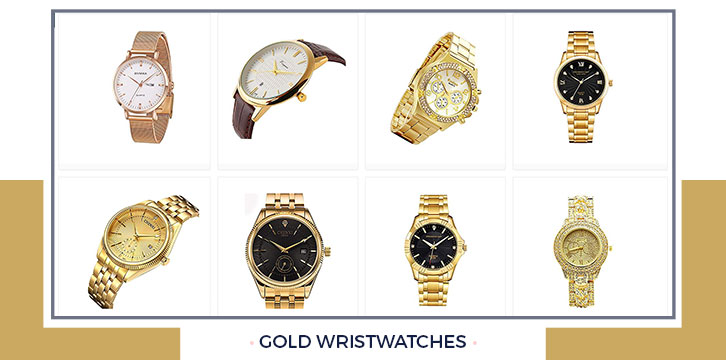 White Gold
White gold wristwatches are very popular at the moment with their pale complexion that screams sophistication. There is no such thing as "white gold", in fact, the grey appearance of jewelry described with this term is actually genuine gold mixed with a white colored metal to create a hybrid alloy. Possible metals that can be used in combination with gold are silver, platinum, and tin.
Rose Gold
Rose gold wristwatches are a very hot item at the moment, with their striking appearance defined by the reddish tint that is given off by their composition. Much the same as white gold rose gold watches are made through combining pure gold with an alloy, and in this case, it is copper that is used. The red/ pink hue is used frequently in expensive designer watches since the look appears very modern when combined with today's fashions.
Platinum
Platinum wristwatches are probably the most luxurious timepieces that money can buy. If you want a timepiece for a very special occasion, such as a wedding, for example, then a platinum-gold watch is something unique and a bit different. You may be wondering what the difference is between white gold and platinum wristwatches for women since they are both a similar color. Well, as you now know white gold is an alloy, and it is really normal gold bonded with a whitening material. In contrast to this, a platinum timepiece is made up of 95 % platinum. White gold has to be re-plated every few years or so if one wants to keep it looking "fresh". Platinum does not have to undergo any re-plating, so it keeps its original looks for far longer. It should also be noted that there is no such thing as platinum gold; something is either platinum or gold. Many watch makers release timepieces that are branded under this label but these watches normally have some parts made of one metal, and other parts made of the other, creating almost a gold and a white check pattern. These are very popular at the moment, with a lot of celebrities buying into this fashion, especially R&B artists.
As you can see, there is a large selection of gold watches available to buy a person. It is easy to think that it is a shallow market with little variation, but in fact, new styles are being created every year, and much like fashion, different materials come and go in popularity.
Buying Guide for Gold Wristwatches
So it's that time of year again, Christmas is coming up, and you are thinking about buying a gift for a loved one. Perhaps nothing says "special" as much as the gold watch does. Now, before you start worrying about the price, you should remember that gold watches come in a variety of different price ranges and styles, so there is no need to be concerned that you will end up spending thousands of dollars on a gold watch! In fact, you can get a quality watch that has gold in it in near $100-$200 price range fairly easily. The key thing is to actually go out there and have a look at different watches before making a decision.
Now, the good thing is that most of the watches you will see in the shops will also be available online at a far cheaper price if you shop around. This is just the way things are these days, everything, including gold wristwatches, can be found far cheaper on the Internet due to the amount of competition.
Buying a Gold watch – The Plan
One thing to bear in mind before purchasing is to consider what kind of watch your partner would like. Gold comes in so many different varieties, from white gold to rose gold, and some people prefer different colors. Hopefully, you will know what kind of gold your partner likes before buying!
The second thing to consider is the carat rating of the gold. Gold comes in different strengths of purity, with 24 carats being the purest, and the most expensive! Probably the best balance between cost and quality is to opt for a 14-carat gold watch.
Try on a Gold Watch to Be Sure
Alternatively, it might be a good idea to take your partner out with you to have a look at the various gold watches available and try them on for size. A lot of people like to wear a watch on their arm to feel the weight of it. If you suspect your partner is the fussy type, then take them on a day trip out, and just so happen to pop into the jeweler on a shopping day out. Persuade them to try on a few different types so that you can be sure that the watch you purchase is something they will gladly accept as a gift. As mentioned previously, if you take a note of the make and model of the watch you can go online and probably find the model for a far cheaper price. Now sit back, and watched their happy face as they receive their gift!
How to Determine the Value of a Gold Wristwatch
With the economy being in disarray at the moment, many people are looking for extra ways to bring some money to the table. If you have any gold wristwatches that may have been passed down through generations, you may be wondering exactly how much they are worth. This article will go into the detail of describing how to work out the scrap value of the gold. One disclaimer to mention before we go any further, however, and that is that you should not underestimate the sentimental value of such a gold watch – if it has really been passed down through generations then perhaps it would be a better idea to retain its legacy and hang on to the watch for now.
Anyway, without further ado, here is how you can work out the value of your gold wristwatch.
Firstly, you should weight your watch. Obviously the heavier the watch the more it is worth when melted down. Find out the weight of the gold in grams.
Next, you need to find out the purity of the gold watch – this will be marked on the case somewhere, so have a quick look for it. 24-carat gold is known as "pure gold", 18 carat is three-quarters gold, 14 carat is half as pure as 24-carat gold, and so on.
For your gold wristwatch, use this rule of thumb to get a number for our gold equation: 9ct=375, 14ct = 583, 18ct =750, 22 ct= 916, 24 ct=999
Now take the weight of the gold watch and multiply it by the number above (i.e. 999 x Weight of gold wristwatch) to get the G1 value.
Finally, we need to find out the most up to date price of gold, one such site you can find it out is at www.goldalert.com, use this to get the current price of gold, G2.
Now for our equation, G1 x ( G2 /31.1 / 999) = the price of you gold wristwatch when melted down!
Two caveats:
Firstly, you should remember that at a pawn shop a gold buyer will only pay up to 85% of this value since he has to make money somewhere.
Secondly, this raw calculation does not take into account the make or model of the gold watch, just its raw value. If you have a Rolex gold wristwatch or a Seiko, for example, you may be able to get more from a collector of these items.
Gold-Toned Watches: 3 of the Best – Gold-Toned Wristwatches
If you are looking to buy a gold-toned watch, whether, for a gift for somebody or for you to wear, there has never been a better time (ho ho) to buy. If you don't have the money for an expensive real gold watch, the imitation models can be a great alternative. Lots of online stores like Amazon have cheap, cheap prices, and they are a lot less than what you would find on the main street stores or at shopping malls. So without further ado, here are some of the most desirable deals available online right now.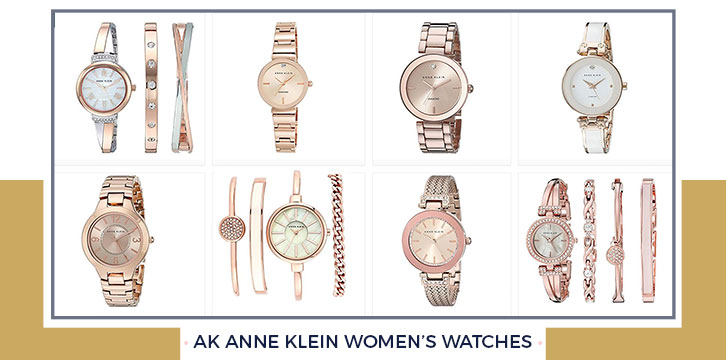 This watch offers great value for money if you want a watch that looks quality and expensive without breaking the bank. It has a great mix of a white watch strap which contrasts with the red tint of the rose gold-plated timepiece. Many celebrities have been seen wearing rose gold watches recently, and for a fraction of the price, you can join them.
Attention to detail is definitely one thing the designers of this watch had in mind. On the front of the watch, there are many Swarovski crystals which give the watch a very extravagant look – or very "bling" if you would prefer to call it that. The watch strap is made of crocodile leather, no less, so nothing about this watch is normal. Very nice, I want one!
One for the men, this watch ticks all the boxes. Style, simplicity, and a stunning tone. Like the Anne Klein watch, this watch is really made of metal – stainless steel in this case, but it really looks something special regardless. The all-gold enclosure and strap make this watch a real eye catcher for business use. The 3 internal dials within the watch all work together to show the date – neat!
The polished look of this gold-toned watch makes it appear to be far more expensive than it actually is, so most people will think that you are a man with luxurious tastes! A great budget watch that is still showy at the same time.
For those of you prefer the look of real gold, this is one of the most striking men's watched available. Featuring a modern, unique skeleton look, you can see right through the face of this watch to see the internal gears and components – all gold plated of course. Coming with a black leather strap to highlight the gold face, you really get a sense that a lot of effort has gone into designing this watch. The strap is also hypoallergenic so it is designed to be kind to your skin. I really like the look of this watch – it makes a welcome change to the plainness that watchmakers often put into their flagship products.
A fine watch then, and its 18carat gold plated bezel does not have to cost an arm and a leg. If you are looking for something that shouts "whoa!", but at the same time is unique and special, look no further than this affordable timepiece.
Gold wristwatches are some of the most luxurious and desirable items that one can buy, but finding the right one to match your personality can take a little bit of searching.
With this in mind, listed below we have a mini-tool that allows you to navigate the many hundreds of models available on Amazon, so you can take note and compare prices with ease – hopefully reducing the time and effort it takes for you to find a model you like the look of.
Please click on the specific model that you are interested in to read full details on the watch that attracts your eye…


Rose Gold Wristwatches
If you are thinking about buying a gift for a friend or family this Christmas, why not consider choosing a Rose gold wristwatch for that special person? Gold has many advantages over other types of jewelry, such as its tendency to retain its value over many years, it always seems to stay in fashion, and it is just great to look at!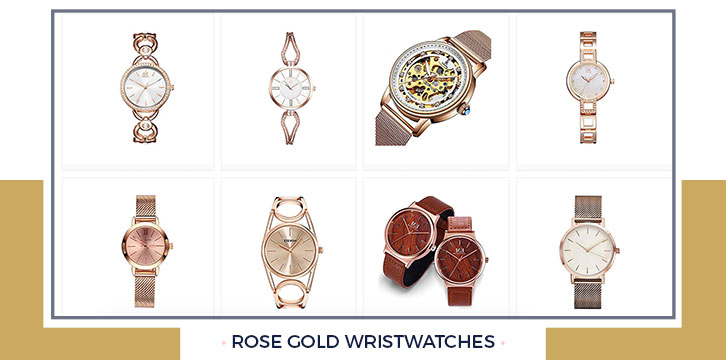 Introducing a New Type of Gold – Rose Gold
Rose gold is one in which a copper alloy has been mixed in to give the piece a reddish color. Also known as pink gold or red gold in many countries, this type is enjoying a big surge in popularity because of its unusual look. The most popular combination for Rose Gold is 75% gold and 25% copper.
Since the amount of gold can vary depending on the amount of copper within it, so the red color strength can be varied in the piece. This allows lush dark reds and pretty pinks to be worked into the piece creating unusual pieces of jewelry. But these kinds of watches do not have to be your normal mundane type of gold wristwatches since makers often offset the gold to stylize the item. They may, for example, add black with a dark Rose gold to create a watch that looks suitably dark and strong for a man.
Alternatively, very light pinks are frequently combined with light silvers to create more feminine Rose gold wristwatches for women.
So there are many different designs for both men and women, in a range of styles that would probably surprise you if you saw them. Basically, if you can imagine any kind of style involving metal, leather, or anything that can be described as a traditional watch component, it can be found on a Rose gold watch.
Rose Gold Wristwatches, How Much Do They Cost?
Now we get to the juicy parts, how much do these watches cost? Well since they are not pure gold, they can actually be found through a lot cheaper than an additional pure gold wristwatch. In fact, you can probably get them for just over $100 if you shop around somewhere cheap such as Amazon or eBay. For large designer watches, however, such as a Rolex Oyster, the price can go up into the thousands, so be careful with your wallet!