Diamonds created from human ashes concept is a very simple – cremation diamond companies supply a custom made certified laboratory diamond created using small particles of carbon extracted from the hair or ashes (ashes to diamond).
Life is eternal, and love is immortal… Losing a loved one or beloved pet leaves those left behind with a great challenge of accepting their loss and finding their own special way to remember their loved one.
Created using signature carbon of the deceased, cremation diamonds truly captures and locks inside the timeless stone the love you shared for generations to come.
Scientifically created in laboratory conditions, cremation diamonds are real certified diamonds that possess the same physical, optical and chemical characteristics of the earth mined diamonds. But unlike the earth-mined or other man-made diamonds, they are truly personal and unique.
What are Cremation Diamonds:
Truly unique as it is the only diamond in the world custom made for each client using carbon, which once was part of you or your loved one.
Identical in its chemical, physical, and optical properties to earth mined stones. Only expert gemologists using high tech specialized equipment can identify the differences between the two.
Affordable when compared to earth-mined fancy color diamonds that cost tens of thousands of dollars.
Accessible to everyone, unlike extremely exclusive earth mined fancy color diamonds that are only within reach of the very wealthy.
Eco-friendly as no natural habitat or landscape was destroyed during the creation process.
Conflict-Free as the product has no impact on civil wars or criminal activities.
Why Choose a Cremation Diamond Company?
Cremation diamonds are scientifically created real diamonds, but unlike any other earth mined or laboratory-grown stones, the diamonds are distinctive. They are unique as they are produced using signature carbon obtained from the hair or ashes of the client, thus creating a certified diamond that's truly personal. Those diamonds are identical to earth mined stones in their chemical, physical and optical characteristics.
Earth mined fancy color diamonds are extremely rare, and the vast majority of diamond dealers and experts around the world have never seen or handled one. Due to the rare occasions, they are found, they are incredibly expensive, and usually, the ownership of such a rarity is only for the very wealthy.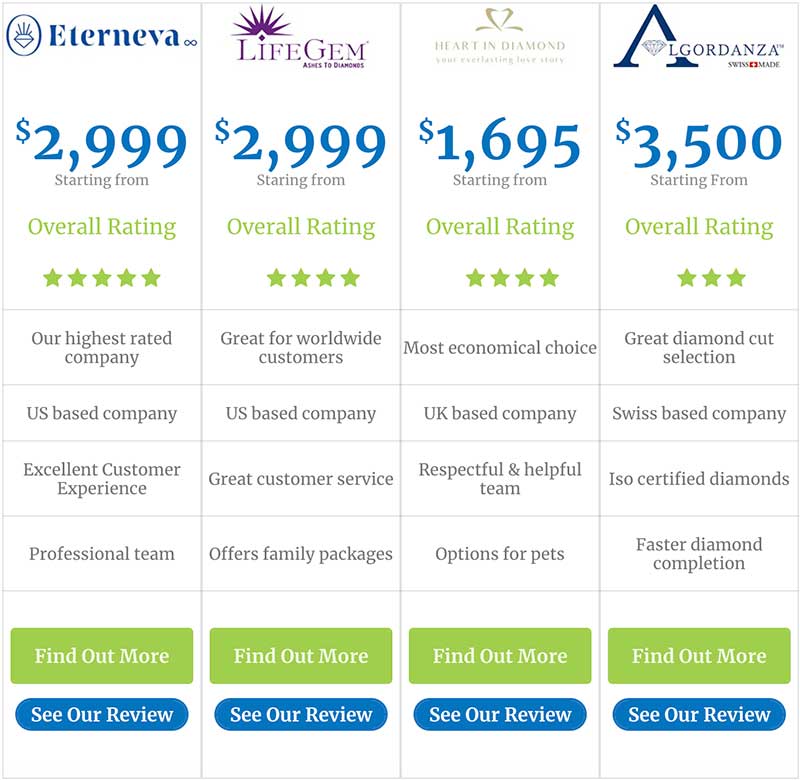 Due to innovative and advanced technologies, cremation diamond companies can offer a diamond in a variety of colors that's accessible and more affordable.
Cremation diamonds are certified as real diamonds by independent diamond certification services. The certificate will state carat weight, quality of cut, clarity, and color of your stone.
The products are ecologically friendly, and unlike earth mined stones, do not alter landscapes or involve child or slave labor.
Colour Range
To choose your cremation diamonds, take a look at the list below. The cremation diamonds portfolio is available in six striking colors that glow with intensity and sparkle with joy:
Cognac – A stunning combination of warm amber shades infused with hues of yellow that delivers a tranquil feeling like the setting of the sun on a warm September evening.
Yellow-Green – Various light yellow tones with a tint of green; it glows with optimism, happiness, and enlightenment, a continuous source of pleasure forever.
Red – Full-bodied and deep pomegranate red, the color of love, passion, and desire, it awakens your heart and promises eternal devotion.
Blue – Exhibiting dazzling shades of blue, resembling sky and the ocean, it promises tranquillity and serenity to all.
Clear/White – Considered by many as the classic and traditional color of a diamond, like a drop of crystal clear water frozen in time.
Black – Deep, mysterious, and a wickedly intense black color, incredibly unusual and always chic.
Cut
During your diamond creation process, you can select the shape of your diamond. Cremation diamond companies can offer three popular diamond cuts:
Round Princess Radiant
Skilled and experienced diamond cutters will expertly polish your rough diamond enabling beauty and sparkle. The quality of the cut meets high industry standards.
If you have other personal preferences regarding the cut of your diamond, such as Emerald, Square, Marquise, or Pear shape, then please contact the company with your specific requirements. They will be able to advise on the procedure and options available to assist you with your decision.
Price Guide
It's important to note that these prices do not include jewelry settings or personal inscription services. Should you require these, they will be offered to you during the ordering process. For a price guide on jewelry settings, please view cremation diamond companies' jewelry range and additional information on personal inscription services.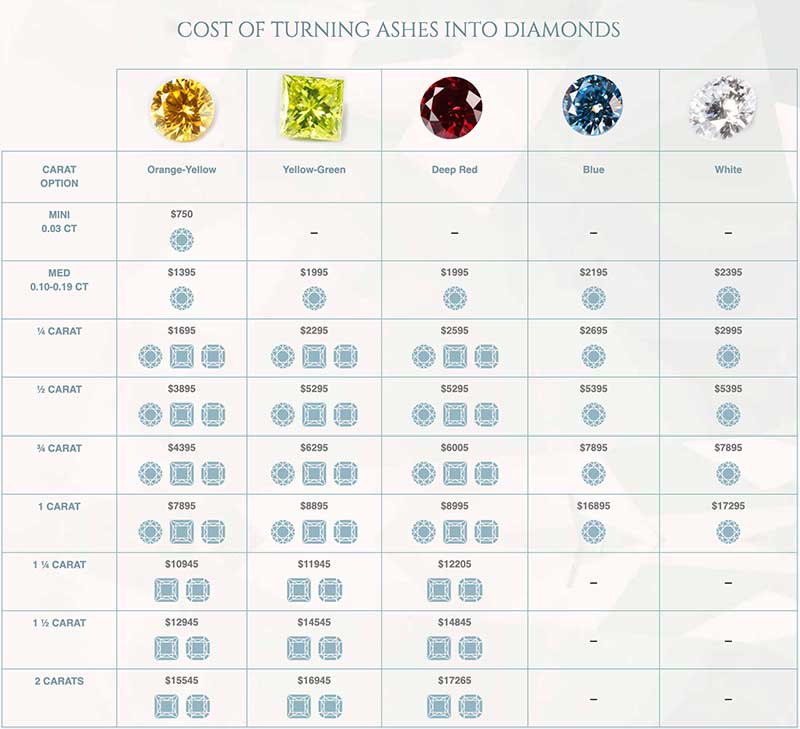 It's impossible to predict the exact carat weight of your finished cremation diamond due to inevitable variations that occur during diamond syntheses, crystallization, cutting, and polishing processes. If, however, the size of your finished cremation diamond falls within a weight category below the one you ordered, they will refund an amount proportional to the decrease in size.
Should your completed cremation diamond be of a larger weight category – they won't charge any additional fee and will honor this complimentary increase.
Ashes to diamond information!
Turning ashes into diamonds was invented by LifeGem diamonds in 1999 and brought to the public in 2002. Since then, creating diamonds from ashes has become an accepted practice worldwide and considered by many to be the most prestigious way of memorializing a loved one to date.
The basics…
Diamonds created from ashes are considered "real" diamonds. They have the exact same brilliance, luster, and fire as diamonds mined from beneath millions of pounds of earth. Also, to be considered a diamond, it has to be the hardest substance known on planet earth, and register as a 10 on the Mohs scale as diamonds from cremated remains do.
The main difference, as you already know, is that diamonds from ashes are created from a very specific source of carbon – your loved one. It's all basic science, really. Diamonds are carbon, and humans are carbon. Any extremely pure carbon under massive amounts of pressure and heat crystallizes into diamonds. That's all there is to it… well, that and about 60 years of in-depth diamond creation knowledge, very specific timetables, and millions of dollars worth of lab equipment!
The GIA (Gemological Institute of America) recognizes diamonds created from ashes as diamonds, of course, synthetic diamonds, which is exactly the point of diamonds created from ashes anyway.
Perfected over the last ten years, created diamonds are now beautiful and of a very high quality – typically ranging from SI to VVS. They are available in colorless, blue, yellow, red, and green, and range in price from around $1500 up to $20,000 plus depending on the size and color you are interested in. Here is a ton of information on the history of creating diamonds from ashes and why they came to be in the first place.
Be sure to read Cremation Diamond Company Reviews so you can be as up to date as possible. And don't forget to check out the section on Choosing A Cremation Diamond Company to see how I found a way to save you money on your diamond created from ashes!
What exactly is a diamond created from ashes?
Well, first and foremost, it is an actual diamond. I mean, if you really think about it, what exactly is a natural diamond? Diamonds are the crystallized form of carbon. So whether it is created under heat and pressure in a lab, or under the same levels of heat and pressure miles below the surface of the earth, a diamond is still just carbon. The real question should be, what is the carbon source of a natural diamond? We all know the carbon source of these created diamonds are the cremated remains of a loved one, but what is the unknown carbon source of a natural diamond?
I can already hear you saying, "Duh, it's natural carbon." But let's take a closer look at natural carbon. I know that most organic things are carbon-based, so that can only lead me to believe that the "natural" carbon of a diamond from the earth comes from dead plants or dead dinosaurs. So when you think about it like that, who would you actually like to be that close to you? Your loved one who you miss dearly, or T-Rex?
The Process – Four Simple Steps
Step 1 – Extract the Carbon from the ashes
All cremated ashes contain carbon. To get access to this carbon, the rest of the elements in the ashes must be removed. The best way to do this is to heat the sample of ashes to OVER 5000°F! This essentially vaporizes the rest of the particles that literally can't take the heat.
Facts:
Not all of the ashes are needed. According to LifeGem, 10 or more diamonds can be created from an 8-ounce portion of the cremated ashes. This is basically the size of a standard kitchen cup.
Most of the ashes are calcium, which vaporizes under the extreme heat conditions.
No special cremation process is needed to create a diamond from the ashes.
A diamond can be created from ashes, no matter how old the cremation ashes are.
Step 2 – Purify the Carbon
Similar to step one in that the temperatures are still really hot. But now specialized low oxygen, high nitrogen environment is used to achieve the purest carbon possible.
Facts:
Like many manufacturing processes, the quality of the end product is directly related to the quality of the initial material.
Many people have tried to create diamonds from non-purified ashes, and the result is not pretty. Understanding this from day one, LifeGem spent more research and development money on this phase than anything else and was awarded a U.S. Patent on it in August of 2007.
Even though every set of ashes follows the exact same process, the resulting purified carbon is never identical. Therefore, each diamond created from ashes will be completely unique to all others.
Step 3 – Create the Rough Diamond
As you can imagine, this step takes the longest, but at least it doesn't take a billion years! The purified carbon from the previous step is placed inside a sophisticated cube known as the core. This core contains the carbon and all the catalysts needed to convert the carbon to its crystallized form – diamond.
The core is placed in the center of a big press that exerts nearly 1,000,000 pounds of pressure and 2500° of heat. You wouldn't want to stick your toe in there!
Inside this growth chamber, the carbon breaks down into individual atoms and then reforms and bonds as a diamond. No monitoring equipment can be placed inside the press because nothing can withstand these conditions other than a diamond.
Facts:
Each press only grows one diamond at a time.
Yellow diamonds are the easiest to create due to the Nitrogen in the process. Nitrogen is a very good stabilizer for the production process. Blue and Colorless diamonds are the most difficult to create because no Nitrogen is allowed in the process.
The final size of the rough diamond is a direct result of the time the carbon spends in the diamond press.
Step 4 – Cut, Polish, & Certify the Diamond
Finally, the rough diamond is cut and polished in exactly the same manner as a natural diamond from the earth. Depending on the cut you choose, skilled diamond cutters facet your diamond and laser inscribe a unique identifier on the girdle.
Facts:
Each diamond is certified for authenticity and graded by gemologists trained at the GIA (Gemological Institute of America).
Although the GIA can tell the difference between high-quality diamonds created from ashes and natural diamonds, your local jeweler may not have sophisticated enough equipment.
Important things to know
It wasn't until 2008 that colorless diamonds could be created from ashes. Prior to that, ashes could only be turned into fancy colored diamonds. It's interesting that the easiest diamonds for mother nature to make, colorless, are the most difficult diamonds to create from ashes. And consequently, the easiest diamonds to create from ashes, fancy yellow, and fancy blue, are rarely ever found in nature.
Most people only know diamonds as colorless. They don't even know that fancy colored diamonds exist in nature much less created from ashes. You also might not know that "fancy" is the term jewelers use when a diamond is a bright enough color that it won't fit in the "colorless" category. This is good news for a jeweler, because a fancy colored diamond, typically fancy yellow, generates a much higher price tag than just your common colorless diamond.
---