Check Out these Fun Things You Can Do with Your Brooches
Brooches are making a comeback and, with so many different ways to wear them, you're not limited to one way of wearing this stylish trend. Check out these ten creative things you can do with a brooch.
Pin a Brooch to a Hat
Give a hat a little flash by pinning a brooch to your favorite style. Before you add a pin, make sure it won't leave a hole. Knit hats are great for brooches. Pins can often cause a hole when used on felt hats, so be careful.
Pin a Brooch to Your Scarf
Adding brooches to scarves serves two purposes. First, they add some unique flair and, second, they can help keep the scarf in place. For extra security, try pinning the brooch to the scarf and the top you are wearing. This will ensure the scarf stays put.
Add a Brooch to a Coat
Bored with your winter coat? Add a brooch for some colorful fun. Make sure the brooch can handle heavy weight fabrics.
Use Brooches for Gift Wrapping
Looking for creative gift wrapping ideas? Use brooches to put the finishing touches on your presents. It's a decorative detail and an additional gift.
Add Brooches to your Bouquet
A great idea for the old of the "something old, something new, something borrowed, and something blue" wedding tradition is to add a vintage family brooch to your wedding bouquet. Even if you aren't a traditional person, you can use brooches to jazz up your bouquet if you have a tight floral budget.
Cluster Brooches and Pin Them in Fun Places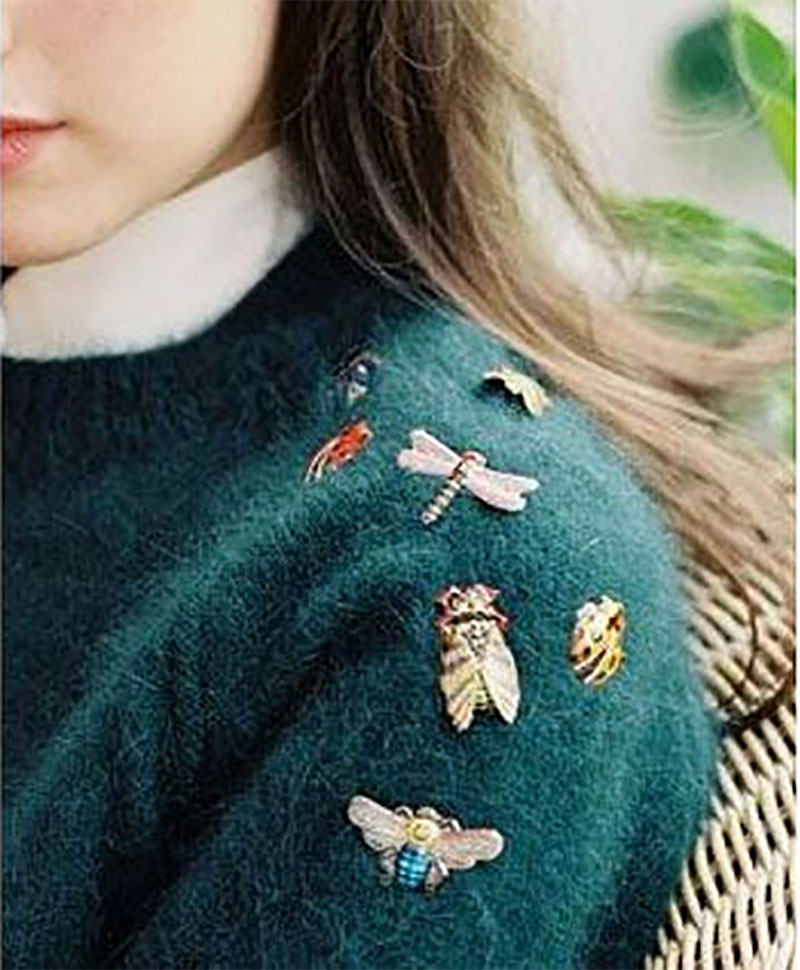 Don't just stick your brooches in the same place every time you wear them, try clustering a few small ones in unique places on your tops and sweaters.
Use a Brooch to Jazz Up Your Pearls
Love your pearls, but are finding that wearing them the same way over and over again has your bored to tears? Try using a brooch to give your classic strand a fresh look.
Create a Necklace out of Brooches
Here is a great necklace idea, try making one out of brooches using this tutorial. You can use old brooches that you already own, or pick up a few new styles to create the exact type of necklace you have been looking for.
Use a Brooch as a Collar Pin
Collar pins are so popular right now. You don't have to buy a pin specifically for collars; you can just use a brooch. Of course, your collar pin look doesn't have to be as Avante Garde as in this tutorial; you can wear this type of brooch look with your basic button down shirts.
Frame Your Favorite Brooches
Perhaps you have some beautiful heirloom brooches that are sentimental, but you know you won't wear. Instead of letting them collect dust in the bottom of a jewelry box, try framing them with this tutorial.